Last weekend, my boyfriend (from the Men Style Blog Beats And Dogs) and I went to Baden-Baden. Together with Orsay and a bunch of other Blogging Girls, we had such a blast! Today, we're talking outfits though and I want to share my first look with you, which we were shooting on location while there. We got to delve into the new Orsay collection and pick whatever we wanted to. Of course, I've got a few more looks up my sleeve and can't wait to hear your opinion soon.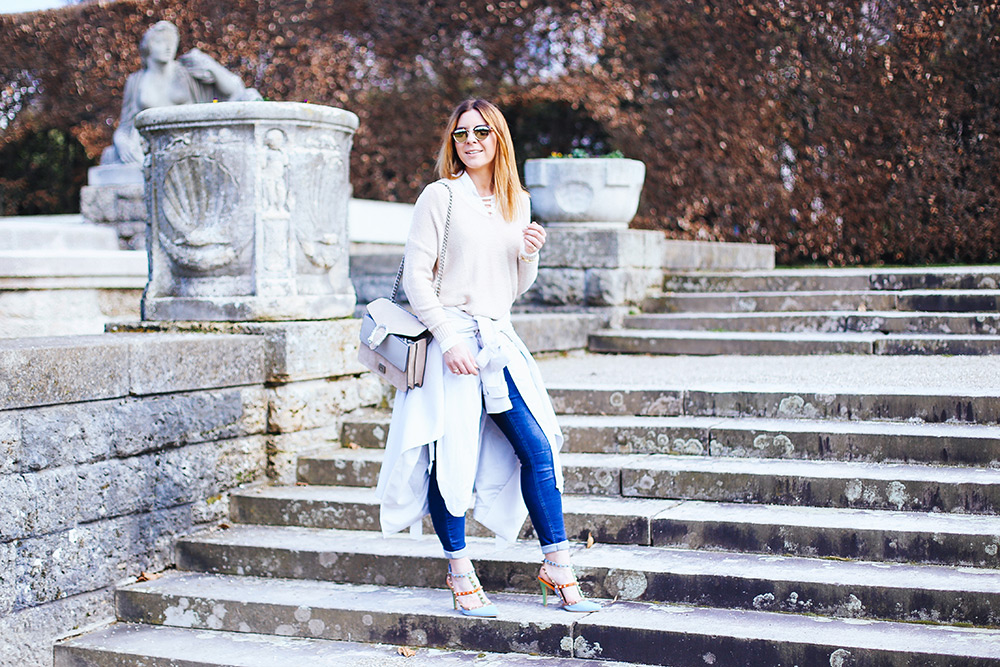 Beige Trench Coat Outfit
You know how much I love wearing my trench coat casually over my shoulders, but over time it get's a bit boring. Don't you agree?
A trench coat truly is a classic wardrobe staple which compliments almost any outfit but sometimes I need to shake up my routine a bit. For this particular look, I decided to just use the beige trench coat from Orsay as an accessory and to accentuate my hips. Voilà, casual but still classy!
If you are more the colourful type, I have excellent news for you: This very trench coat is available in many more colours! I chose the classic beige one as well as a dark blue version. I love how versatile and still chic both trench coats look. In my opinion, a good trench coat is a statement piece itself, so you can keep the rest of your look quite simple and streamlined. Shoes always work as an additional eyecatcher though and I decided to complete the whole look with my beloved Valentino Rockstuds.
Skinny Jeans and Valentino Rockstuds
The whole look – besides the shoes and the bag – is from Orsay. I like the high-waisted skinny jeans which fit like a glove. The beige longshirt and the V-neck knitted sweater overneath make for a perfect addition. To create a more laid-back vibe, I chose the sweater two sizes bigger than usual, so it looks more slouchy. What do you think?
To add a little twist to the whole look, my colourful Valentino Rockstuds as well as my mirrored sunglasses were just what the doctor ordered for this quite sunny weather. Baden-Baden is a really nice city that offers plenty of great locations. Have you ever been there?
Now it's your turn! How would you wear a beige trench coat outfit?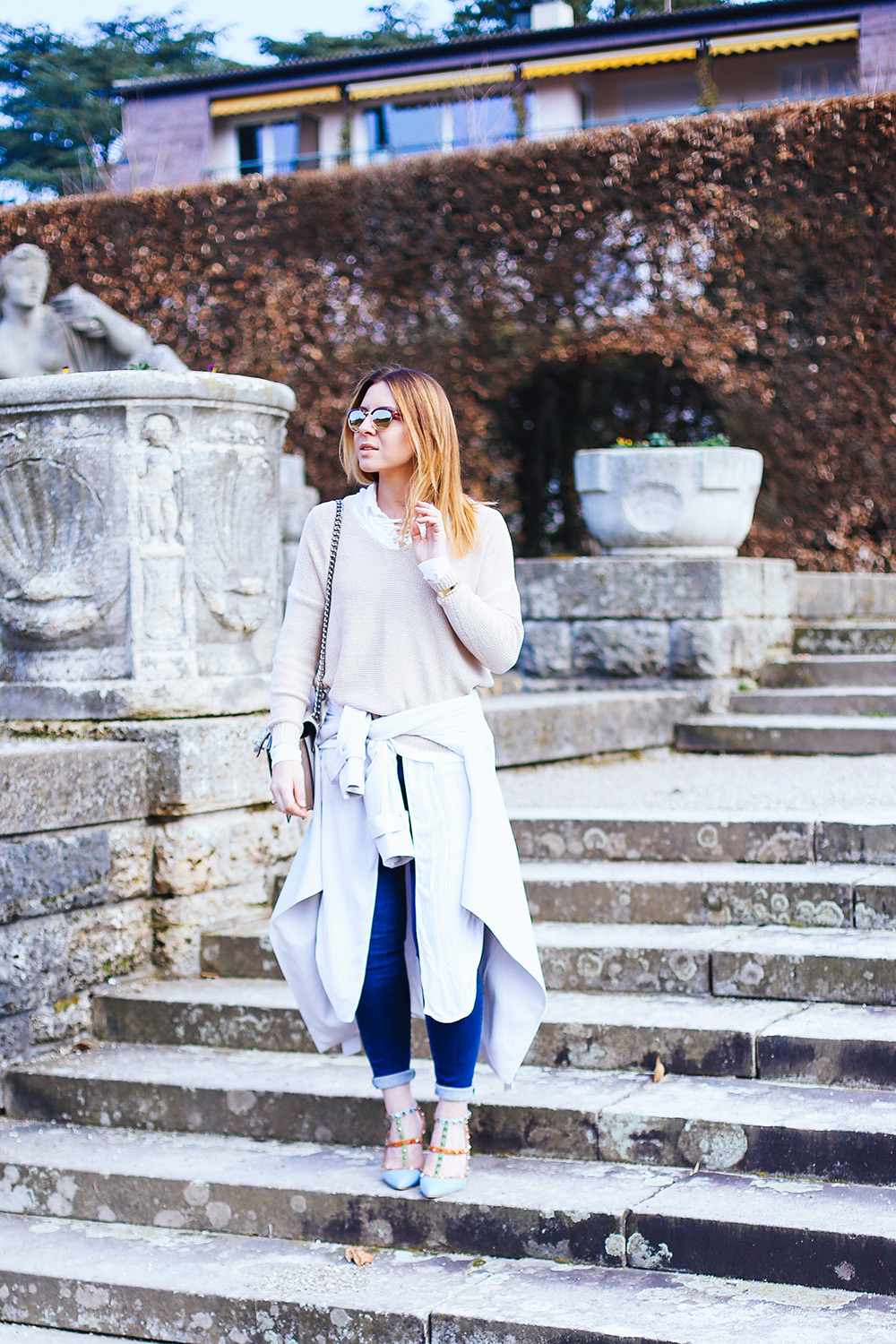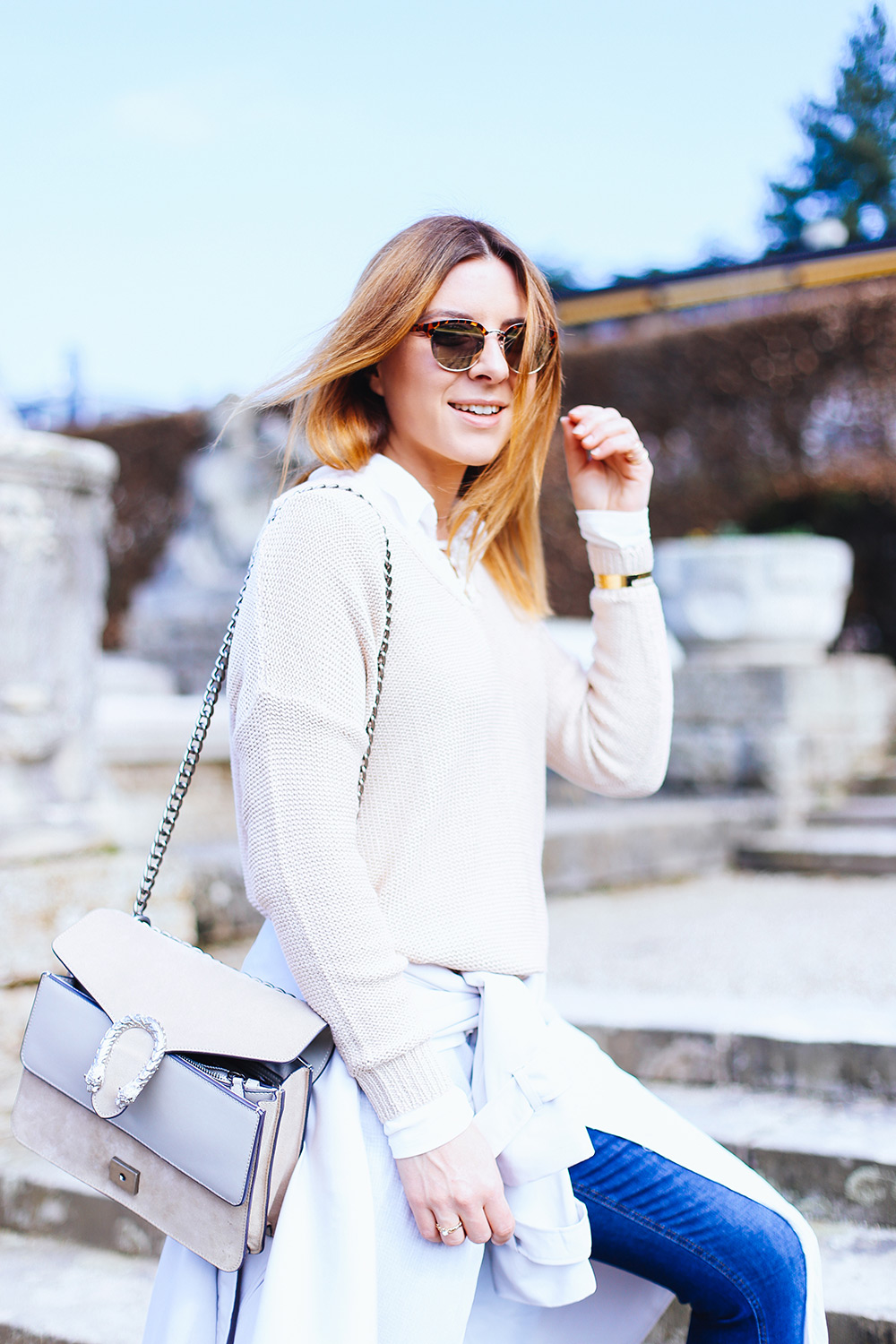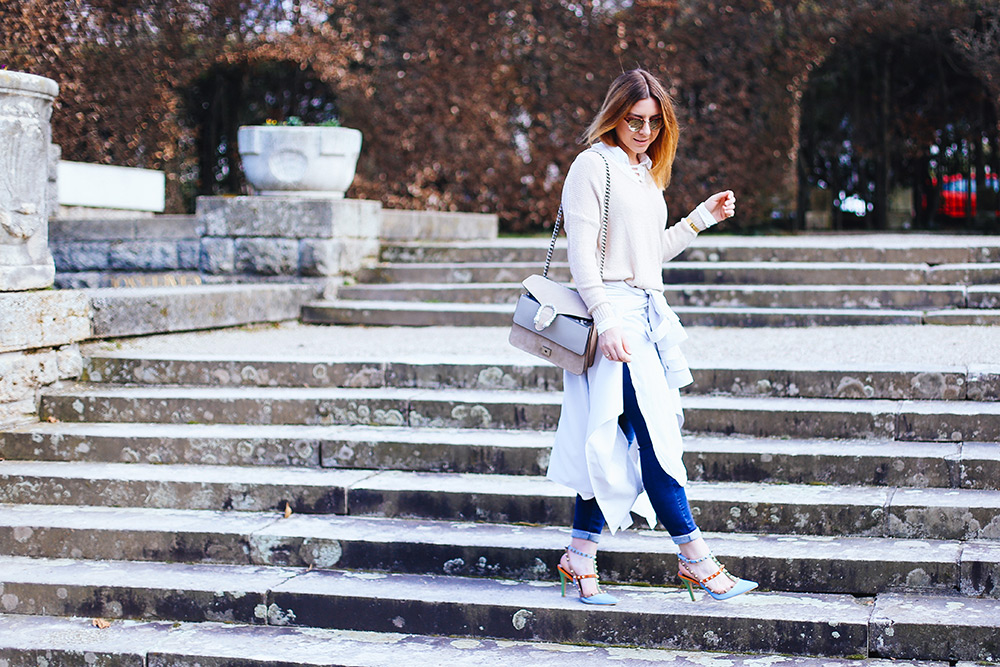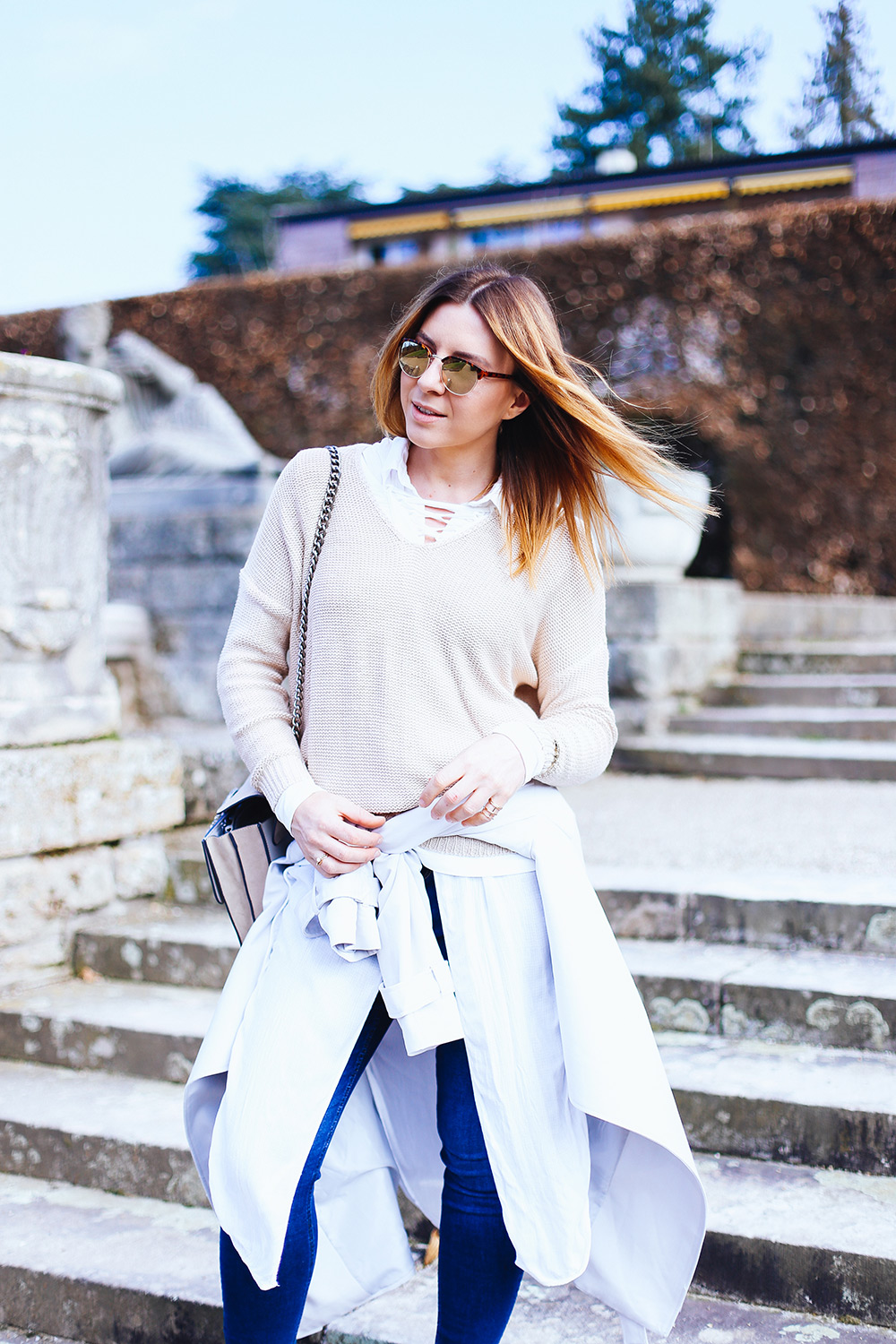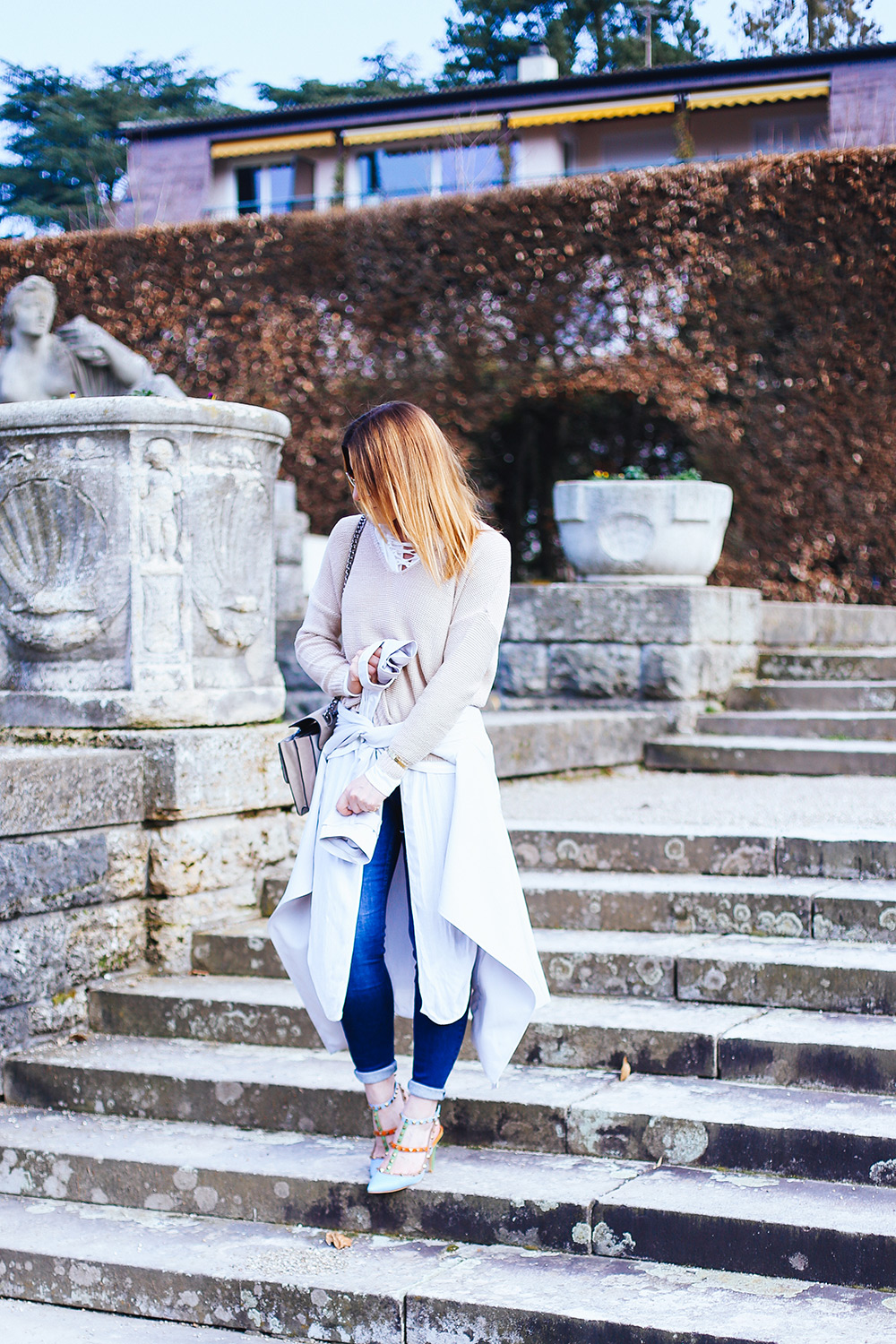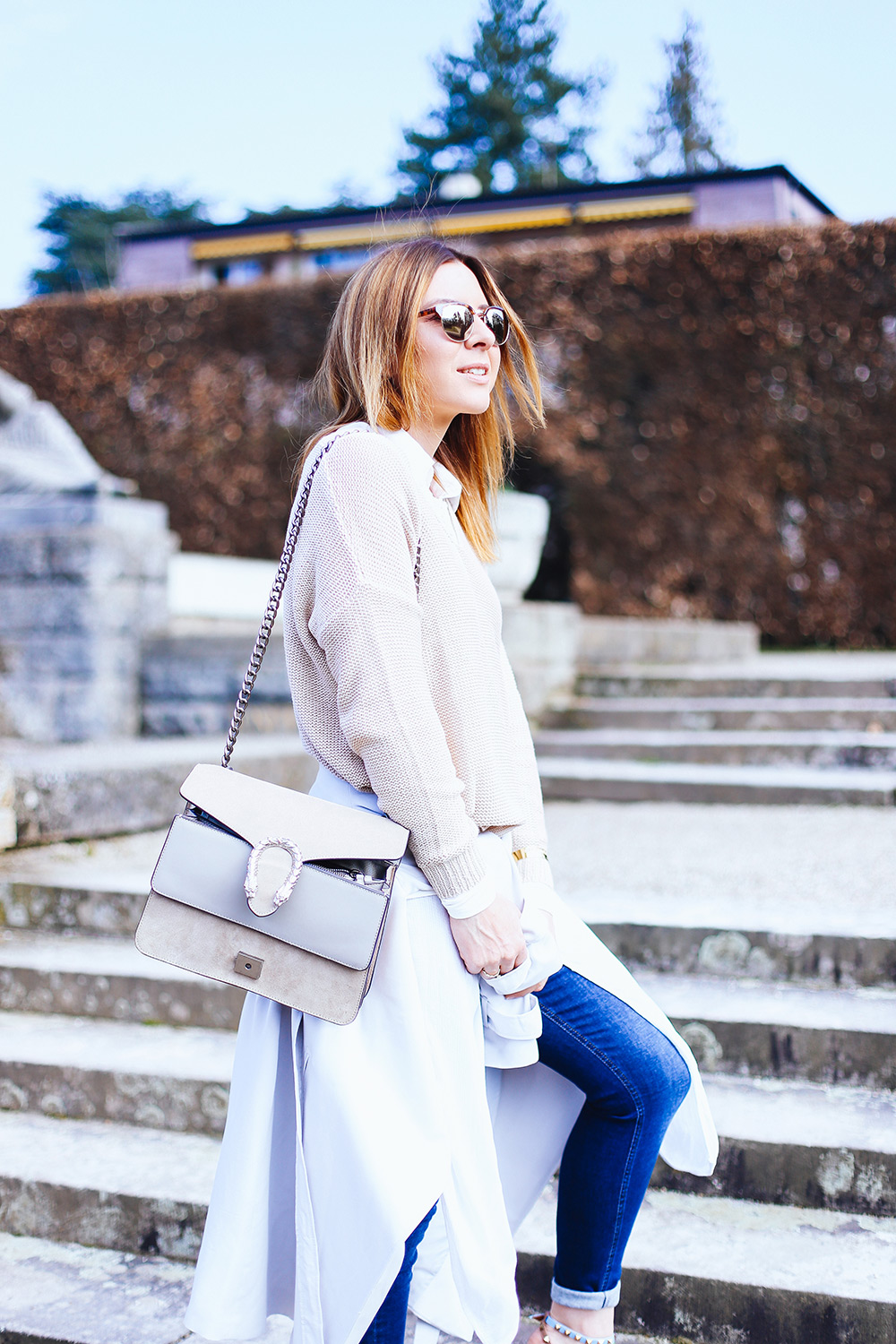 Trench coat: Orsay // similar here beige trench coat
Skinny Jeans: Orsay // similar here Skinny Jeans
Heels: Valentino // here is a cheaper version Rockstuds Alternative
Sweater: Orsay // similar here Knitted Sweater
Bag: Gucci // similar here Nude bag
Longshirt: Orsay // similar here Shirt
Fotocredit: Beats and Dogs