Today I decided to dedicate a blog post to the topic of layered looks and layering itself. It's all about the Layering Trend and you can see it on numerous blogs and Instagram shots. If you´re a long-time reader of my Fashion Blog, you already know how much I love and live this trend! Layering is fun and it´s actually just a few basic pieces combined in an unexpected way and you´re golden! Today, let me show you how I like to do it.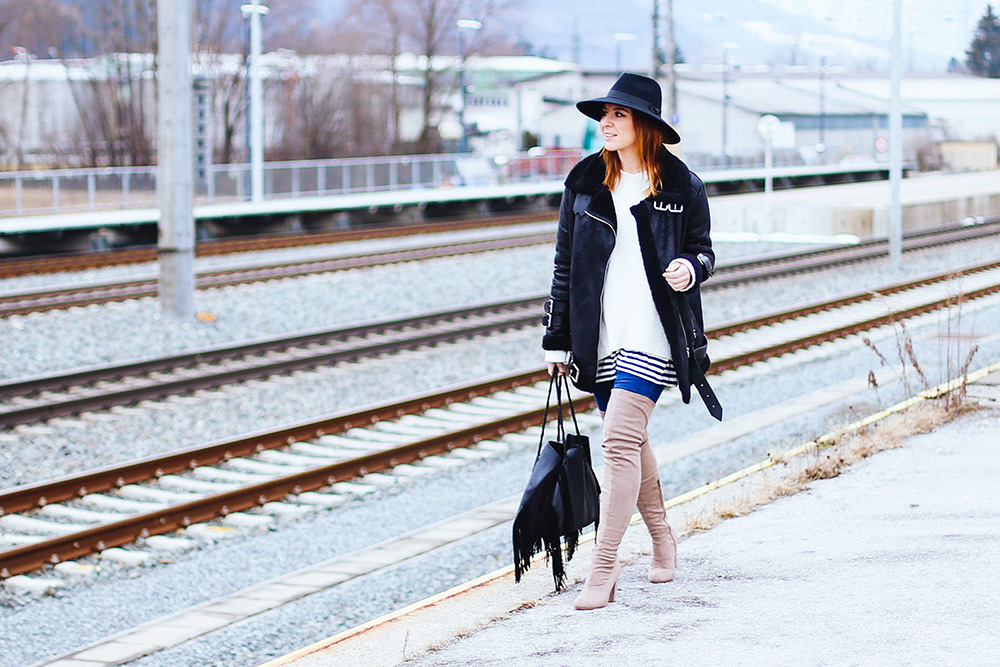 Layering Trend: an oversized Pullover
Layering Essentials are quite definitely a long short or a long blouse, an oversized pullover and maybe even an jacket with a casual fit to it. And you´re good to play around as you please!
For today´s look, I am wearing an oversized striped shirt underneath a beige oversized pullover. Dark washed jeans and beige overknee boots from Asos compliment the look. I actually sported a quite similar look recently but combined it with wide culottes.
Really there are no rules when it comes to layering. You can go tight and tailored, slightly oversized or even dedicate your outfit completely to oversized layers on top of each other. Anything works as long as you feel confident and comfortable wearing it! Confidence always is the prettiest accessory you can wear.
You can also interpret layering and layered looks by wearing dresses. Mini over midi over maxi dresses? Just give it a try!
Combining beige overknee boots
A few pair of overknee boots already grace my walk-in closet, but they are all black. That´s why I decided recently that it´s time for new pair and got these beige Overknees from Asos. Aren´t they cute? The quite sturdy heel makes for a comfortable wear and the lacing on the back keeps them in place. Beware, the online shop photos don´t do them justice. The colour comes off quite darker than they look in natural light! That works great for me, since I like the lighter shade better anyways.
These overknee boots will be a Spring staple, that´s for sure. I mean the colour begs for it, right?! I think they would work well with a flowy Spring dress. The boots are actually quite the eye-catchers in terms of colour and style, so I try to take that down a notch by wearing them with more loose fits in grey and black.
What do you think about my layering look and the layering trend?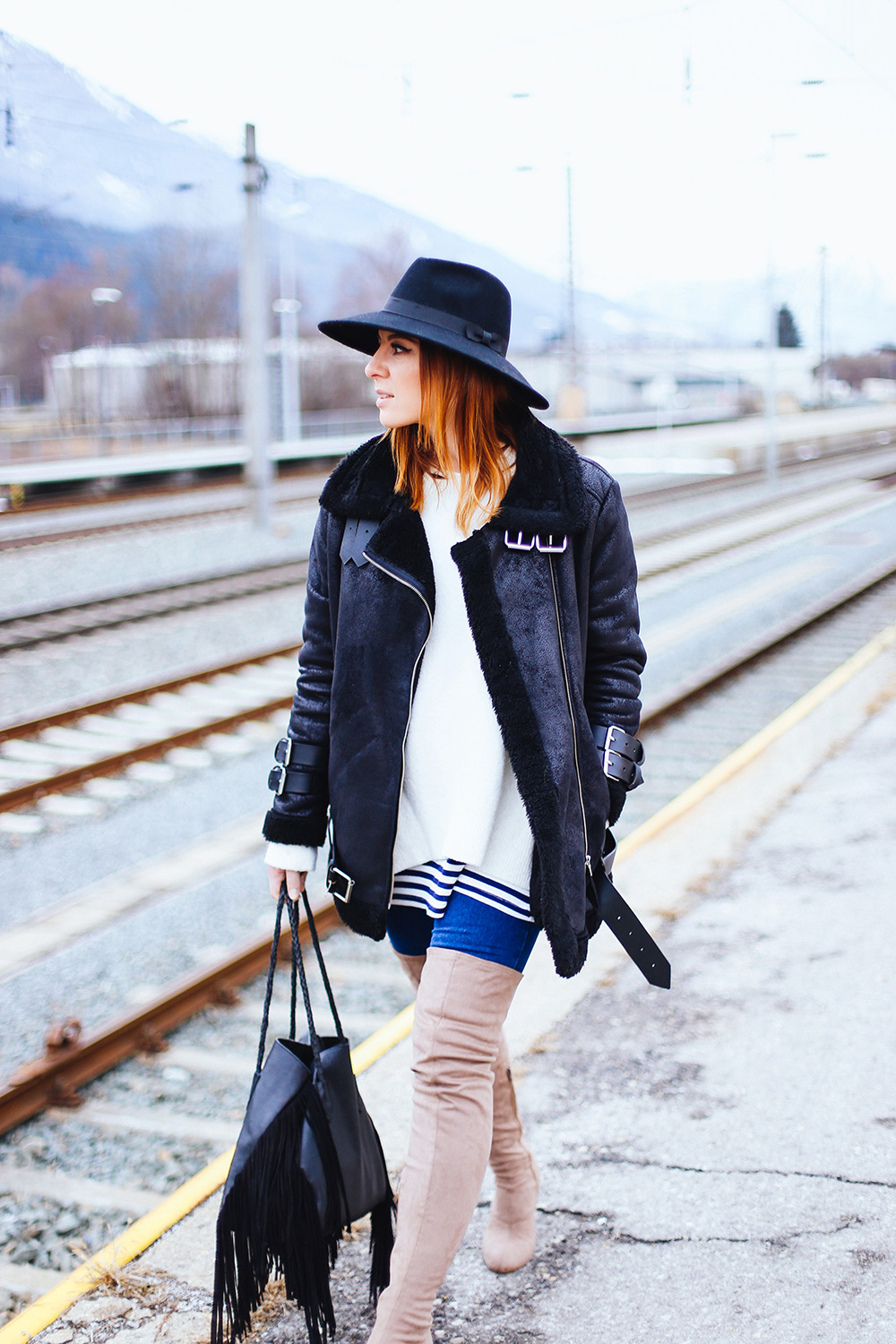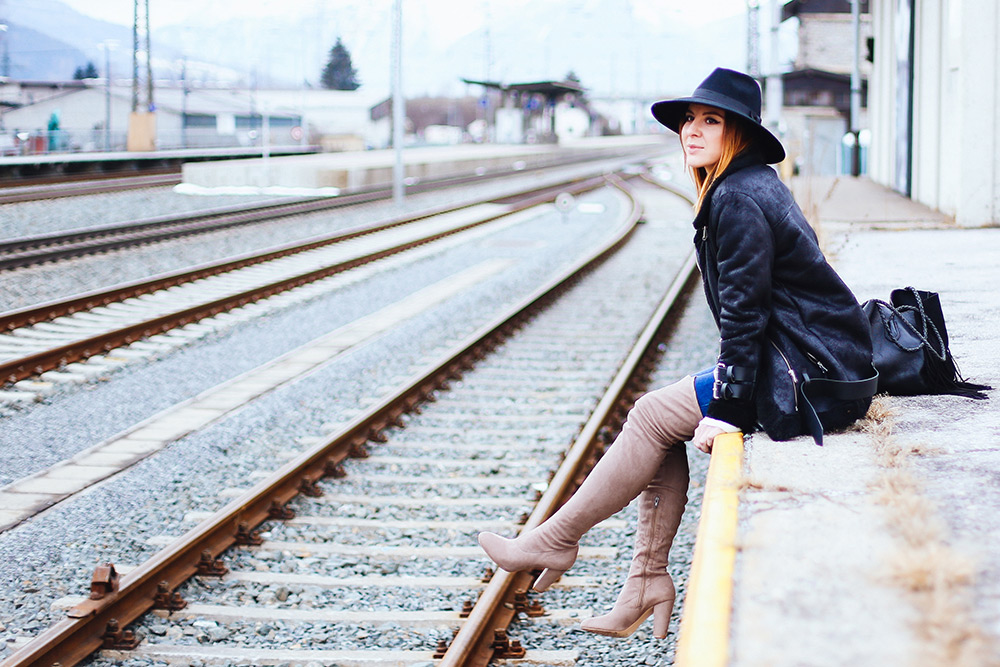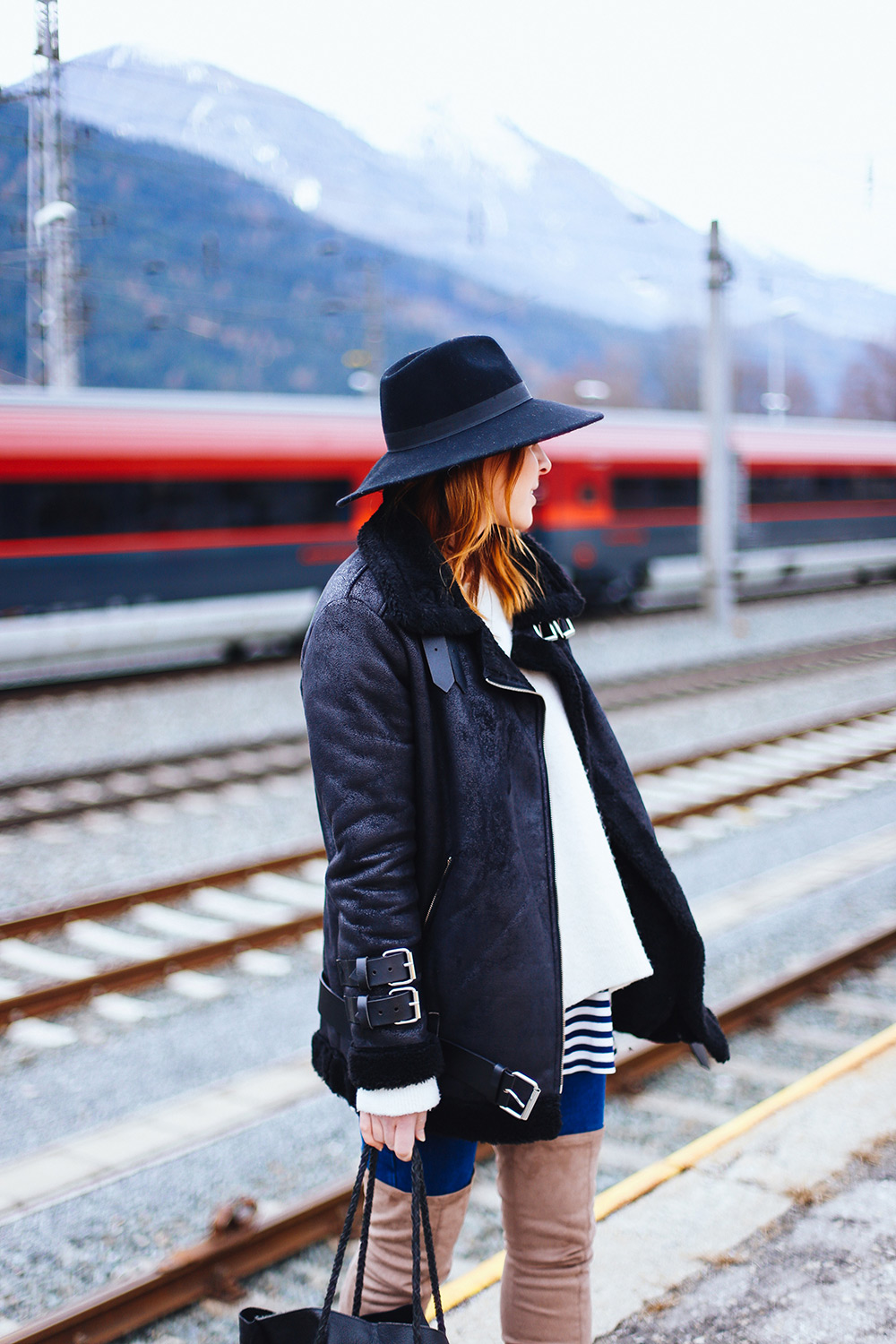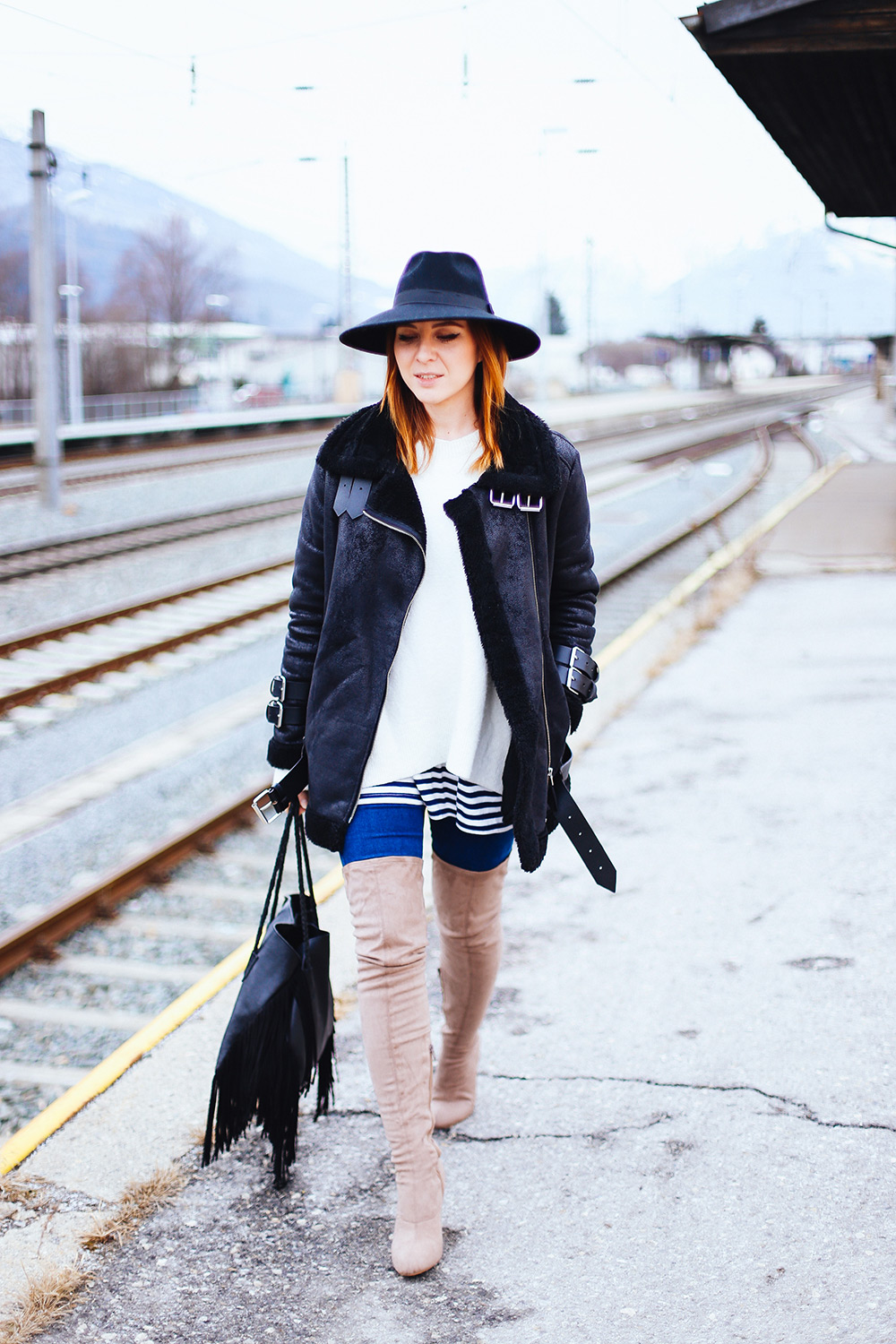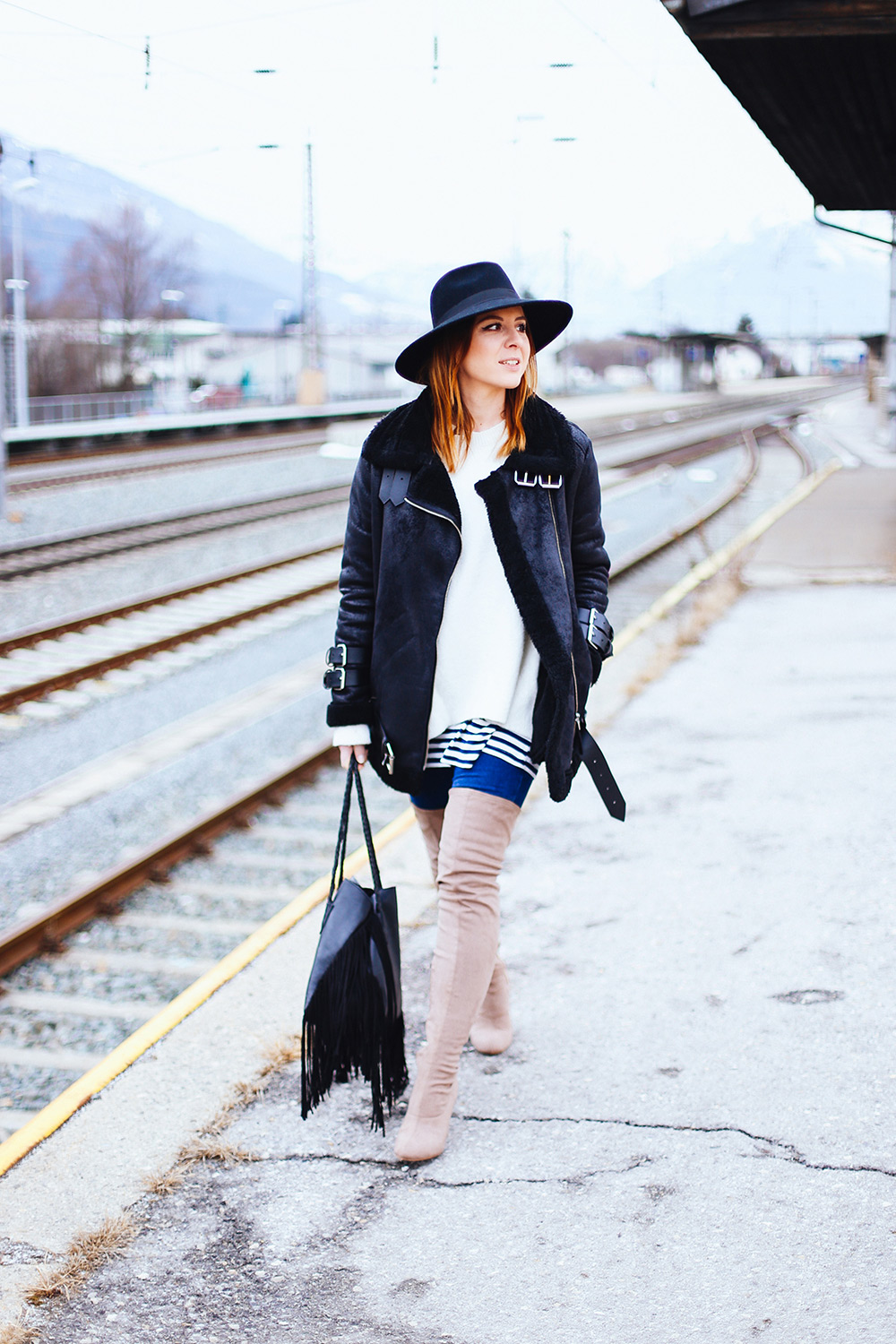 Biker jacket: Pepe Jeans // similar here Biker jacket
Jeans: Zara // similar here dark washed jeans
Overknee Boots: Asos // here are the same ones beige Overknee Boots
Shirt: Forever 21 // here´s the same Striped Shirt
Pullover: Zara // similar here Oversized Pullover
Hat: H&M // similar here black hat
Bag: Mango // similar here Fringey Bag
Fotocredit: Beats and Dogs