Besides Pantone's Color of the Year 2016 Serenity, I am head over heels for yellow these days. Yellow leather jackets, bags or culotte trousers – this warm golden yellow shade is what I am smitten with! For today's look I decided on a yellow pair of trousers and a white peplum blouse for a little contrast. I decided to make a Streetstyle Video out of it. Have fun watching and let me know what you think below in the comments!
Spring Look featuring a white peplum blouse
This whole look ended up in my shopping bag at a recent trip to Zara. The yellow culotte, white peplum blouse and patterned scarf just worked too good together. Don't you think? The culotte trousers are available in many more colours and prints. I also decided on the striped version for a different look! I wasn't so sure of the white blouse since I thought it would make me look bulky but paired with culottes instead of my usual skinny jeans, it turned out to be quite the match made in heaven!
As you know I love flowy fabrics and oversized, slouchy cut pieces and I think they work great together in most cases. They can accentuate and cover-up however you style the look. Easy and comfortable to wear! Since I decided to get the blouse, my mind is racing with possible combinations. I think the white peplum blouse would work amazingly well in addition to a pair of Kick Flare jeans, no? You know those Bootcut jeans that just reach down to your ankles. I think I am going to try that kind of look for a change soon. Paired with high heels, that just has to work!
Culotte: Zara // similar yellow culotte
Peplum Blouse: Zara // similar blouse with volance detail
Boots: Vic Matié // similar black boots
Bag: Guess // similar black Cross Body Bag
Scarf: Zara // similar Print Scarf
Sunglasses: Ray-Ban // same Ray-Ban
Trend colour! The Yellow Culotte!
For tomorrow, I prepared an all new trend report for you on this very Fashion Blog and because I can't wait another day, the theme is the colour yellow in all its glory! Stay tuned for a plethora of information, streetstyles and shopping tips and tricks on that matter. Are you excited yet?
In my case I am all about a golden sunny yellow or mustard hue. I like the warm vibe that works for many different styles and looks and just spread a good dose of summer vibe. That's exactly what I thought about when picking up the yellow culotte. It's easily my favourite piece these days and I can guarantee you will see it more often on here.
How do you like my look and what do you think about the peplum blouse?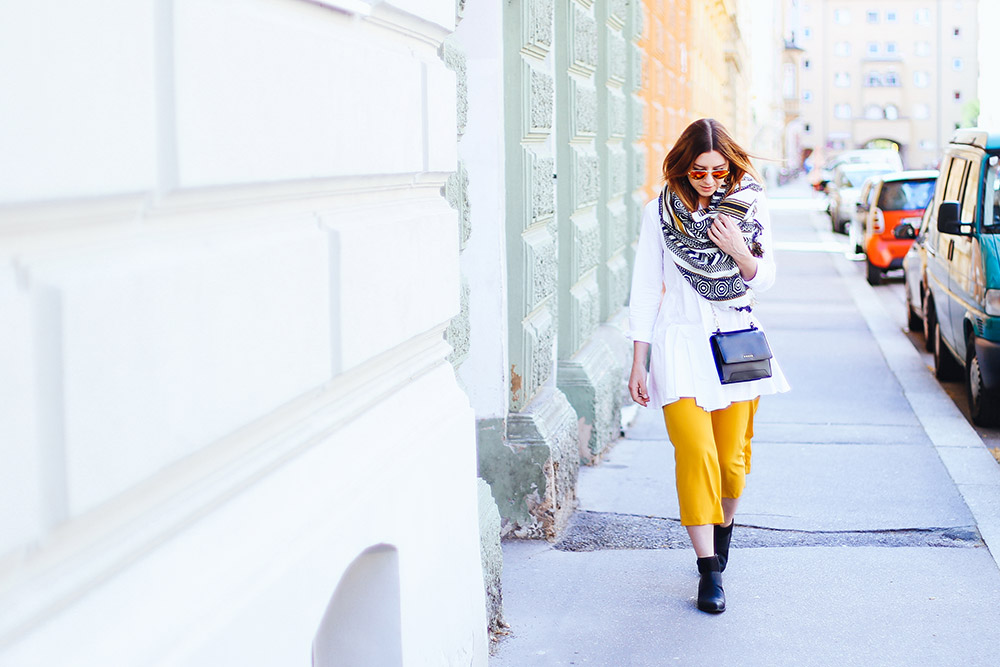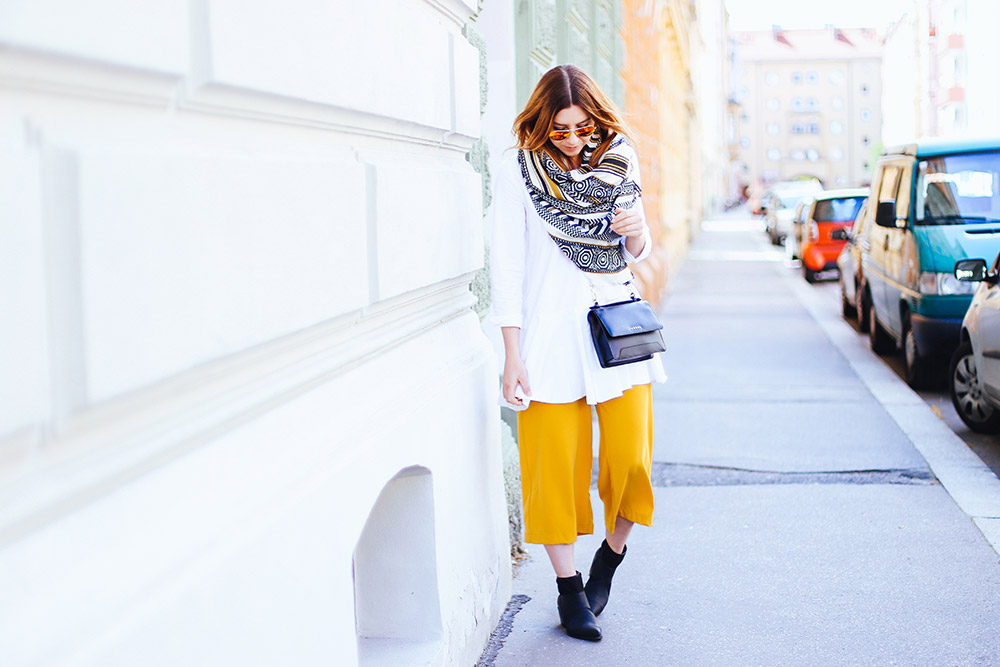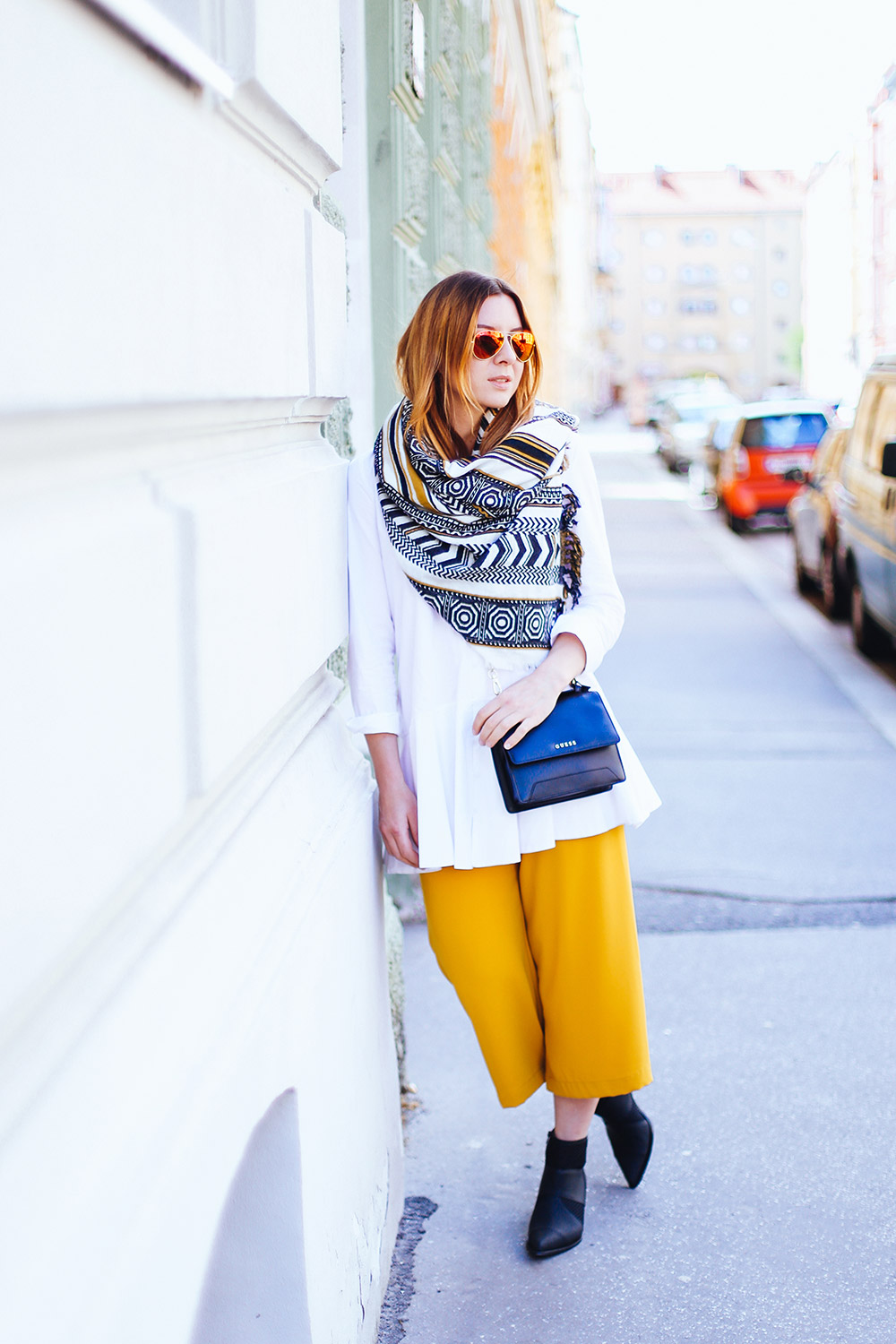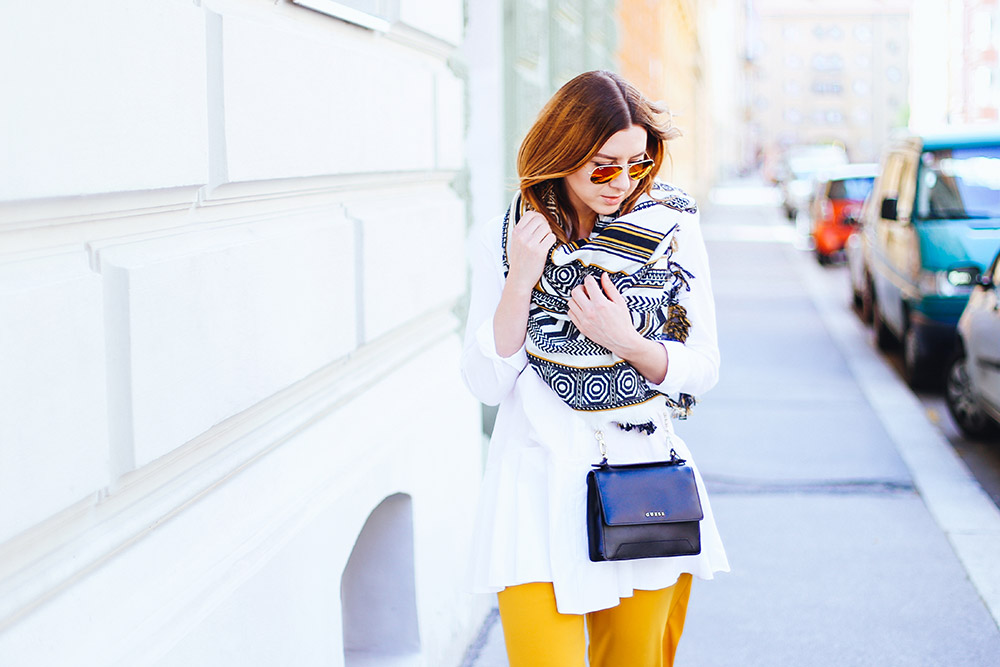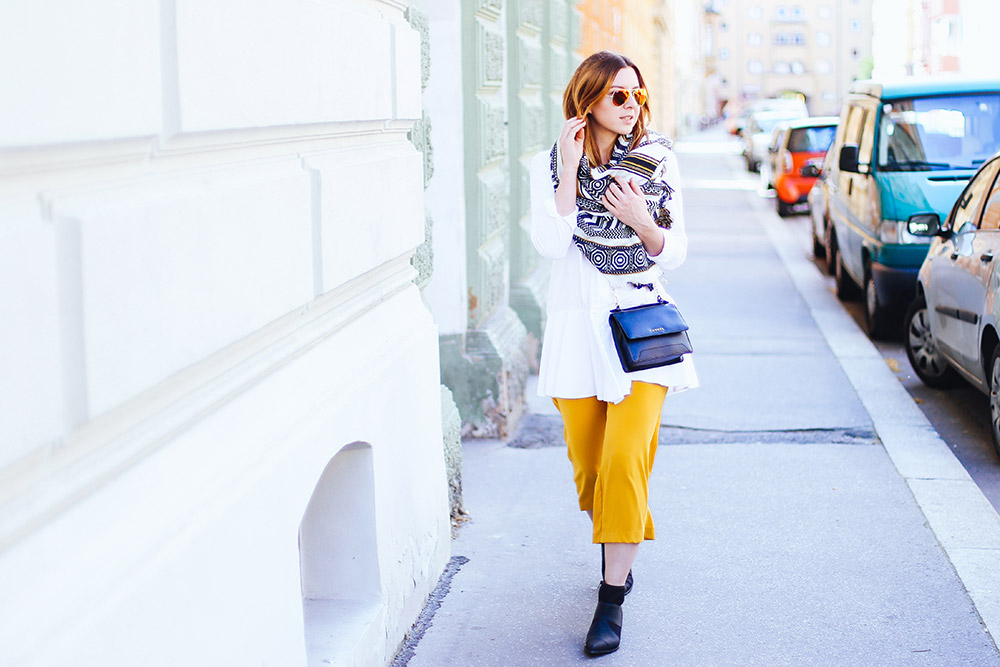 Fotocredit: Beats and Dogs