Stylish women always have genius tricks up their sleeves. I researched the best of them and was able to gather the ten best fashion hacks for you and me, to solve those pesky little problems when it comes to outfits. Ready?
The 10 Fashion Hacks every woman should know
The zipper collapsed, the jumper is fuzzy or the tights start ripping as soon as you put them on? It happens to the best of us! The solution is near and it's called Fashion Hacks – simple and effective tricks you can rely on when you're in a hurry or on the go. Guaranteed! If you know them, you don't want to miss them. A scratch in your brand new leather loafers is not a problem if you know the right hack to deal with it! Curious?
Today I want to share my 10 favourite Fashion Hacks. Tried and tested from yours truly. From "How to get rid of stains?" to "How to walk in high-heels painfree?", I covered the main culprits below:
Fashion Hack 1: Flat Iron 2.0
When traveling, my straightening iron is always on double duty! It not only smoothes my hair, it's great for wrinkly shirts straight out of the bag. A true hero! So, if you don't have your usual flat iron to help out, just grab your straightening iron real quick to freshen up your blouses, shirts or skirts in a heartbeat. Just like that and ready to go!

Fashion Hack 2: Tight shoes
Usually we are not lucky enough to have our dream shoes always fit as perfectly as Cinderella's glass slippers. I bet each and every one of us hides at least one pair of shoes in the back of the closet that are way to tight and don't fit comfortably! Am I right?! Maybe the recent sale was way to tempting and you opted for a half size smaller since you just had to have those dreamy heels? We've all been there!
And this is where Fashion Hack 2 comes in: Take a ziplock bag and fill it with tap water. Close the bag neatly and put it inside the shoe. Now put those into the freezer and let them freeze a bit. Since water is expanding below zero, the shoe will stretch a bit too. Genius, right?! But be aware: This trick is only good for making shoes bigger, not smaller. So, when in doubt, get them smaller and always remember Fashion Hack 2!

Fashion Hack 3: No more tight runs
You just put on those brand new tights and just like that a ladder's running through. Welcome to the club! What you need now is hairspray and clear nail polish! Hairspray is known for strengthening fibers and is great for preventive measures, while clear nail polish stops the ladder to run any further. Just apply it on the specific area and let it dry completely.
Fashion Hack 4: Buying Jeans in a hurry
Generally, you should never go shopping in a hurry but it happens! I found myself on the airport or train station many times, remembering everything I forgot to pack in my bag and then the stress sets in. When you know you need a specific kind of garment before your flight takes off, do not fret. Shirts and jackets aren't really a problem as they can be quickly put on and off.
But when your favourite denim is still at home, things get tricky. This Fashion Hack works like a charm: If you want to know if a pair of jeans will fit, just put them around your neck and see if the ends will slightly meet. It sounds crazy, but it really works! I tried it several times with my jeans and it's a great Fashion Hack to share! Genius!

Fashion Hack 5: Scratched leather
You just had the chance to wear your new leather shoes or bag as you spot a scratch. Bummer! Small scratches can be reversed with the help of moisturising body lotion. It's not only great to take care of our skin but also for leather and it let's scratches magically disappear. Just put a tiny bit directly on the scratch and use a soft cloth to gently rub it in. If this happens to suede products, you can get special erasers at a shoe store. Never put body lotion on suede! It will ruin it!

Fashion Hack 6: Water spots on Suede
Let's stay with suede for now. I was always conscious wearing my lovely suede bag out and about before hearing about this hack. I was so worried it would get stains or water spots, that I prefered to keep it in my closet. Until I heard about this Fashion Hack. Just mix cold water and apple cider vinegar and gently tap it on the water spots and they will disappear! Just like that!

Fashion Hack 7: Fuzzy Pullovers and Scarfs
Just as you decided to wear that wool coat, it sports that fuzzy build-up that happens to wool garments so easily. Of course you don't want to live without your coat or cosy scarf during the cold winter months, so here's the perfect hack. Put fuzzy pullovers and scarfs in a plastic bag and let them spend a night in your freezer.
The cold somehow works its magic and the fuzz is gone by next morning! This fashion hack is coming straight from my mum. She's a great knitter and always makes sure to make beautiful pullovers and scarfs for me but before I can wear them, they have to spend a night in the freezer! So easy!
Fashion Hack 8: Save shrunken clothes
You didn't pay attention and that delicate piece of clothing slipped through and landed in the wrong laundry pile. It shrunk immensely and you're about to throw it out? Don't! Conditioner to the rescue! Just put the garment in lukewarm water for about 30 minutes and add a little bit of conditioner. Afterwards you can softly pull it back into it's old form and let it dry!
Fashion Hack 9: Get rid of yellow deodorant stains
Raise you hand if you never had that problem! No one? Thought so! To make white t-shirts white again, mix baking powder, hydrogen peroxide and water and gently put it on the spots. Let it set for a bit and then wash it thoroughly. As good as new! You can get hydrogen peroxide online or at a special hair product store.
Fashion Hack 10: Let's fight blisters
If your shoe is too tight – look up Fashion Hack 2. If you still feel a blister is coming, there's a different hack right here! Painful blisters are no joke as we all know and to prevent those from happening, especially with new sandals or flip flops, just grab a creamy deodorant stick. Gently rub it over the blister-prone areas and slip in your shoes. Feels nice and gives blisters a run for their money!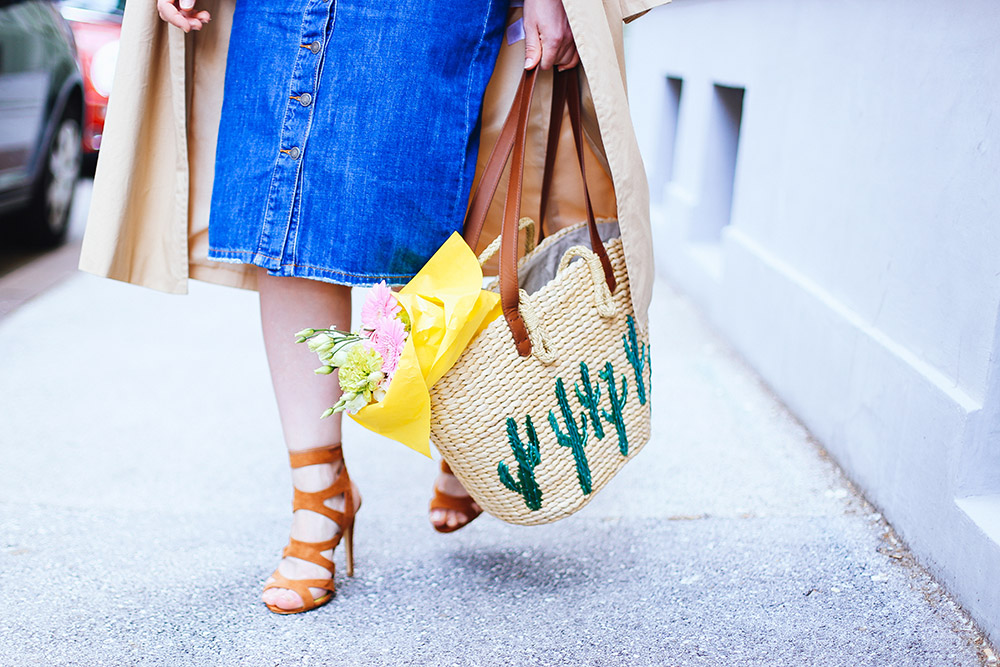 Now you! What's your personal Fashion Hack? Let me know in the comments below!