When this blog post seems familiar to you, it's because I published this Closet Purge post already some time ago. Today, I decided to focus on a little update because it seems like you're very interested in anything that relates to how to purge your wardrobe.
To be perfectly honest with you, this is a sensitive subject for yours truly. I am a true fashion lover and tend to hoard quite a load of stuff, which is why a good clean and declutter is on my agenda every once in a while but in the meantime I do my best to avoid it. Am I the only one?
Let's talk the good, the bad and the ugly and show our wardrobes who's the boss!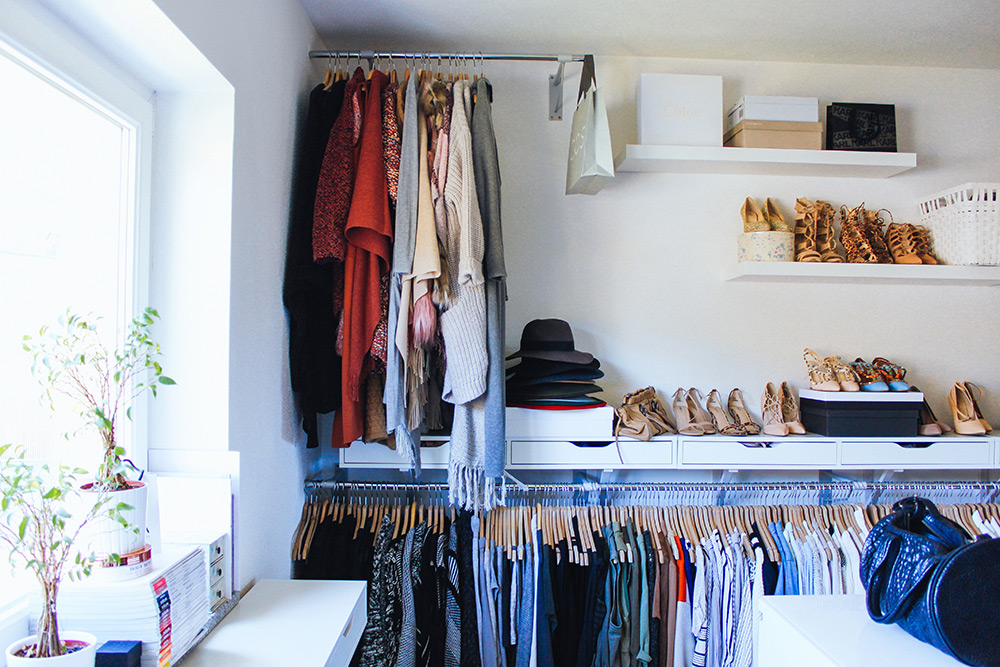 Closet Purge: The best tips and tricks
Rule of thumb: If there's something I haven't worn for two seasons, it's time to part ways. There's an exception to the rule – as always – but I try to keep this in mind most of the time. I often come around certain tops or shirts, I didn't even remember having but at the same time it's so hard to get rid of them because I always think about that I might need them now. It's silly to make up excuses for something I clearly didn't use anymore only to keep it even longer! I know that, but still I am guilty in a few cases. I remember a few times, I got rid of something and thought about it only a few weeks later when I needed that certain piece for an outfit idea. That happens!
Still, not purging my wardrobe is not an option. The chaos must be limited and therefore I developed a few tips and tricks that helped me tremendously over the years and hopefully will be helpful to you as well! Try to set this task as one of your New Year's resolutions! Bit by bit your goal is achieved pretty quickly and you're rewarded with an organised new wardrobe. Deal?! Project Purge your wardrobe starts NOW!
Closet Purge: Clean out your wardrobe
Set a date
Look at your agenda and find a day (or morning or afternoon) and set a date with your wardrobe. Yes, you heard me right. Mark that date in your calendar like you would do with a brunch date and be adamant about it. Be sure that nothing else is on your To-Do List for said time or comes in between you and your wardrobe, it works much better when you're really focused on this one task only!
How much time you need totally depends on the chaos you need to get ahead of. For my walk-in-closet, all in all I needed around three hours. Of course, I don't like to rush through things and really like to take my time. As an overall rule, I'd say plan in more time than you might need and you're good to go!
I always get super excited when I find something that I wanted to wear in forever. Shopping your own wardrobe can be a very rewarding experience. The things I am not sure about usually land on a big pile which I sort through again at the end. It's not easy but I try to be very hard on myself with this task and I always end up with at least one huge black trash bag that's good to go. This includes clothes of course but also shoes and bags. Before I get to share those pieces with you via Mädchenflohmarkt my mum has the honor to shop my stash as well.
Step by step, drawer by drawer, from the very top to the bottom
First of all, every drawer, every hanger, every little nook and cranny of the wardrobe has to be cleared out to have a good clean. I like the feeling of a freshly cleaned wardrobe and it feels even nicer to sort back all of my stuff in a thoroughly cleaned space. Don't you think?
I like to put t-shirts, trousers, jumpers on my bed – nicely folded of course, while I like to hang more delicate pieces like blouses and blazers in a separate area where they're save from getting wrinkled. Now on to the tough part: Only put those things back in to the clean wardrobe that you really want to keep!
Long forgotten treasures
Everyone has at least a few of those. Things you just got and buried in your drawers and never actually got to wear, or pieces that need some tailoring that obviously never happened until you totally forgot about them. As a rule of thumb, I collect these clothes on a pile or in an extra drawer and if I haven't been thinking about them or wearing them until the next clean-out, they're good to go. That saves me some heartache and second-guessing my choices.
Don't ask yourself why you should get rid of something but rather why you should keep it! That way you can grant those long forgotten treasures one last chance to see if they're worth the space. If not, next time you know what to do!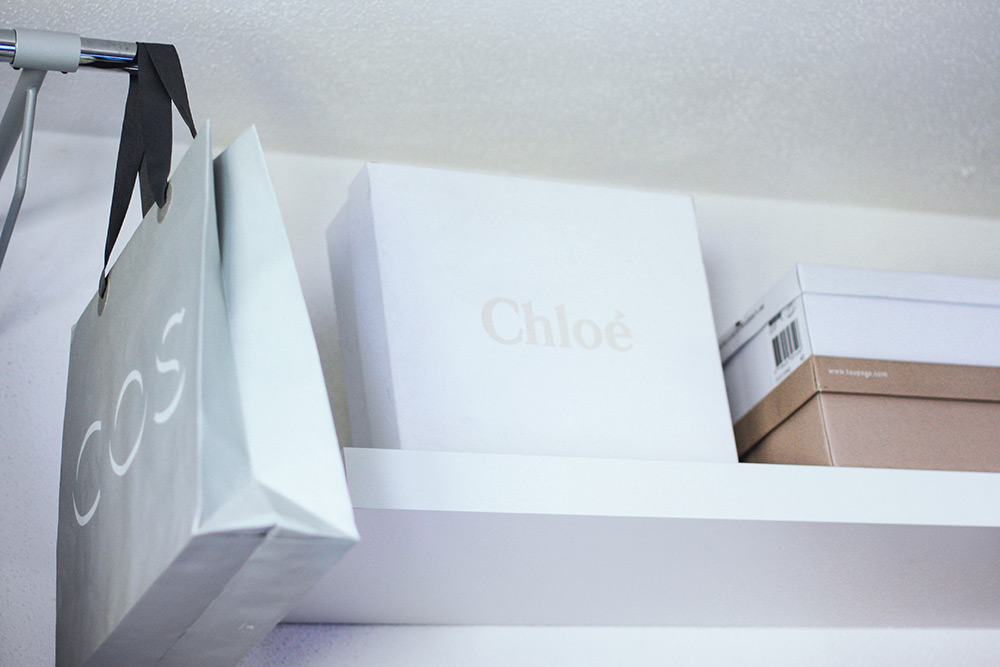 Wrong size and fit
Impulse shopping is never a good idea but it happens. Then you're stuck with pieces that just won't fit for a myriad of reasons. Too tight, too small, too slouchy, or big or just not tailored to your body type. If you can't fix it and don't know someone who might need it, get rid of it. Don't hoard it forever! Chances are if it sits there already for a couple of months, it will do so forever until you stop it!
A different style
People grow up and so does their style. It's okay to keep a few pieces for memories' sake or to have something to wear around the house while cleaning but you have to draw the line somewhere. Do you really need 20 different outdated t-shirts to wear at home? I doubt it.
The rule of doubles
Do you really need ten different basic shirts and five denim shirts in different styles and colours? I don't think so. I usually decide on two to three pieces of the bunch and get rid of the rest. For future reference, keep on eye on really good quality. Pay a little more for a great quality shirt instead of getting more for the same price with not so stellar quality. Chances are the pricier one will last you for quite some time and will keep it's fit and colour for longer than any cheap garment would!
When shopping for basics, I like to think about the cost-per-wear rule. A basic staple will serve you for years to come and will never be out of style, that way it's okay to spend a little more money on it.
Make sure to check out my Wardrobe Essentials post on my 10 Piece Basic Wardrobe that should be found in everyone's wardrobe.
I also have this problem with skinny jeans. I often find myself sorting through ten or more pairs while I know that only two of them have the right fit for me. Why keeping them? And since skinny jeans are my weak spot, it was no easy task for me to sort through them. But I did it and was proud of myself!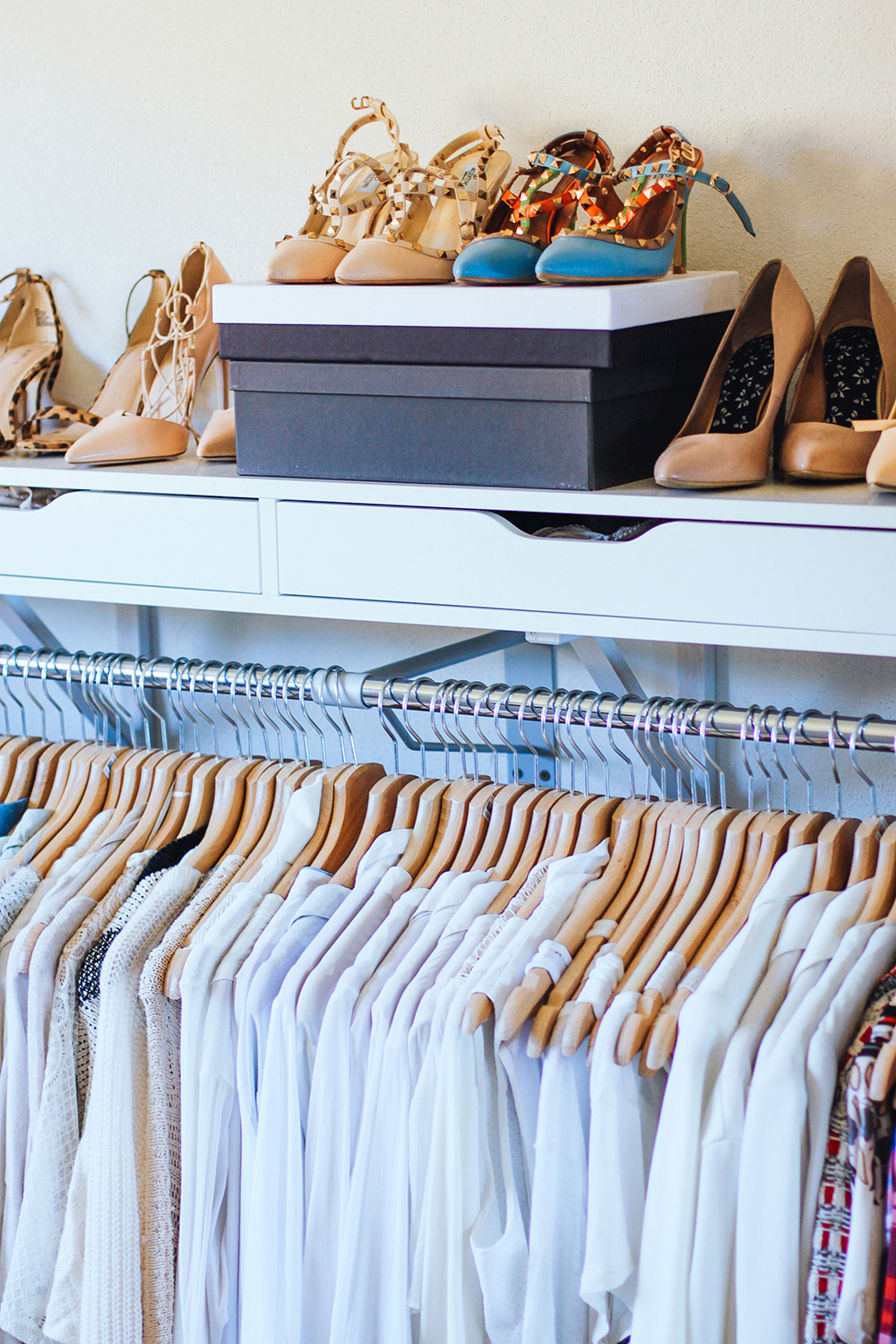 Ready to be retired
Everyone knows and dreads the moment when their favourite pair of jeans, the one that carried us faithful through so many dates and happenings, is about to literally fall apart. It's most likely your most comfiest pair and as well quite certain that said pair is nowhere to be found again. You dread that moment and really don't want to get rid of it but at the same time there is no way you could wear it again without it finally unrevokably falling apart. Deep breath! You know that feeling, right?! I remember said scenario with my absolute favourite pair of jeans, and of course, in the end we parted ways. It was no easy task, let me tell you that!
The lesson here is that even the best quality in fabric will run its course inevitably and then it's time to let go. Believe it or not, a few weeks ago, I came across a new pair of jeans that happens to be almost exactly like the one I had to retire. Good things happen to closet-cleaning people!
Vintage and High End Designer Pieces. Do keep them!
A great fitting piece that you saved up for many months before you finally got the chance to call it yours deserves to stay in your wardrobe. Sometimes it's just a good dry cleaning that brings it back to it's glory days or little changes here and there, like new buttons for a jacket. Nifty tricks like that don't cost a fortune and give you the opportunity to play around with your style and can totally transform your old trusty blazer. Give it a try! If you don't feel savvy enough to do it yourself, go find a tailor you trust and let them handle that.
The end is near
When you finally sorted through your piles and staples of clothes, you organised the chaos and you know which pieces need a good dry cleaning or a pit-stop at the tailor, the end is near. Now, ask yourself which pieces you have plenty of or more of then you would ever wear and purge through that pile again. Which pieces are you ready to part ways with spontaneously as well?
Personally, I find this last step to be crucial to the whole process. I always find a few more pieces that don't serve me anymore and therefore I am happy to get rid of. Also it's more likely that you find it easier to part ways with your clothes that far in the process. You rocked this!
What happens to the clothes we don't need anymore?
As I mentioned earlier, I like to sell clothes via Mädchenflohmarkt since many of them are as good as new. If there is a pricier designer coat or bag, I like to turn to Ebay as well. Then friends and family will look through what's left and whatever remains is going to goodwill or a flea market. If there's anything that's worn out, has holes or rips, that's only good for the trash in the end.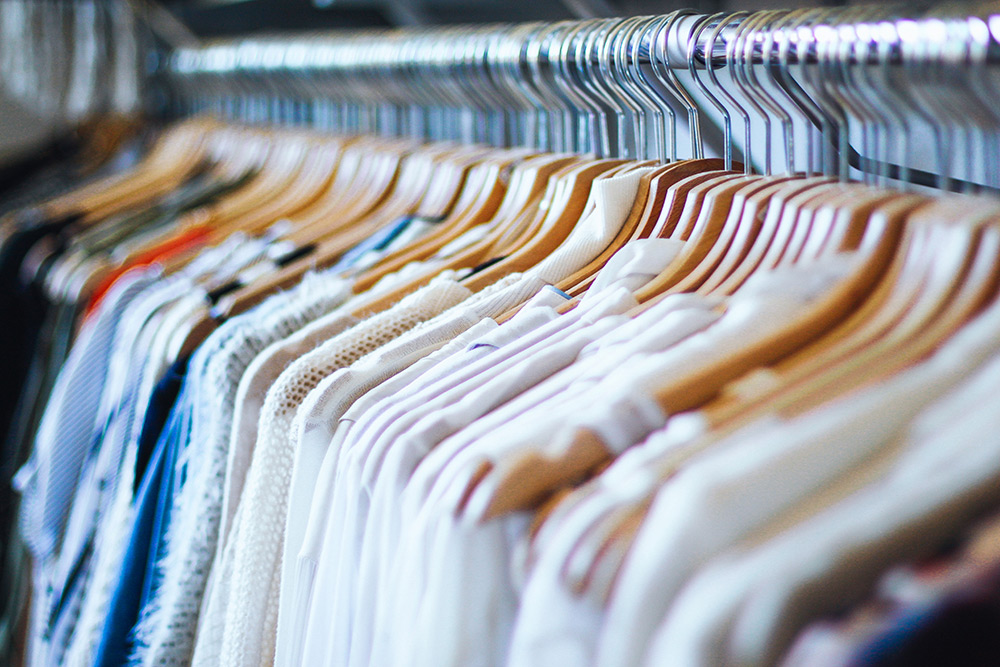 Closet Purge: Organise everything back again
A neat and tidy wardrobe is mandatory for a fashionista like me. I like to organise my clothes by subject and colours. I don't have too many shelves, actually mostly drawers and space to hang everything neatly in sight. That's how I planned my walk-in-closet, like an open concept wardrobe that let's me have a look at every item.
The bottom area is dedicated to shirts, blouses and blazers as well as cardigans and jumpers and leather jackets. The left side houses long cardigans and capes and the right part is fully saved for dresses, jumpsuits, jeans, skirts, workout wear and loungewear. Thick wool pieces and knitted pullovers can be found folded in the shelf area as well as my beloved bags. Intimates and socks are hidden in the top drawers. When you like to organise by concept, you could also think about certain trends or looks, but for me this way works best.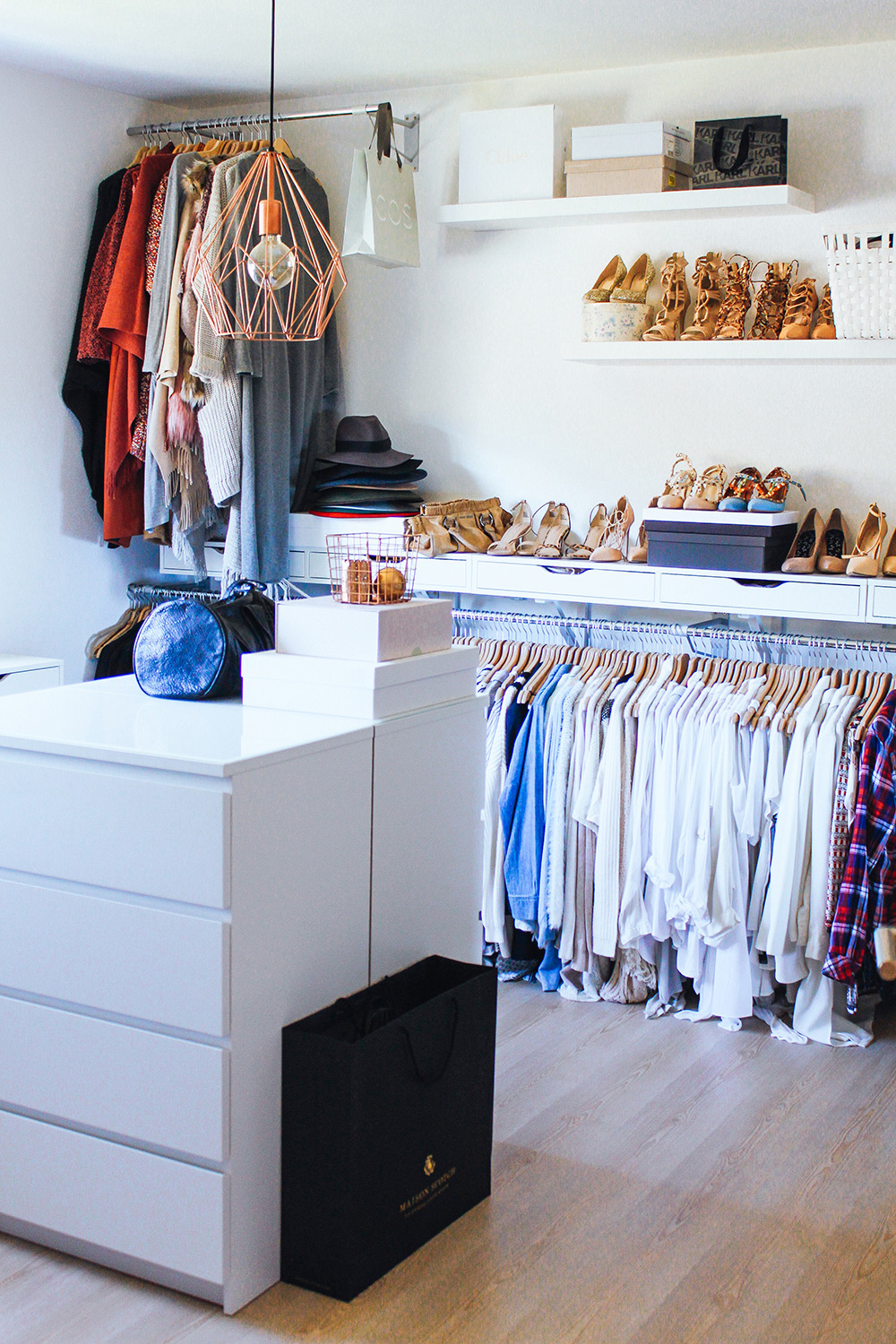 The Shoe Closet
My shoes have their very own part of the room, a whole wall if you will plus a small part behind the door equipped with lots of shelves. I like to sort by colour and style. If you have to work with a smaller space, you could get those storage shoe boxes and label them with photos of each pair for a more streamlined look.
The Accessory Closet
Belts are perfect to simply hang on hangers or hooks. If you have more drawer space, you could roll them and keep them in the drawer. When you have more space, like I do, keep your bags on display. I like to look at them at one glance and always make sure to stuff them with old newspaper, so they will keep their fit. Random shoppers and tote bags are organised by type in wire baskets.
Get a reward
Believe it or not, we're done! Now pat yourself on your shoulder and be proud! You earned it! We purged our closets, we cleaned and streamlined everything and got rid of unneccessary clutter and clothes. Well done! And now we really earned a reward for all the hard labour. What will it be?
Is there a specific pair of shoes you always wanted or a certain bag? Well, we do have space again but actually it's not quite helpful to fill it back up to the brim or is it? The reward is the great looking wardrobe,the good feeling of another accomplished task and the new old clothes we found hidden away in the back of our drawers!
In Conclusion
All in all, it took me about three hours to sort through every one of the steps mentioned above. It also helped that I had a really good day, felt fully motivated and energetic. That's always a plus of course and it helps if getting rid of stuff is usually not your strong suit. In the end I filled a 120 liter trash bag filled to the brim with shoes, clothes and bags. And thinking back, I don't even remember each and every one of the pieces in there! It felt really, really good!
After the whole process, I like to take a tour in my walk-in-closet and love to know where everything is organised again. For my next shopping spree, I like to keep in mind to invest in higher quality pieces instead of getting random cheaper ones that won't last me that long and therefore keep my wardrobe organised for much longer (hopefully)!
When was the last time you purged your wardrobe this year?
P.S. The photos were taken before the big purge. The space looks much fresher now afterwards!