Unless you've been living under a rock lately, I am sure you heard about the new beauty terms Contouring and Strobing. A quick online search later and you find ladies determined to paint their faces like they're going to war, before the magic unveils it's secret: a perfect face with the right amout of highlighter and bronzer. Is it really magic or what is this all about? So for today' Beautyreport we'll talk all things Contouring and Strobing!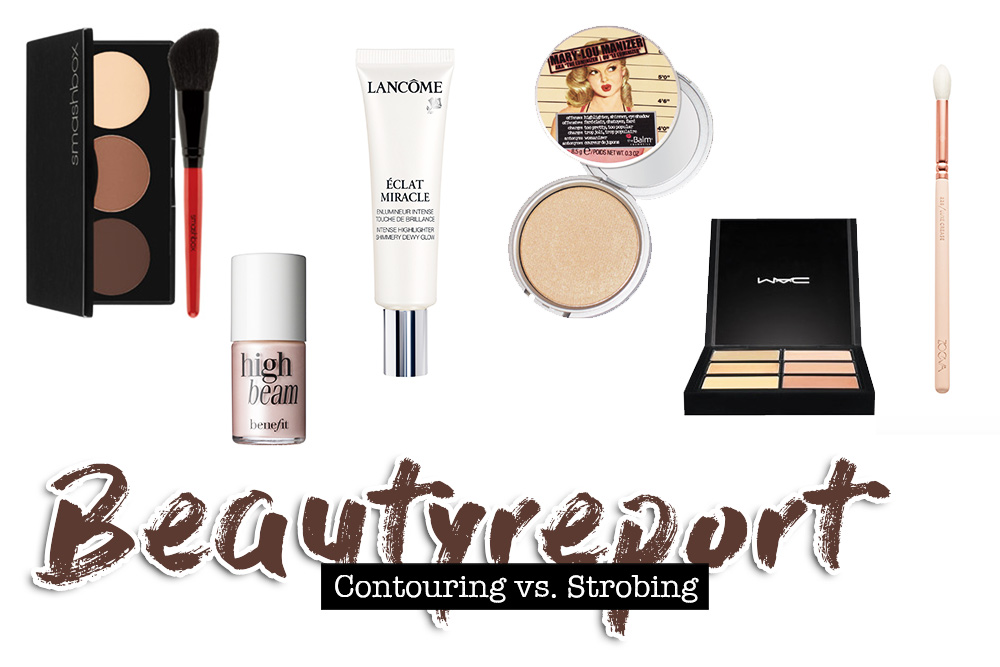 Beautyreport: Contouring and Strobing
First things first, let's start with the basics. Contouring and Strobing is all about enhancing certain features of your face. We're not talking beauty surgery here or endless amounts of beauty products and make-up but rather a smarter approach by working with light and shadow. By using dark, light or highlighting accents, you can totally transform your face. If you take a look at Contouring Tutorials online it's baffling how different those girls look before and after Strobing, don't you agree?!
Contouring
When someone talks about basic Contouring, they mean creating shadows in certain parts of your face. That way you can enhance or downplay certain features any way you like. For instance, if you place a dark contour right underneath your cheekbone, visually, it pops right up. Contouring creates the vision of a defined bone structure. That way your face can look particularly slimmer, softer or more accentuated like Angelina Jolie's cheekbones do, for instance.
There's no one-for-all approach as usual. To pick the right shade is crucial to achieve a great result. We're talking different shades of brown here but the natural undertones of your skin should lead the way if you need to go with a more orangey brown hue or yellow, red or grey undertones. The Contouring color should look like it's a natural shadow on your face, not like it was painted on! You should always aim to get as close to your natural tone as possible. That way the result will look very natural and dewy.
See slideshow for the best products for Contouring:

Cream or Powder?
When you're settled on the right color, it's now to determine if you are in favour of cream or powder products. This is basically trial and error but just have a look at what works best for you and is easier for you to handle. How to apply the contouring products can be another decision to make.
If you like to use your hands for applying make-up, a great cream product would be more up your alley while someone who is more drawn to their Beautyblender and brushes would more likely go for a powder contour kit. Anything's possible when it comes to contouring! Try out different brushes or special contouring brushes and play around as you go!
Try these brushes and little helpers for easy contouring: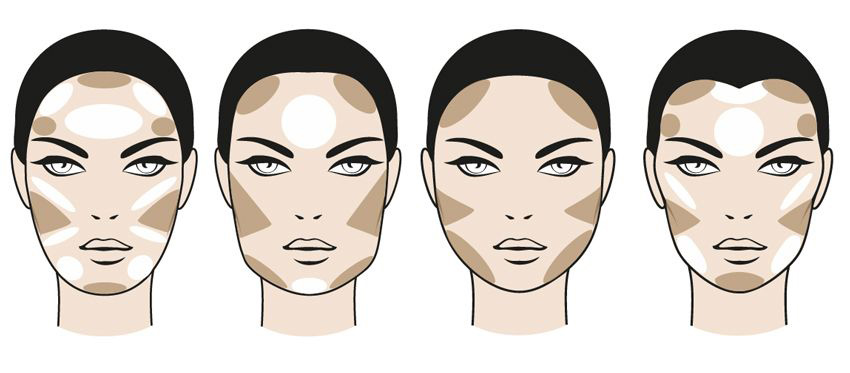 Contouring tutorial for different face shapes via Madame.de.
Strobing
While Contouring works with creating shadows on your face, with Strobing it's exactly the opposite: It's about light and setting highlights on certain parts of your face to enhance them. Strobing products are typically used for the top of the nose, the highest point of your cheek bones, the cupid's bow, the middle of your chin as well as right underneath your brows. That way you get a angel-like glow like never before!
See slideshow for the best products for Strobing:

From experience, I think cream products work better during summer than powders. They last longer and are easily applied with your fingers or a Beautyblender. Other than that, I prefer eye-make-up brushes for applying product on specific target areas. A Blending Brush works best to apply a golden touch underneath your brows, your inner eye area or your cheek bones.
Try these brushes and little helpers for easy strobing:

Strobing Tutorial via bellapierre.com
What's better now? Contouring or Strobing?
I guess those of you who are prone to oily skin might shy away from Strobing since another glowing area or even more focus on the shiny T-Zone is not what you signed up for. But maybe you disagree?!
Personally, I think a minimal approach to Strobing is best. Especially during the hot and humid summer months, it can be nice to set little hightlights here and there without overdoing it. For nights out or date make-up, I will always prefer Contouring and leave the highlights to sparkly jewellery. As you can see, I can't play favourites here.It depends on the occasion, season and timing but both trends definitely work!
How do you feel about this beauty trend? Have you tried out Contouring and Strobing already?
Press Images via Douglas.de