Today I like to show you a look I actually wore for Fashion Week Berlin. Culottes in Winter can totally work if you style them the right way so you won´t freeze your bum. Like I usually do, I went for a layered look. This time in subtle beige and camel-coloured shades.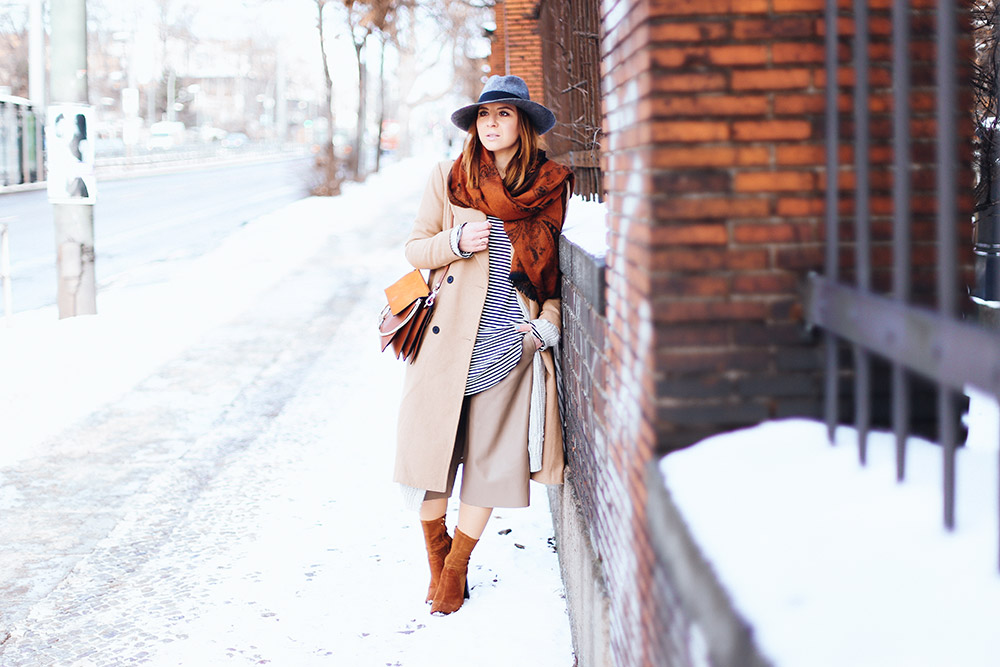 Culottes in Winter
To start things off: Of course I wore tights given the freezing temperature in Berlin! I actually saw lots of bare-legged girls wearing open-toe heels, but for me it was more important to be warm since we walked around quite a lot. My fashion rule number one that day was to not be freezing cold!

I think the perfect combination here were the beige Culottes, oversized striped shirt and thick beige cardigan. Don´t you think? Actually, I found the striped shirt at H&M menswear department and got one for my boyfriend as well. Since we do own a few of the same pieces, we could totally sport twin outfits, but I guess we will never know.
Layered Looks with Longshirt and Cardigan
I am sure you already noticed my love for layered looks if you´re reading my Fashion Blog for quite a while. I also decided to dedicate a whole blog post to this topic with tips and do´s and dont´s in the next few days.
Today we want to talk about my Fashion Week Outfit. As prefaced, I decided to keep the look within more muted beige and camel-like colours. I find those shades to be very relaxing and easy-going and feel very comfortable wearing them. To avoid a certain dull feel to it, I combined my outfit with a well-known striped shirt and a grey hat, which I actually found the day before in Berlin. I totally like the style of the hat and it´s a welcome addition to my every-growing hat collection.
How do you like my look? Would you wear culottes in winter?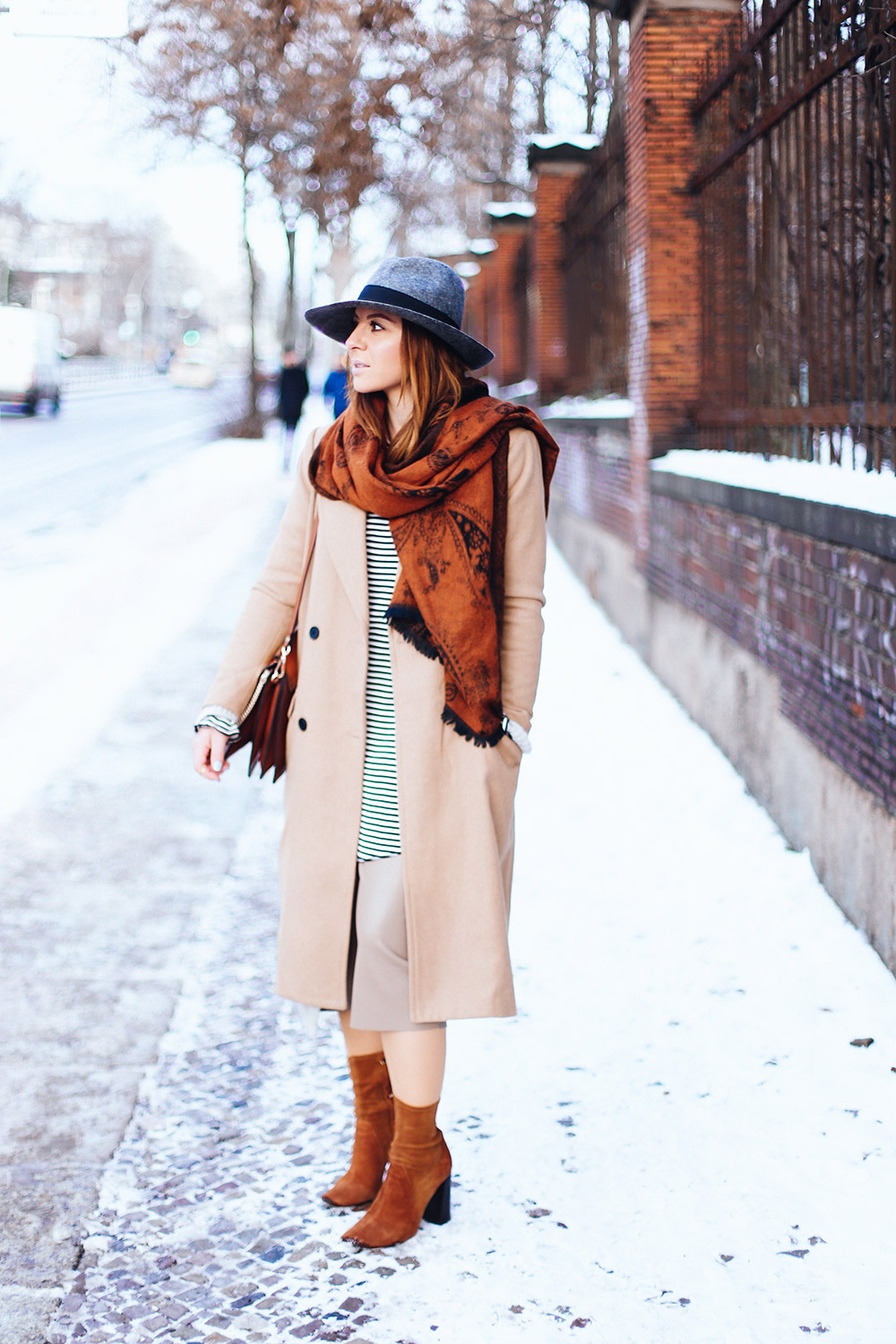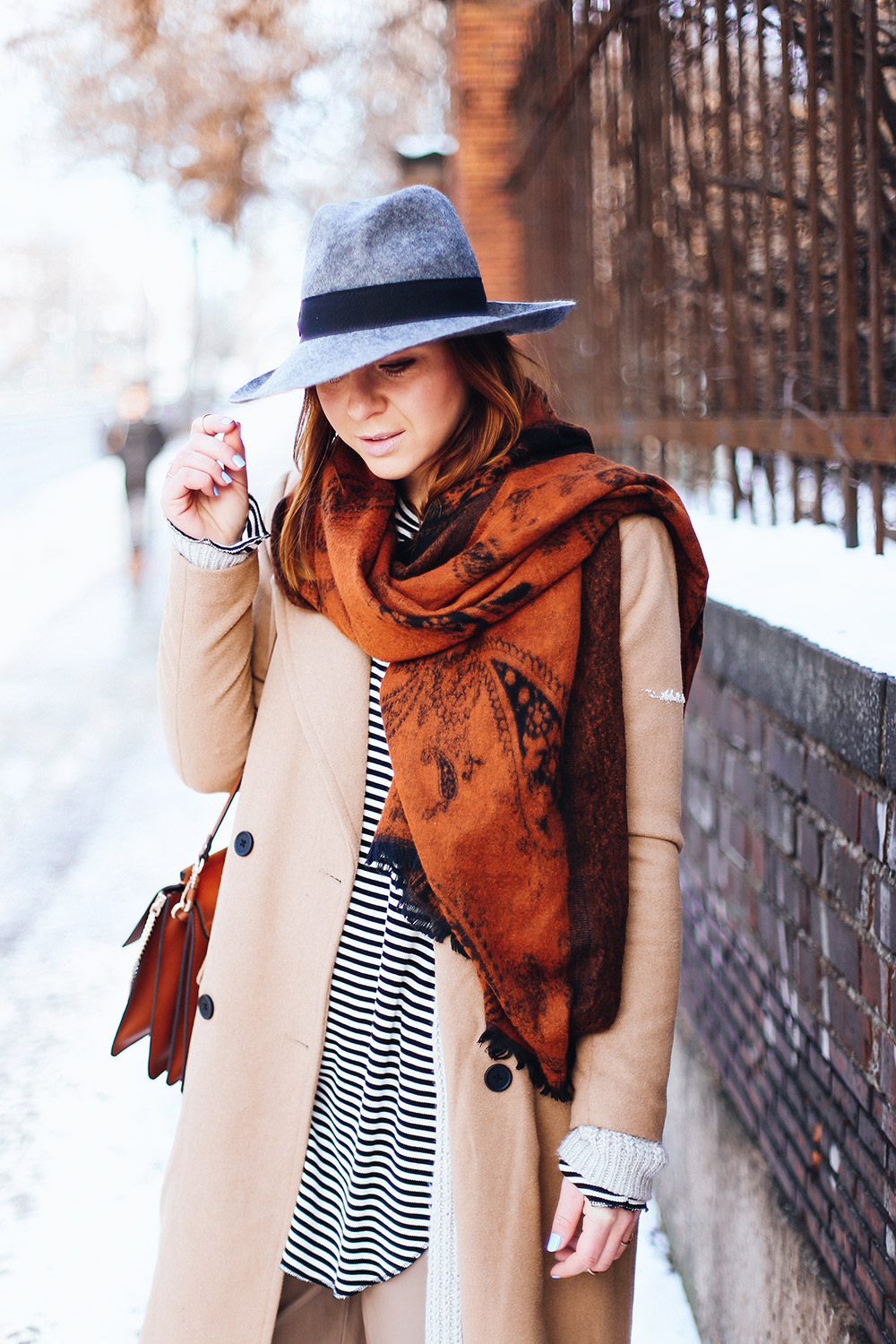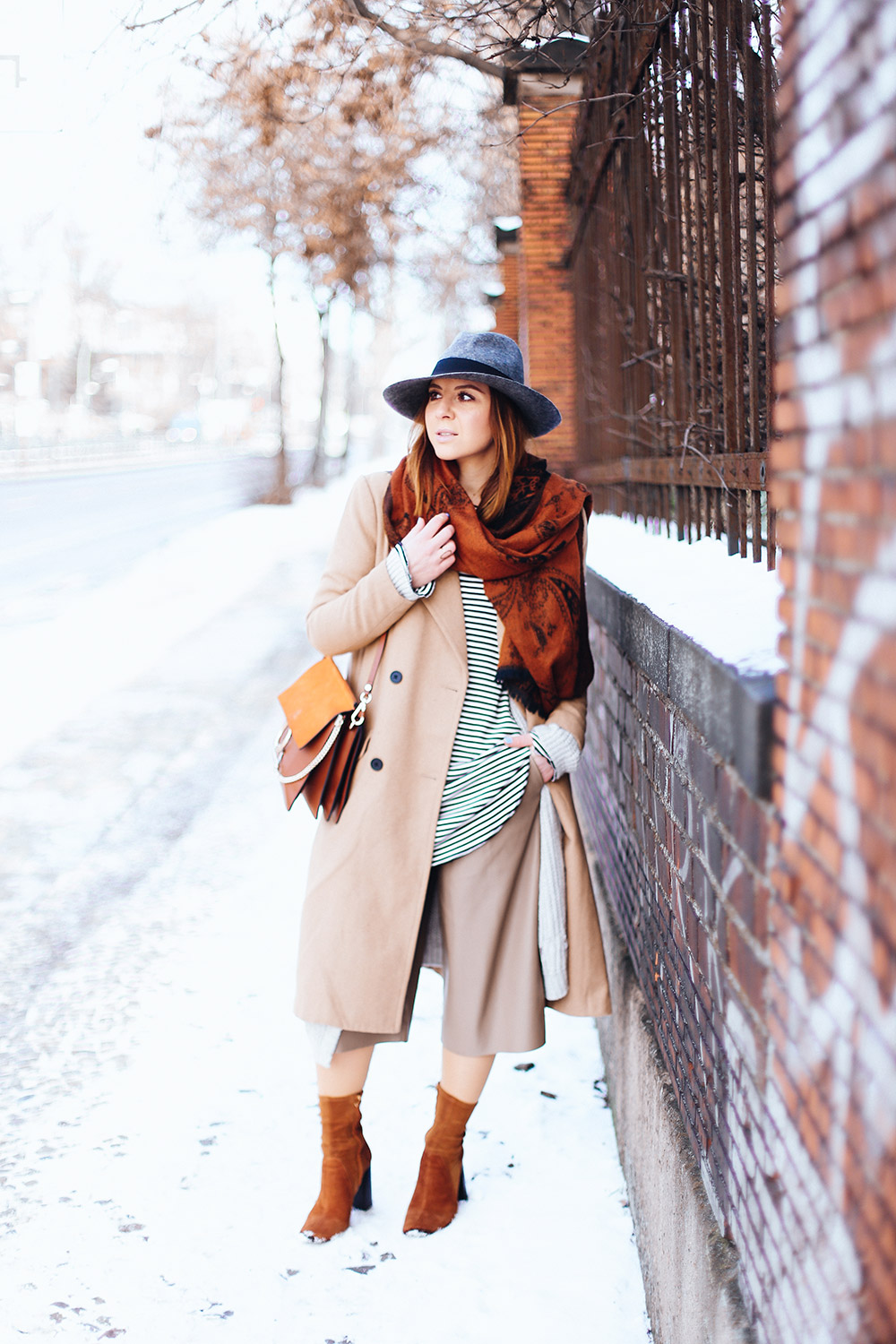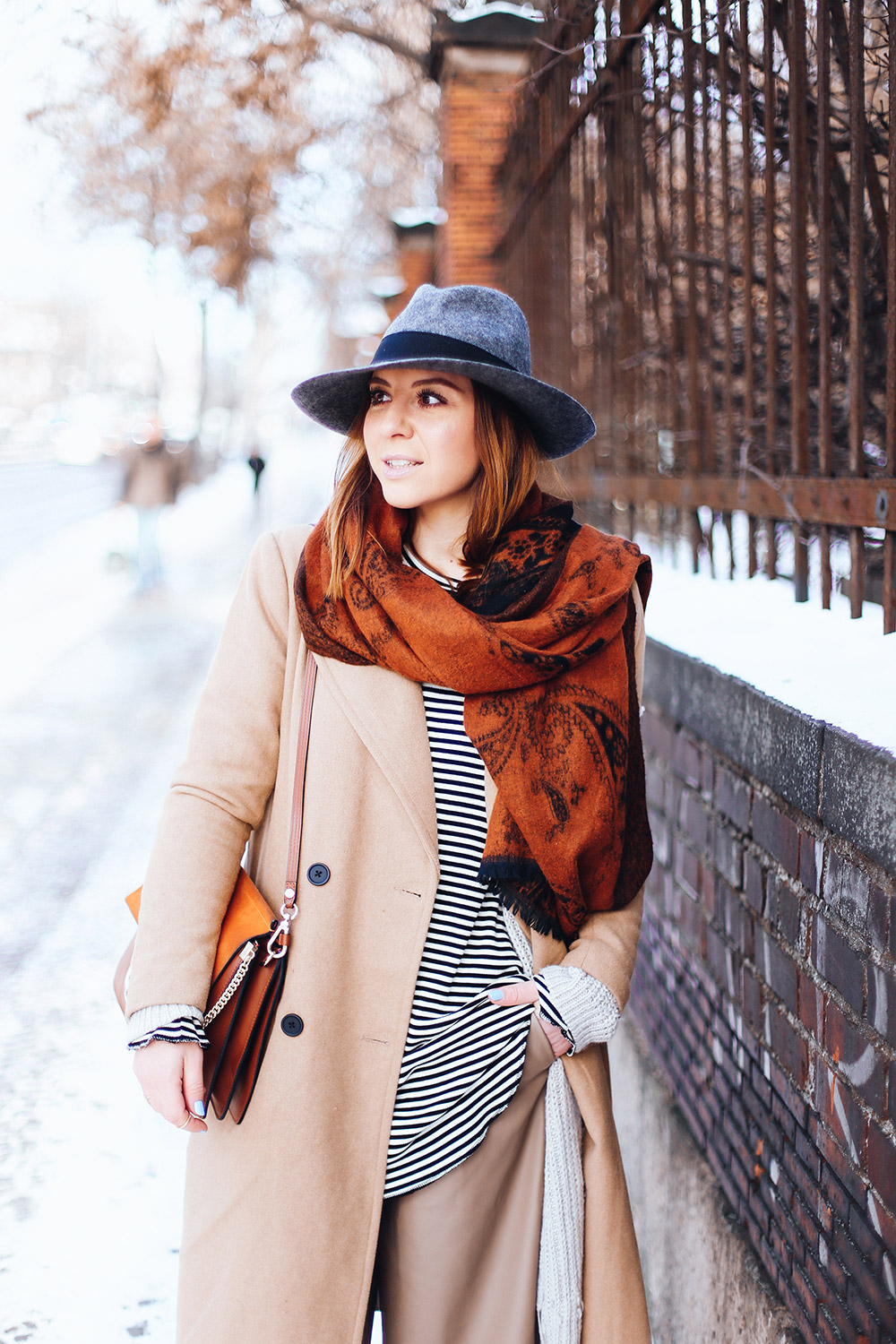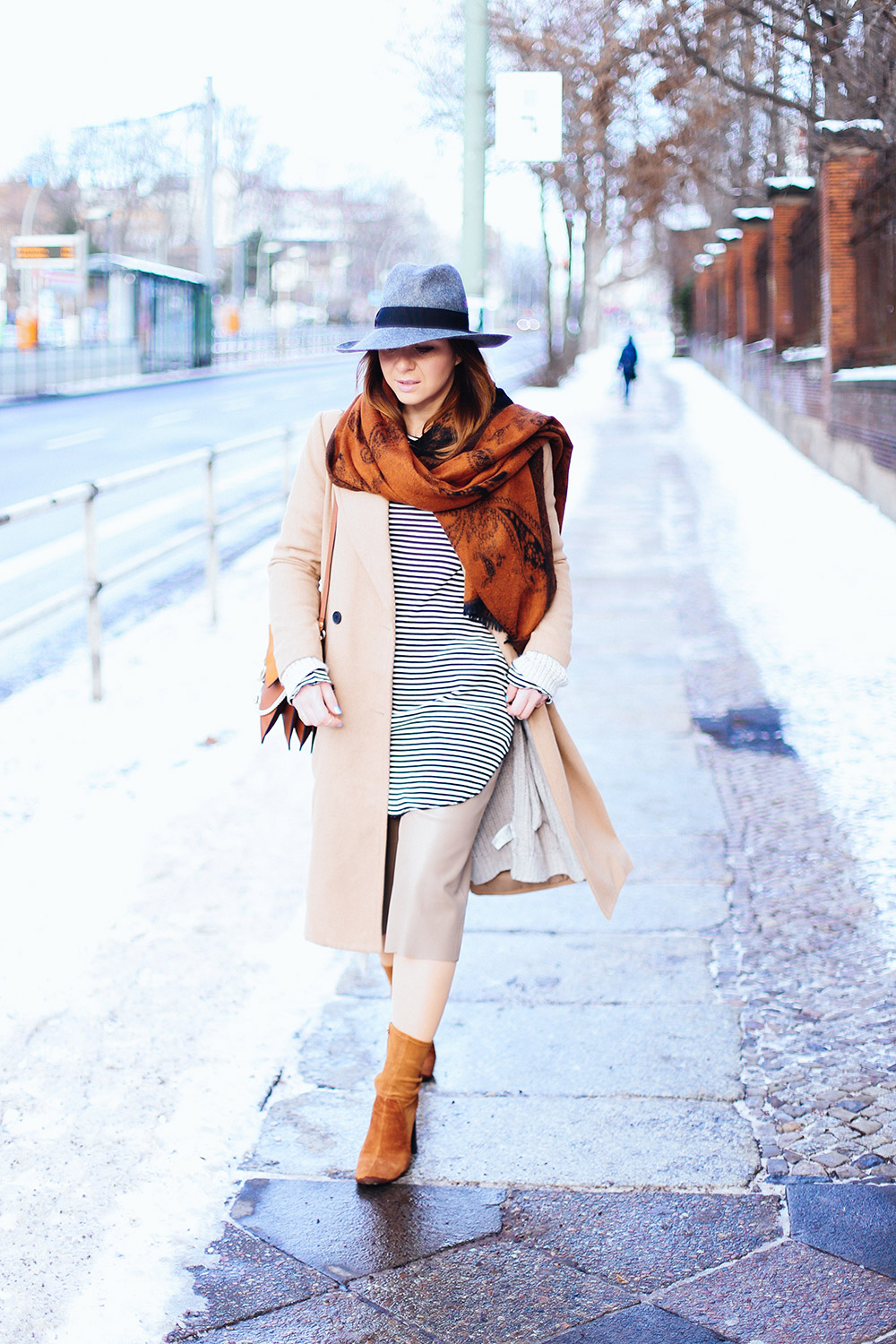 Culottes: Zara // similar one here beige Culottes
Coat: VILA // same one here Camel Coat
Boots: Zara // similar one here brown mid-lenght Boots
Striped Shirt: H&M Menswear // similar one here Striped Shirt
Bag: Chloé // similar one here Chloé Faye
Cardigan: H&M // similar one here beige Cardigan
Scarf: Zara // similar one here cognac-coloured Scarf
Hat: Noname // similar one here grey Hat

Fotocredit: Beats and Dogs