Following my five make-up must-haves, I now have my five for you. A lot of great new beauty products have arrived and today I'll show which ones I liked the most and why. Tell me more about your February Beauty Favourites!
My February Beauty Favourites
Total Sculpt 3-in-1 Contouring Kit by KIKO
Recently I've purchased KIKO's Total Sculpt 3-in-1 Contouring Kit. It was on sale and thus a real bargain – I think it was only 10 Euros. I went for the colour 02 medium to dark and I'm quite happy with it. The contouring palette contains two face powders for contouring; as well as a highlighting powder. I really like the colour (light and dark brown) of both face powders, especially since it fits my rather yellowish skin perfectly. The highlighting powder is really subtle and I only use it on my forehead, my nose and my chin. For the rest of my face I still use the Mary-Lou Manizer by thebalm.
Moreover, with the kit there also comes a short instruction on how and where to use the colours. For applying the powders I use a regular rouge brush and for the perfect finish I turn to my big powder brush, which is ideal for blending.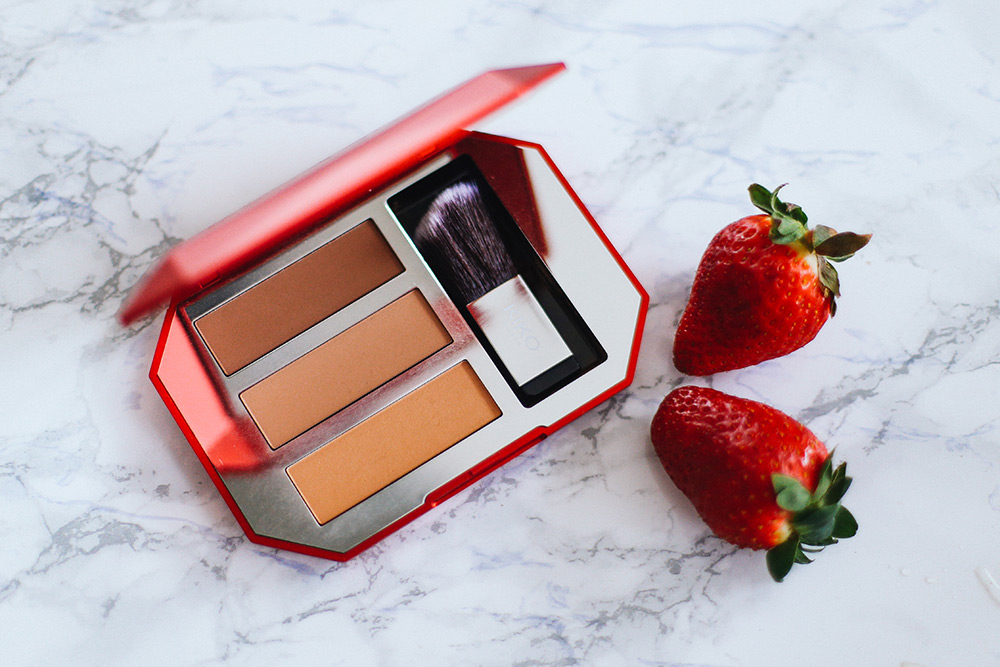 Ebelin Make-up Egg and Concealer Egg
A few days ago I bought the make-up egg by Beauty Blender – and since I wanted to have a comparison I also purchased Ebelin's make-up egg and Ebelin's concealer egg. But let's start with how to use them: before you begin, make sure you've moistened the eggs. Then you can start applying the products. I start with applying the concealer with my concealer egg in a triangular way under my eyes. Then I use the pointed end of the egg to work the concealer in really nicely. Finally I dip the egg into some loose powder and dab it over the concealer to make sure nothing smudges. You could also use a fluffy brush for that though.
My pink make-up egg comes next. I use both sides of it: First, the big round part to spread the foundation and secondly, the pointed part for working in the make-up even more thoroughly. Usually, I always apply foundation with my brush, but the make-up egg is a really good alternative. Especially when you are on the road and don't want to take your complete set of brushes with you.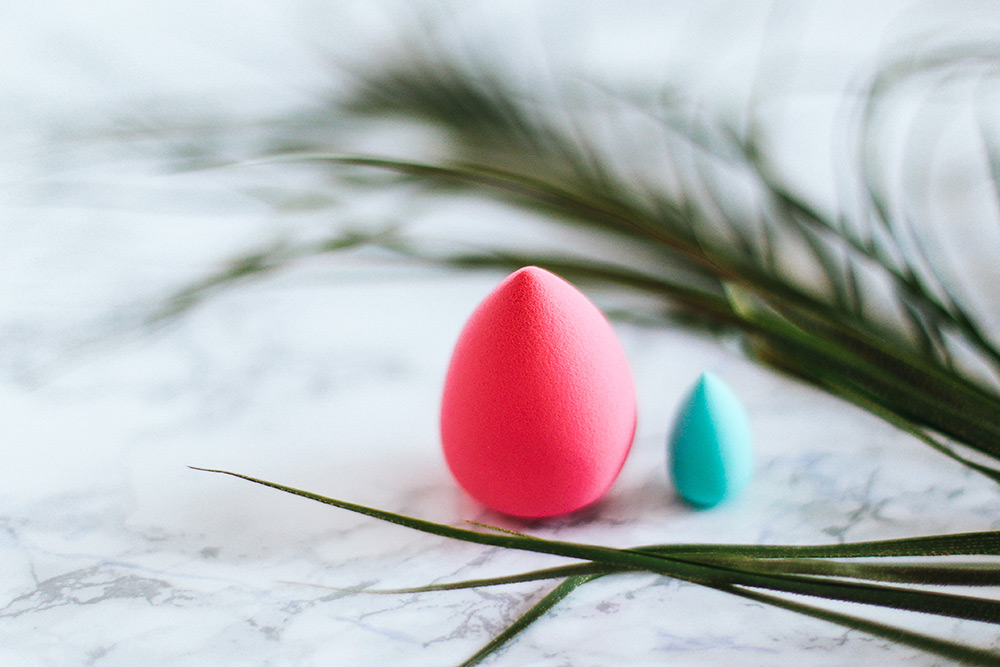 Eyebrow Expert Styling Kit and Eyebrow Fibres by KIKO
On my KIKO shopping spree I also couldn't resist buying an eyebrow powder and an eyebrow gel with a little brush. With the Eyebrow Expert Styling Kit I went for the colour 01. The styling kit includes a light and a darker tone of brown as well as an eyebrow wax. For my eyebrows I usually use the light brown first and then I touch up the thin parts of my brows with the darker colour.
The wax I don't really use that much, I prefer the Eyebrow Fibers brush. This brush – small as it may be – makes sure my brows stay in shape.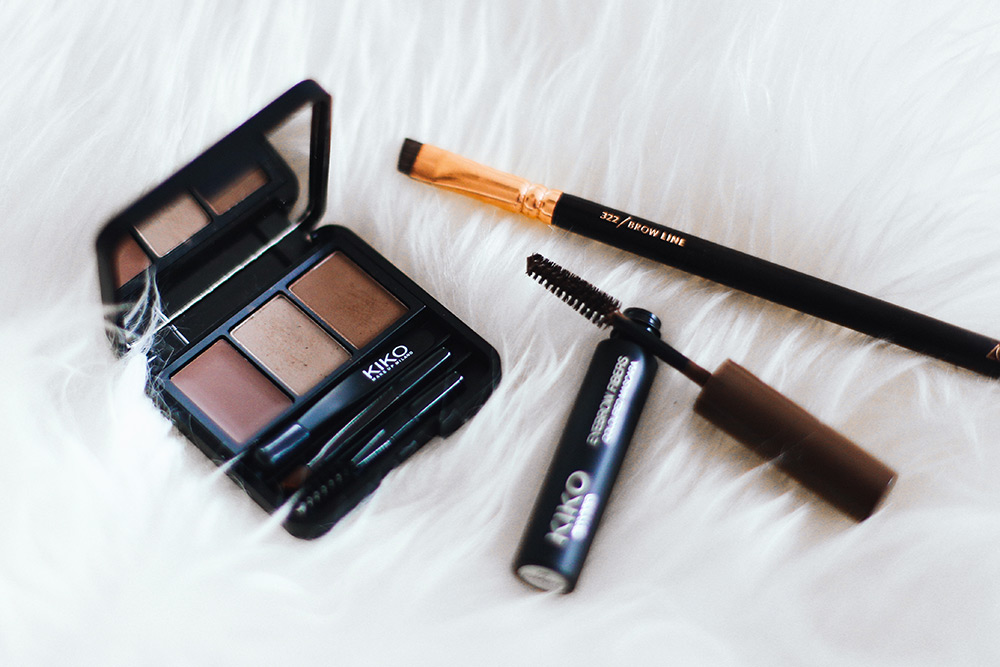 Balea Soap for Cleaning Make-up Brushes
I remember that the first soap I bought for cleaning my brushes was quite expensive. However, I wash my brushes almost daily and thus it was about time for a cheaper alternative. Therefore, I tested several soaps and soon found my favourite: the skin-friendly soap from Balea.
And that's how I use it for cleaning my brushes: I put the soap under running, warm water and then I rub the brush over the soap – but careful: a soft, circular motion is the movement you should go for. I keep going until the brush is clean, which actually goes about quite quickly. Afterwards I put the brush on a towel and wait till it's dry.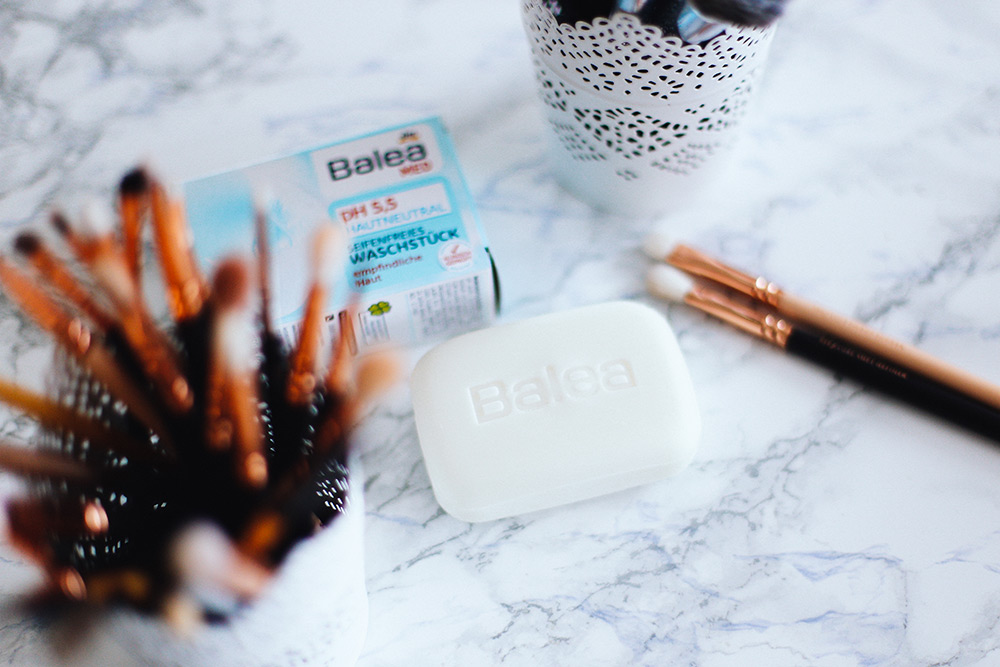 High Shine Lipstick and Lip liner by trend IT UP
Of course I also have a lovely new lipstick and lip liner. This month they are from the dm brand trend IT UP. The High Shine Lipstick 005 looks absolutely perfect with the lip liner Contour & Glide 010. Moreover, the lip liner is of almost the exact same colour as my lips and that's why I like wearing it under other lipsticks too.
In combination with the lipstick by trend IT UP, it results in a wonderful, glossy nude look that lasts for quite a while. I'd say 3-4 hours including food and drinks. Thus, the value for money is really good. The lipstick is 2, 25 euro and the lip liner is 1, 95 euro.