Recently, I showed you how to wear Layering, a layered look or the Onion look. If you missed that one, feel free to click here to find tips on that matter and on which key pieces work best for layering.
Today, I am going even further with the whole layering look and show you my very first Spring New Balance Sneaker Outfit complete with jeans, dress and two different cardigans. These photos were shot in Innsbruck by the amazing photographer Andrea Fichtel. Mocca also made a guest appearance and was eager to show his best side, especially on the second photo where he looks way too adorable. Don´t you think?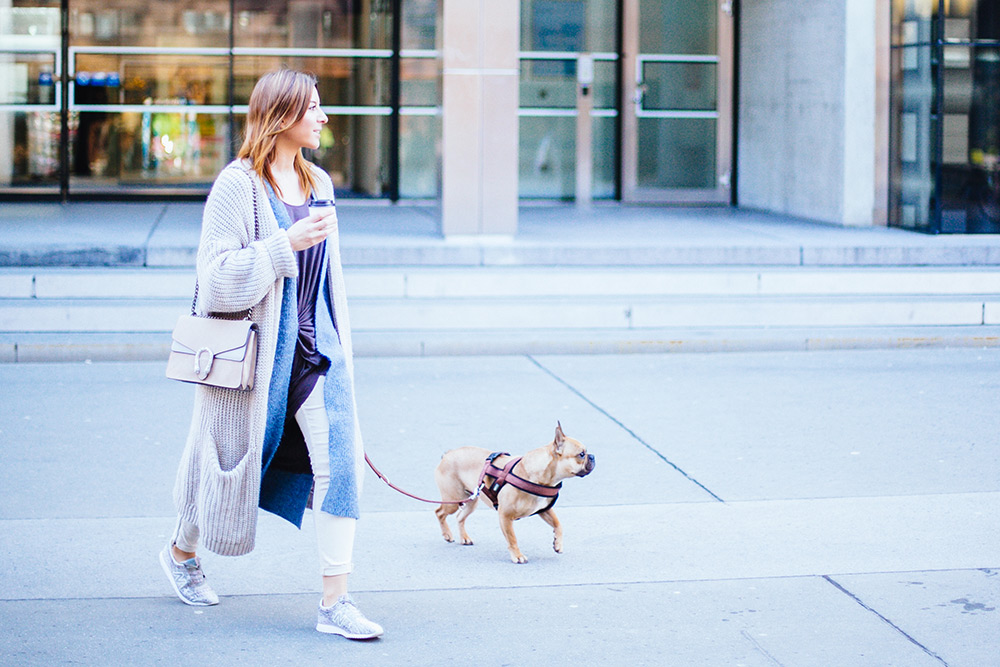 New Balance Sneaker Outfit with Free People Jeans
This knitwear look worked best with my New Balance Sneakers because of the print and the colour range. Just perfect for spring, right?! Actually I already shared one look with you in October – I told you my 3 Tips on how to style a Parka jacket. Do you remember?

Today I am wearing the look with lots of beige and a dark mauve hue. I am actually not sure how to describe the colour of that slightly layered looking dress with the asymmetrical hem. Do you? But I just love the soft shade that works well with my Free People Jeans. I decided to add my light-blue cardigan from Mango and my most favourite thick cardigan from H&M to complete the whole outfit.
Cardigan over Cardigan
Thinking about wearing cardigan over cardigan instantly makes me think of layering cozy with cozy, ha! Especially when I am with one or two dogs out and about in the city, I want to feel chic enough but also functional and most of all comfortable! I probably wouldn´t wear this look for a business meeting, but switching the New Balance Sneakers for pointed simple booties and the knitted cardigan for a more tailored blazer. Voilà, there you´d have a business outfit!
How do you like my cozy New Balance Outfit for transition weather?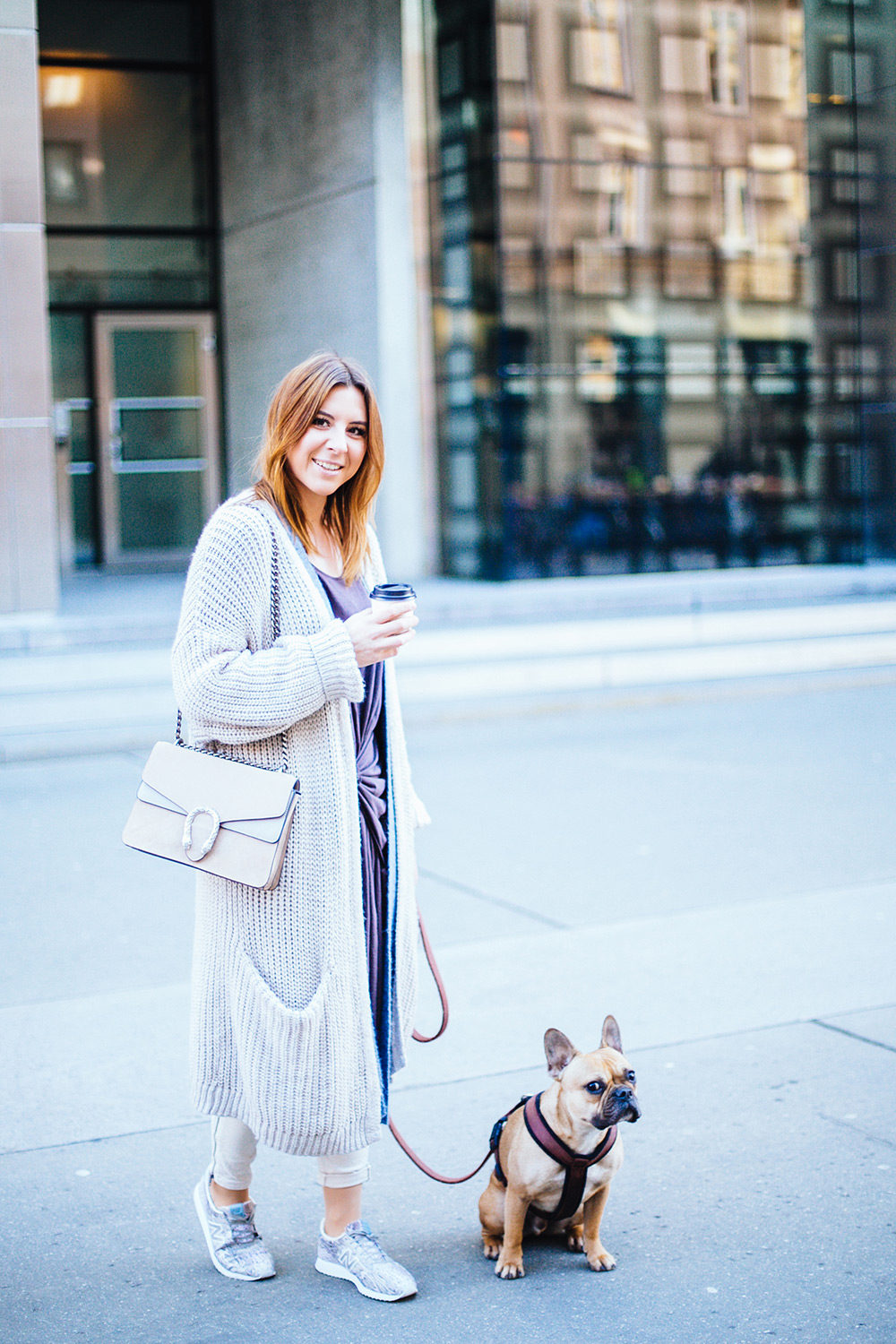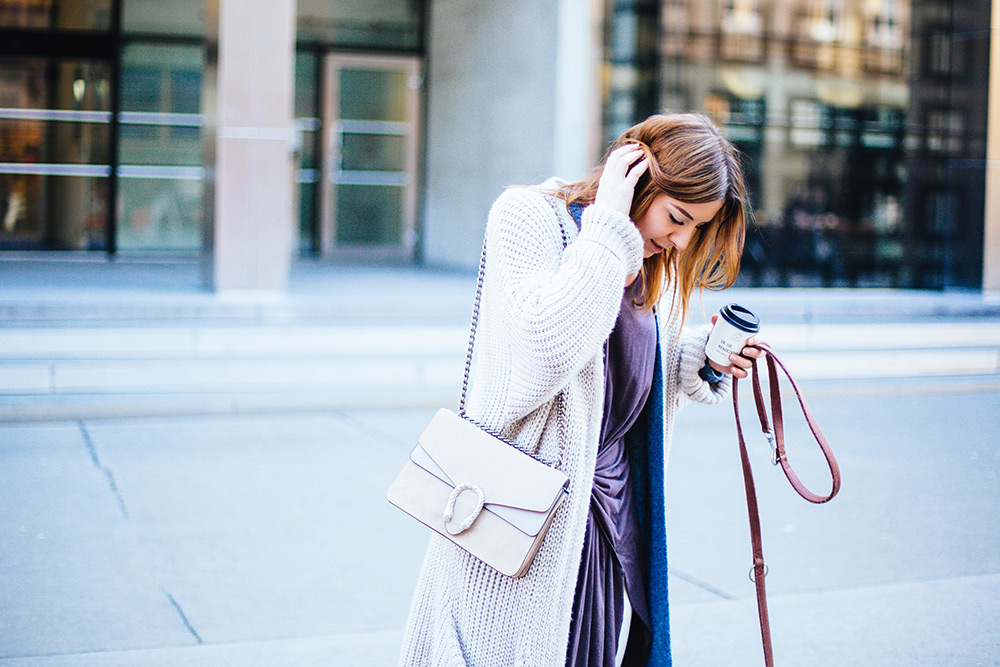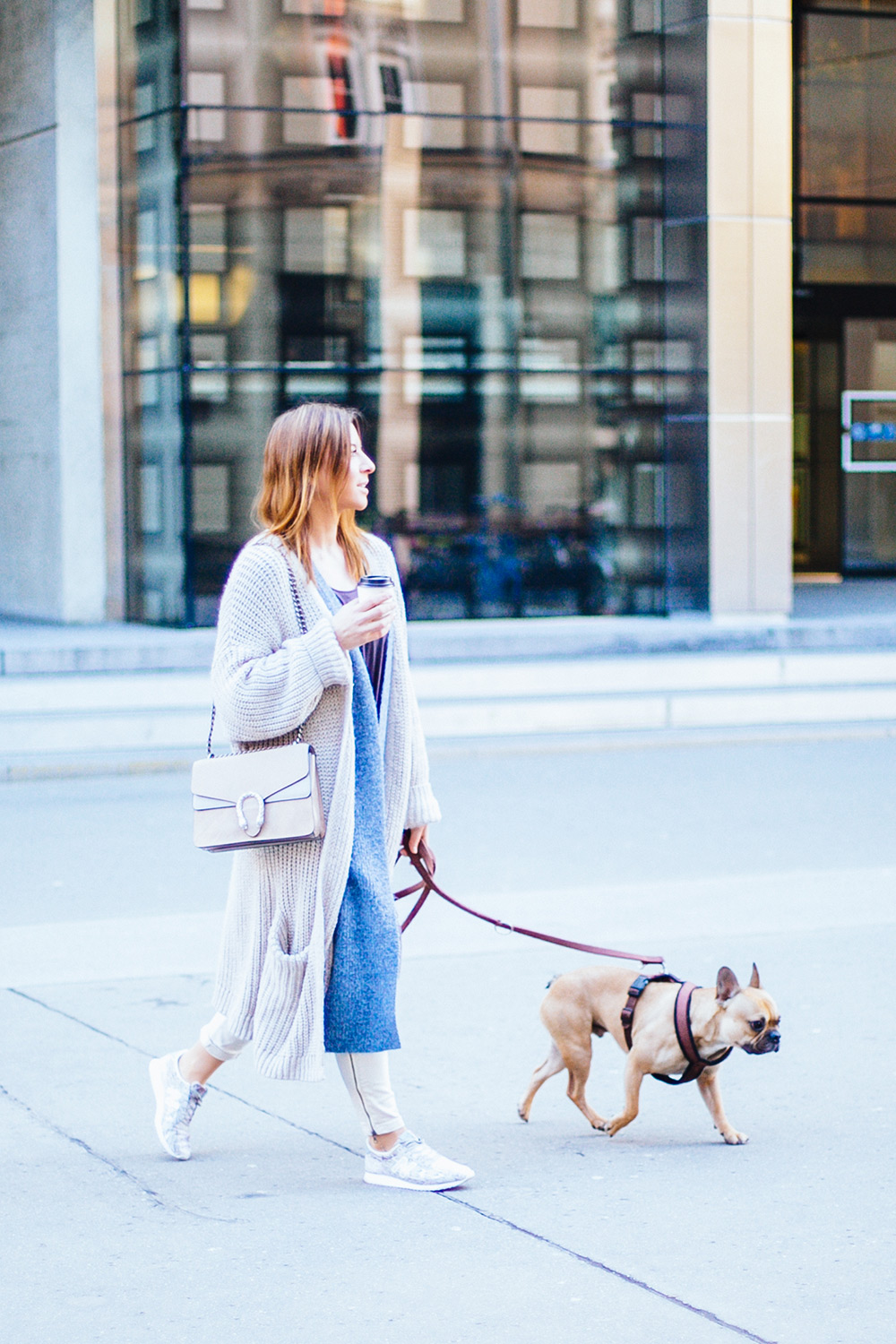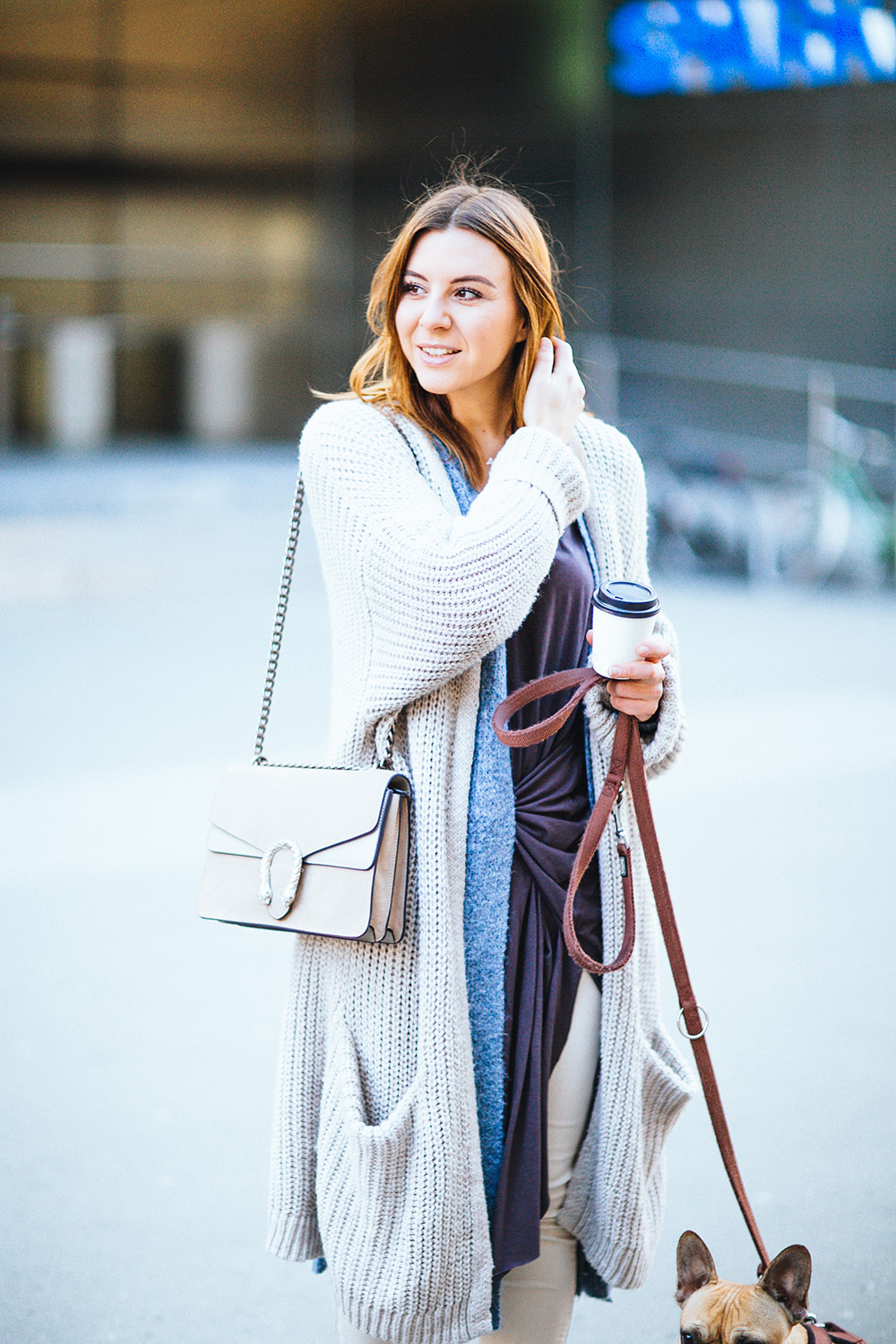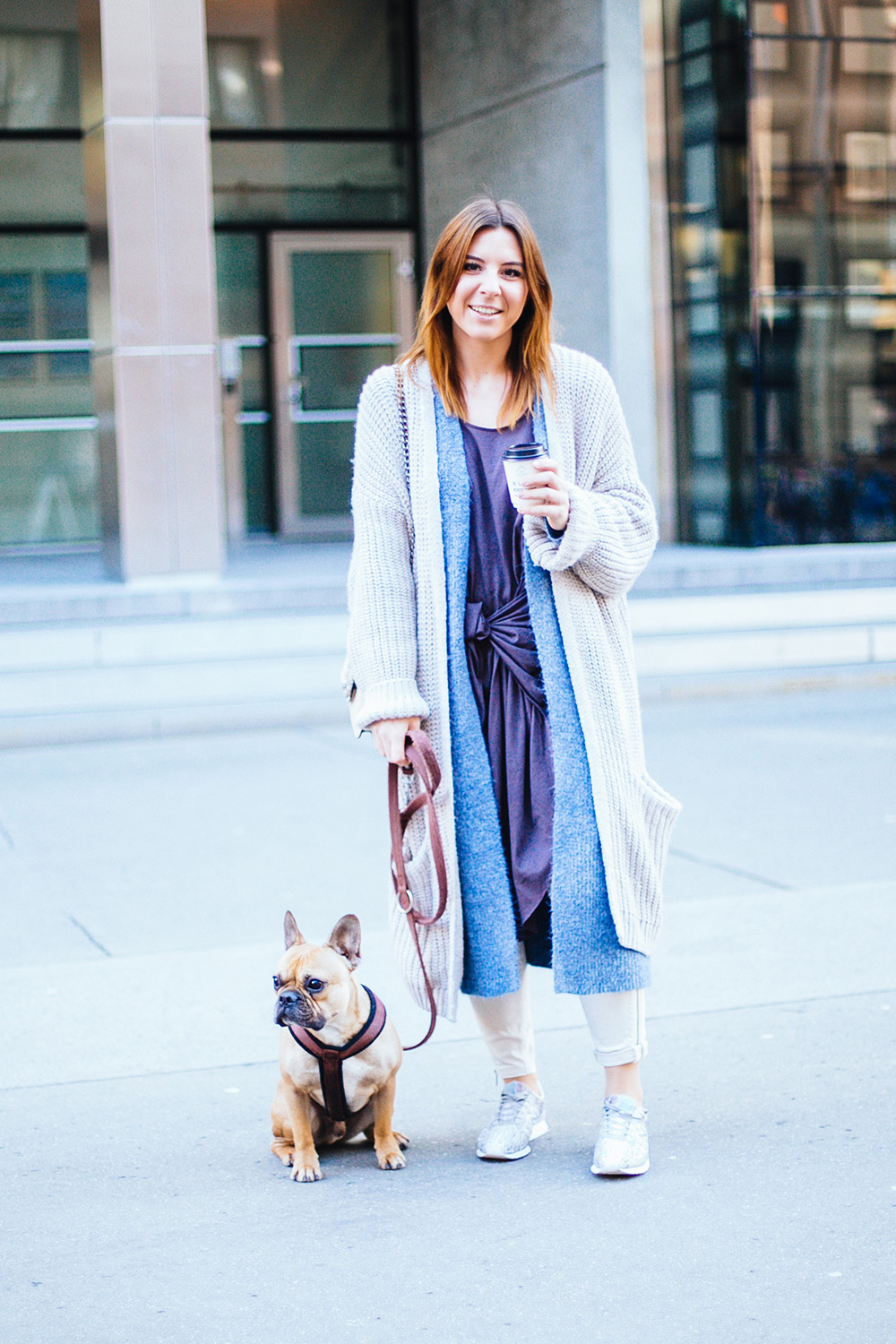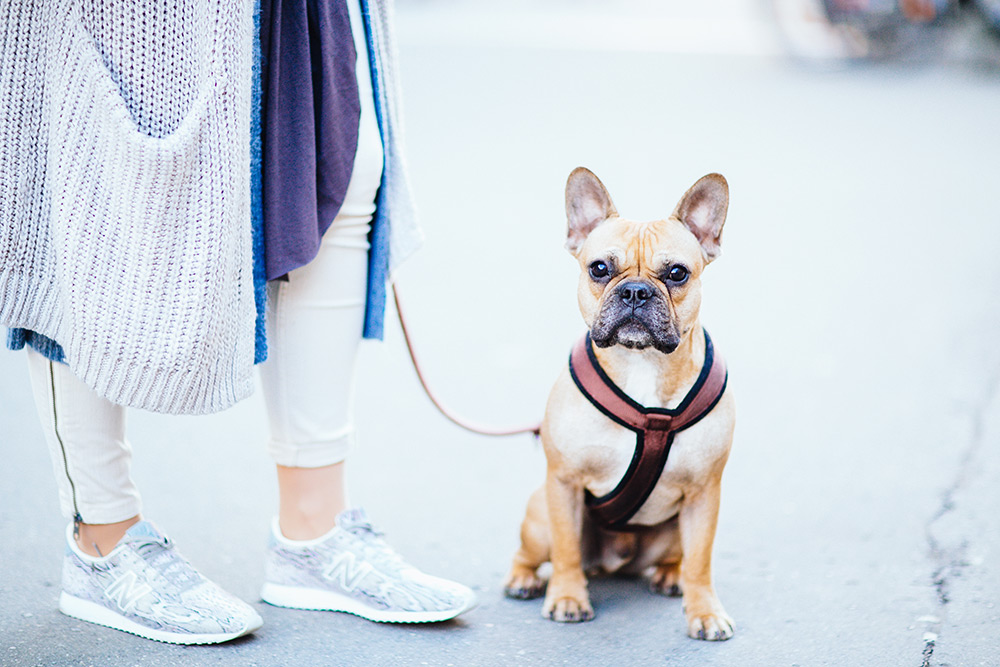 Sneakers: New Balance // similar here New Balance Sneakers
Jeans: Free People // same one here Free People Jeans
Light-blue Cardigan: Mango // same one here light-blue Cardigan
Bag: Gucci // similar here Gucci Dionysus
Dress with asymmetrical Hem: Free People // same here Dress with asymmetrical Hem
Beige Cardigan: H&M // similar here beige Cardigan
Fotocredit: Andrea Fichtel Photography. Editing: Who is Mocca?