It's been a few weeks already since my quick trip to Lisbon. I shared my Travel Diary with you as well as my boyfriend Beats and Dogs, who stayed in Lisbon for all in all six weeks. Today, I like to share a ripped jeans look and especially the amazing location we got to shoot in: Cascais Bay. Sadly, this was also the last day of our amazing time in Lisbon. That's how I like my trips though, ending with a true highlight!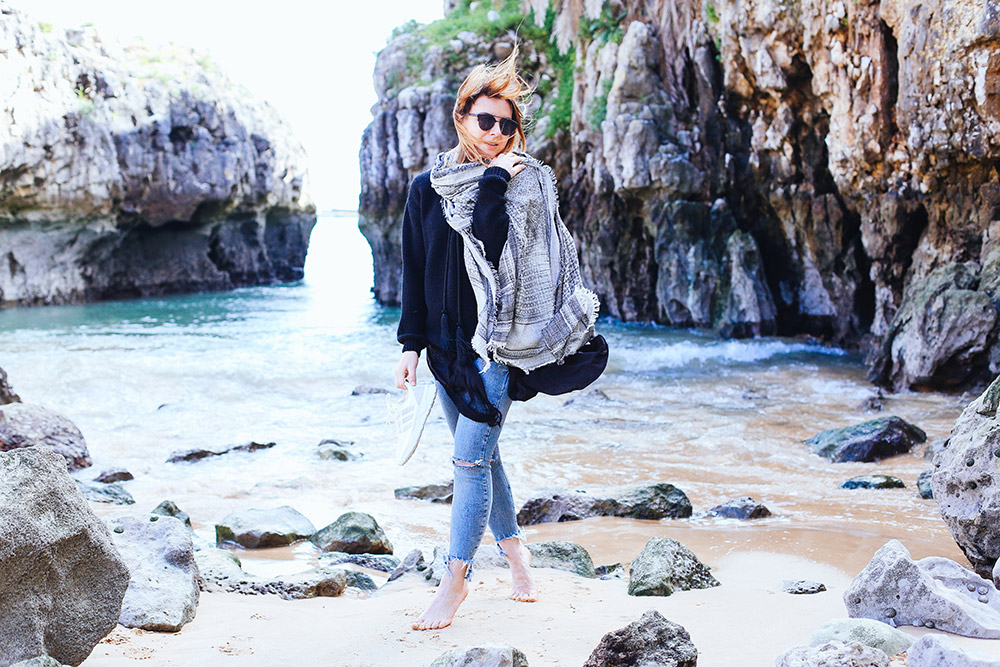 Ripped Jeans Outfit in Cascais Bay
I already showed you these ripped jeans in a Layering Outfit recently. I played around with different shades of white for that specific look and also wore these Adidas Sneakers. For Cascais Bay, I decided on wearing bright jeans from Bershka and combined it with lots of black and a few patterned pieces. I chose my long shirt from Free People and a rather slouchy black jumper from Zara and ended up with a totally different look.
If I had my way, I'd wear my ripped jeans daily, so I still hope that Bershka will come up with different shades of the very same pair. Otherwise I might be getting a second pair and colour them myself, since I'd love to have a black pair as well. Being a fashionista is no joke. But well, it's the perfect fit and cut for me and I like the different kind of hem it comes with!
Ripped Jeans: Bershka // similar Ripped Jeans
Long shirt: Free People via Shopbop // similar black Long shirt
Jumper: Zara // similar black jumper
Scarf: Zara // similar Patterned scarf
Sneakers: Adidas // same here Adidas Sneakers
Sunglasses: Bershka // similar black sunglasses

Ripped Jeans Look with Long Shirt and white Sneakers
When sporting bright pants, I like to play up my top a bit. This time I decided on this black long shirt which is cut asymmetrically and slouchy as usual. The perfect duo for a relaxed day at the beach! Since it was quite chilly that time of the year, a jumper was much needed. Plus a patterned scarf from Zara came along as the perfect accessory.
Looking back, it was the perfect beach day outfit! Also, I jumped on the opportunity to take my beige Sneakers from Adidas for a walk again, since it's been a while, but most of the time I enjoyed the barefoot feeling and sand between my toes. Can you relate?
I clealry needed to recharge my batteries that day and wish I could experience such laid-back days at the beach more often! How do you like my ripped jeans outfit?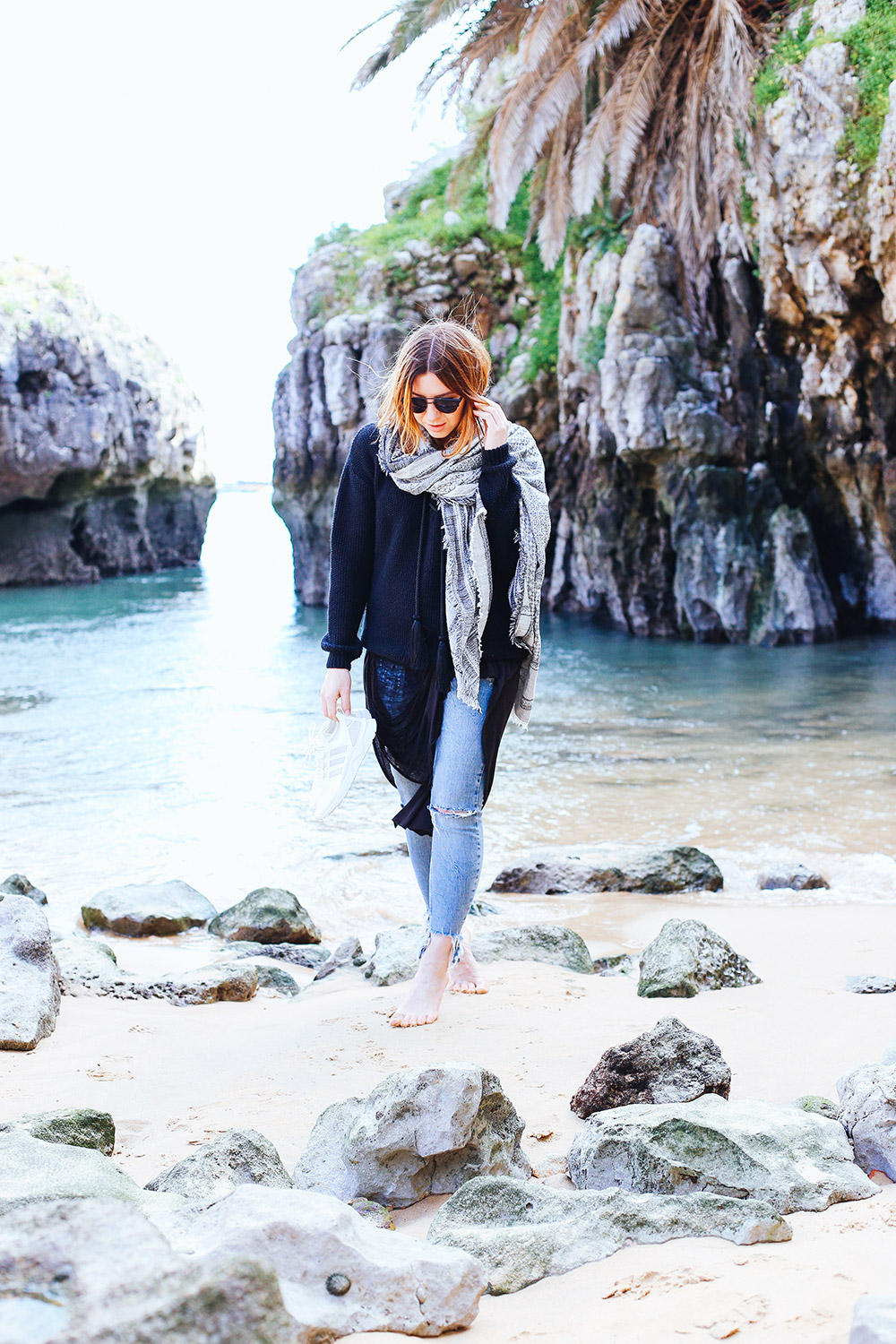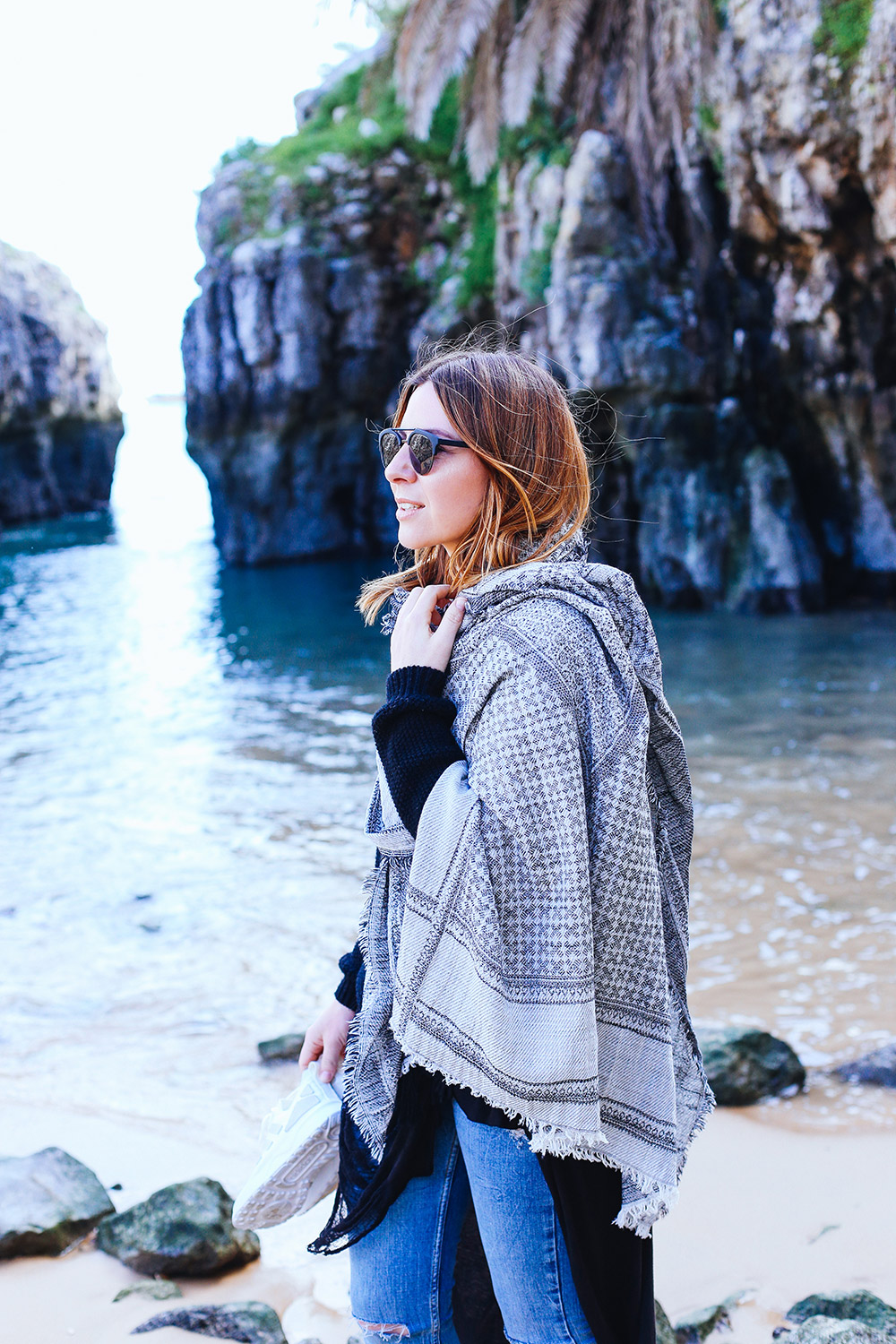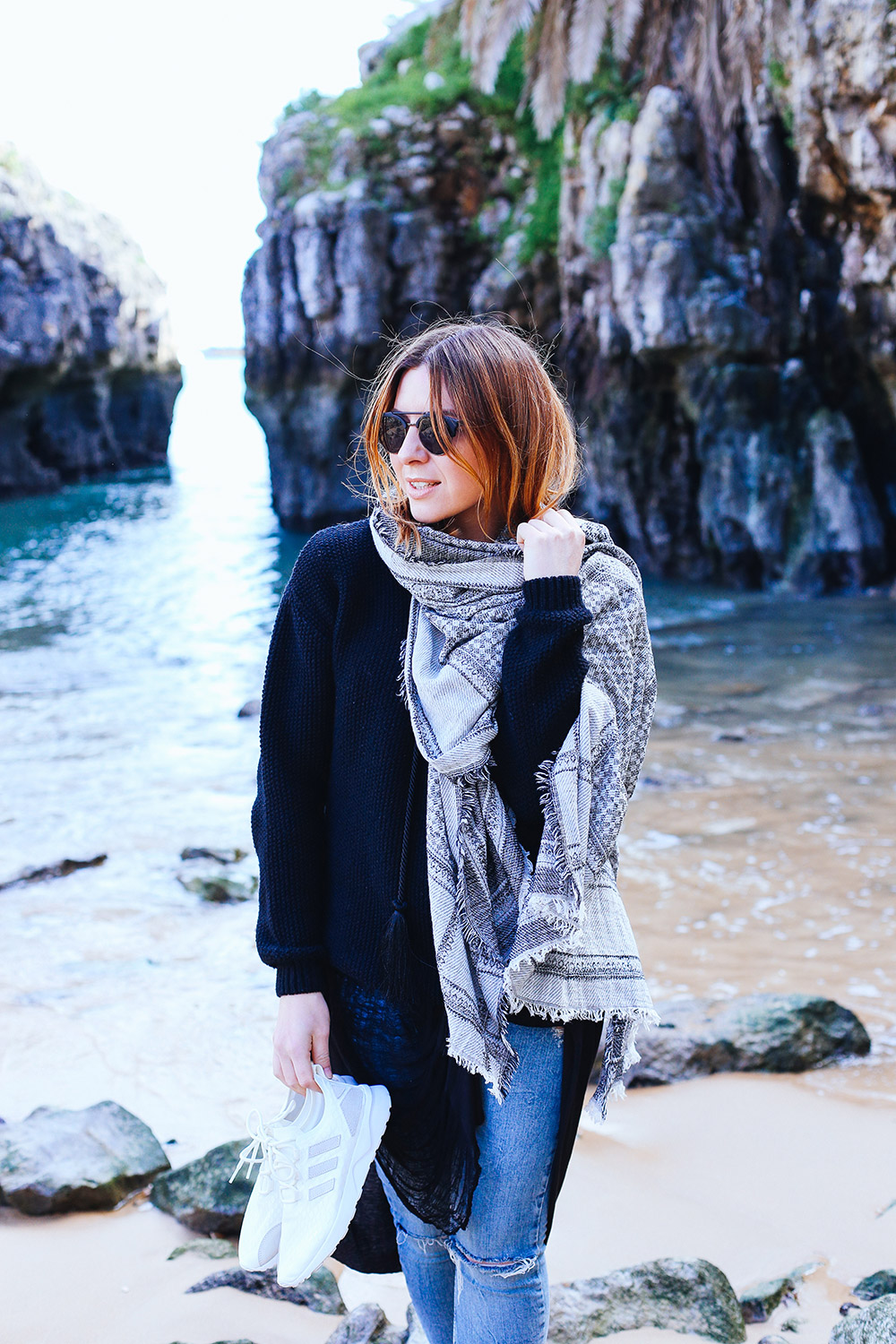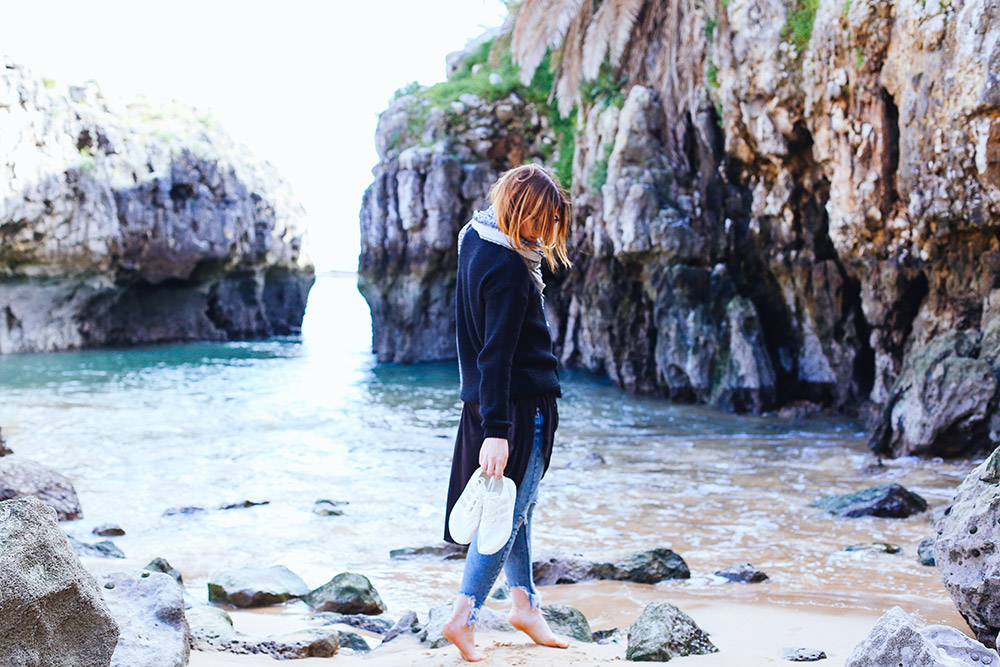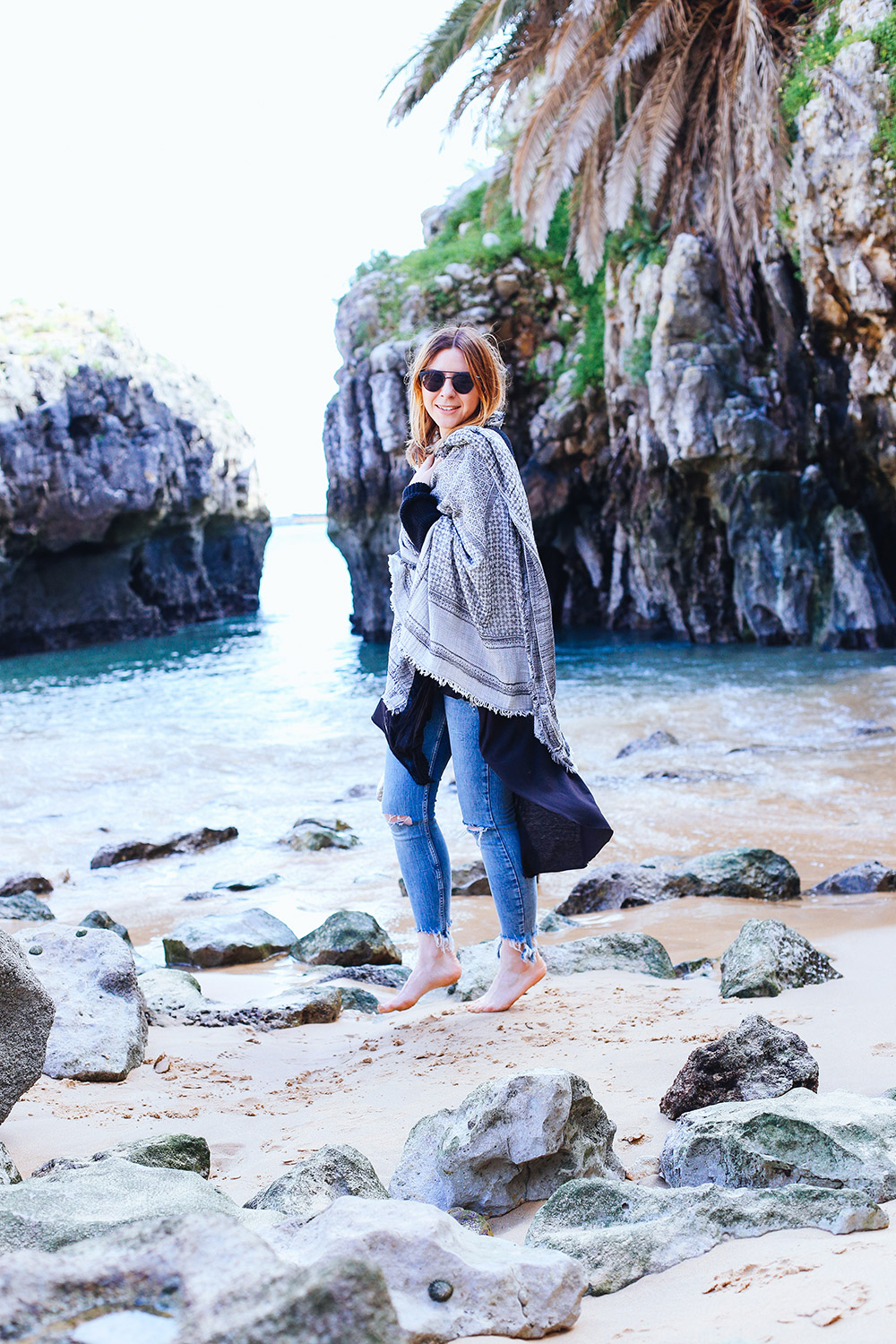 Fotocredit: Beats and Dogs