Let's dream a little, shall we?! You can hear the waves crashing in the bay nearby, feel the warm sand in your hands, let it run through your fingers, your straw hat only gives you glimpses of sunlight when you peek and the wind smells like summer and the sea. Your batteries are recharged and you just feel so happy and full! Well, I am sorry I have to break it to you, but for now, we still have to dream about that scenario until it's time to board that plane all the way to summer, sun and beachtime… or at least time to enjoy a cocktail or two at the next beach bar in your town! What's better than thinking about summer makeup until then, more specifically about the perfect summer foundation?!

The perfect summer foundation
Summer, sun and lots of outside activities call for a make-up routine that's subtle but still strong enough to accompany us throughout our busy days. Sweat, heat and water put even the best formulas to a strict test. Which foundation makes the right choice for your skin type and proofs itself to be the perfect wingman for your summer days and nights? Let's talk about that in today's Beautyreport, which also makes an excellent follow-up of my Contouring and Strobing post. If you want to enhance your face with these new trends, it all comes down to the perfect base!
What to consider when it comes to summer foundations?
First things first, no summer foundation should come without a high dose of SPF (sun protection factor), that should go without saying! Even though you might think you don't have sensitive skin, you'd be shocked how much harm the sun and heat can cause on your skin and especially your face. So don't question the SPF 20 minimum rule! The damage doesn't start with lobster red skin, the sun first wrecks havoc on the underlying tissue where wrinkles and sunspots are built before they are even visible on the surface. So never without SPF, friends!
If you're especially pale or fair skinned, choose your SPF accordingly. SPF 30 or 50 and you are on the save side when it comes to sun damage! Needless to say, it's not easy to find summer foundations packed with a higher dose of SPF, still, I did my best to find the cream of the crop!
What do else do we need from the perfect summer foundation besides great SPF? First of all, the foundation needs to be extremely waterproof and as sweat-proof as possible. A setting powder would do the trick, but for summer and heat waves, less is more. A light glowy finish is also a must when it comes to summer make-up. No one wants to maintain a heavy face of makeup anyways. And that natural glow comes with an extra dose of moisturising ingredients. Voilà, that's what a great summer foundation must look like!
The perfect foundation for your skin type
As usual, I went on a mission to find great examples of what the perfect summer foundation should look like. Ready?
Summer Foundation for Oily and Combination Skin


Summer Foundation for Dry Skin

Revlon ColorStay Makeup
This gem was designed especially for dry skinned beauties and comes with lots and lots of extra moisture that keeps working its magic throughout your day.
bareMinerals BareSkin Serum Foundation
This allrounder has a fairly matte finish but the formula is very light and fluid. Packed with SPF 30 and easily buildable coverage, this foundation is the perfect choice for summer if your skin is on the drier side of the spectrum.
Bobbi Brown Intensive Skin Serum Foundation SPF 40
My absolute favourite! There, I said it! But really, what's not to love? This serum foundation works amazingly well for light sensitive skin types plus SPF 40 to keep that fair skin tone protected. The light formula blends into your skin like it's melting in, which feels amazing layered on. On top of that, the foundation is paraben free and perfume free. A true affordable luxury!

Summer Foundation for Normal Skin

Yves Saint Laurent Le Teint Touch Éclat
Ever since the YSL Concealer hype, I was asking myself if this range will come up with a foundation as well. Finally, they did! A light textured foundation with a very glowy finish, available with SPF from 15 to 30 that comes in a variety of shades. Amazing!
MAC Pro Longwear Nourishing Waterproof Foundation
"No tears or rain" – according to it's ad campaign, this foundation is a waterproof powerhouse! And since it really lives up to its name, it has to be blended in quickly in order to stay in place and keep an impeccable finish all day long.
Benefit Hello Flawless Oxygen Wow
This summer foundation feels extra moisturizing and provides SPF 25. As with the whole benefit range, it comes in very cute packaging and also is oilfree, mineraloil-free and perfume-free. Give it a try!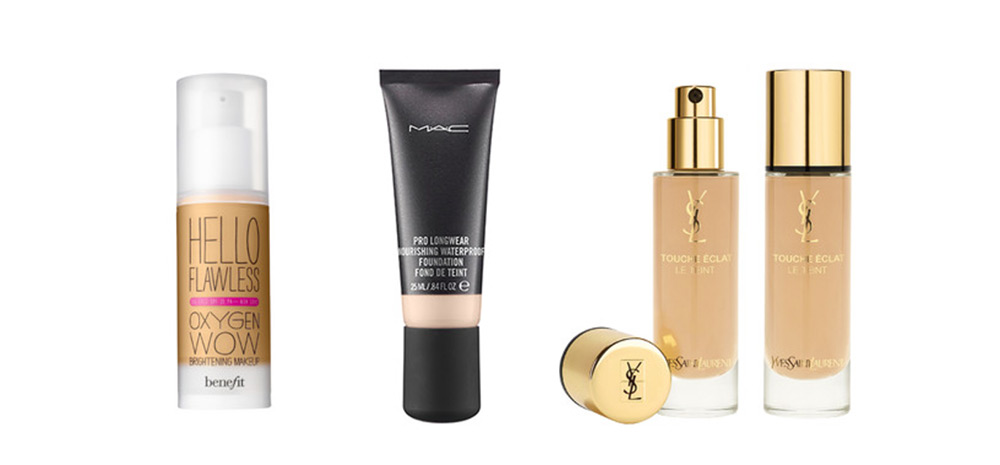 What's your favourite summer foundation? Have you tried any of these? Sound off in the comments!
Press photos via Douglas.de