Todays topic is all about my favourite scarf looks, on how to style scarves and wear them with different outfits in general. Are you excited yet? The typical approach to scarf looks is very well known: Take a scarf, layer it around your neck. Done. But what about thinking outside of the box? Adding a cheeky necktie to your wrist, or wrap it around your favourite bag's strap to create an eyecatcher. Trendy scarf looks don't even stop here, they are seen everywhere, even tied around bare ankles. Fun times! Read on for my personal take and tips on how to style scarves.
6 tips on how to style scarves
It's pretty obvious that I am totally into that trend right now. It motivated me to crawl down my scarf drawer and take inventory of all the pretty silky goodness I already collected over the years. And let me tell you, my scarf game is strong! I blame this one on my mum. She's what I call my Scarf Queen. I guess her scarf collection rivals my shoe collection… and I stopped counting at about 100 pairs, more or less. Raised by the queen, of course, just wearing scarves around my neck, seems a bit dull. No? I always try to think more outside of the box and find new ways to add scarves to my outfits to compliment my look or to add an extra eyecatcher of some sort. Works like a charm! How do you style your scarves?
Add it to your ankle
Let's start with a more out-there version of wearing your favourite scarf look: Your ankles! I wasn't so sure about that trend myself but there's really nothing that's as charming as bare ankles and a cheeky scarf or necktie tied around. Give it a try! Personally, I love this version in combination with my culottes, nice high heels and a colour theme that pops.
Also make sure you keep the size of the scarf in mind. The small necktie ones work perfect for that kind of scarf look, otherwise you'd be able to wrap it around your whole leg…Uhm, maybe next season?! This blue scarf right there is from Gina Tricot and lucky me got it during Berlin Fashion Week as a gift.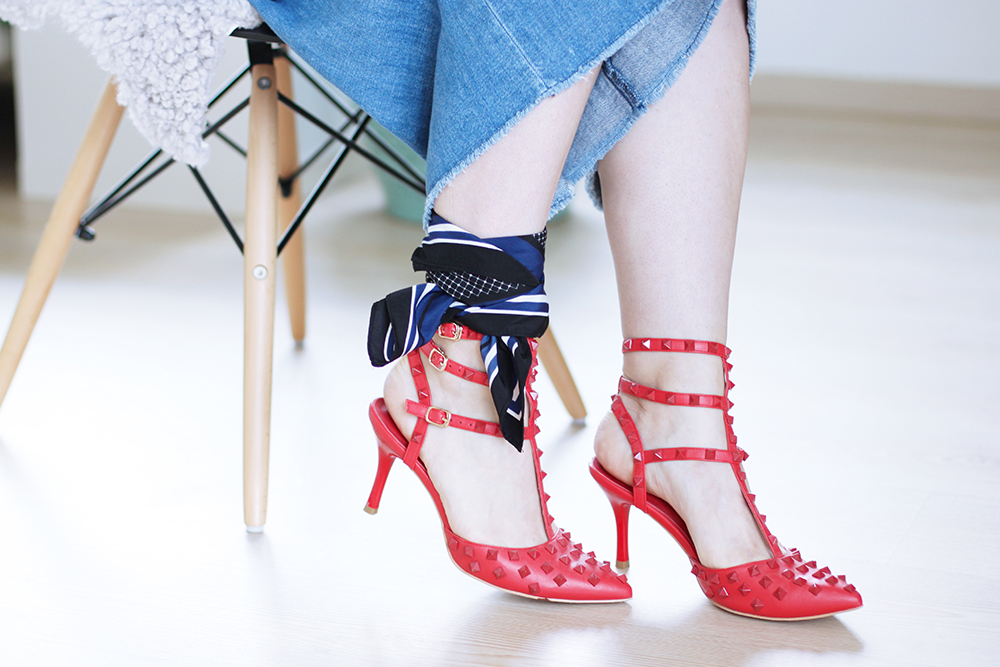 Add it to your neck
When you think about how to wear a scarf, chances are you think about the classic version tied or layered around your neck, right?! That´s totally fine with me. Never change a winning team! My favourite scarf looks are shown below:
First, of course, the knotted scarf. To achieve this look, I fold the scarf as thinly as possible and just tie it around my neck. Then I switch the knot sideways and leave the ends minding their own business. This red patterned silk scarf is from H&M.
Another approach to this look is to fold the scarf in triangle shape. I think that speaks for itself and I guess each one of us has worn it that way at least once, right?! I actually got this scarf at my Trip to Strasbourg with Orsay.

Add it to your wrist
The third way I like to wear a scarf is added to my wrist and here's how that works: You take a small scarf (like you would for your ankle), choose either the right or left wrist, wrap it around and done. Folded thinly with a solid knot, this works as the perfect accessory and stays put throughout your day. I think it would also work well with delicate jewellry and might make for an eye catcher you won´t see often every day! My greige one here is from H&M.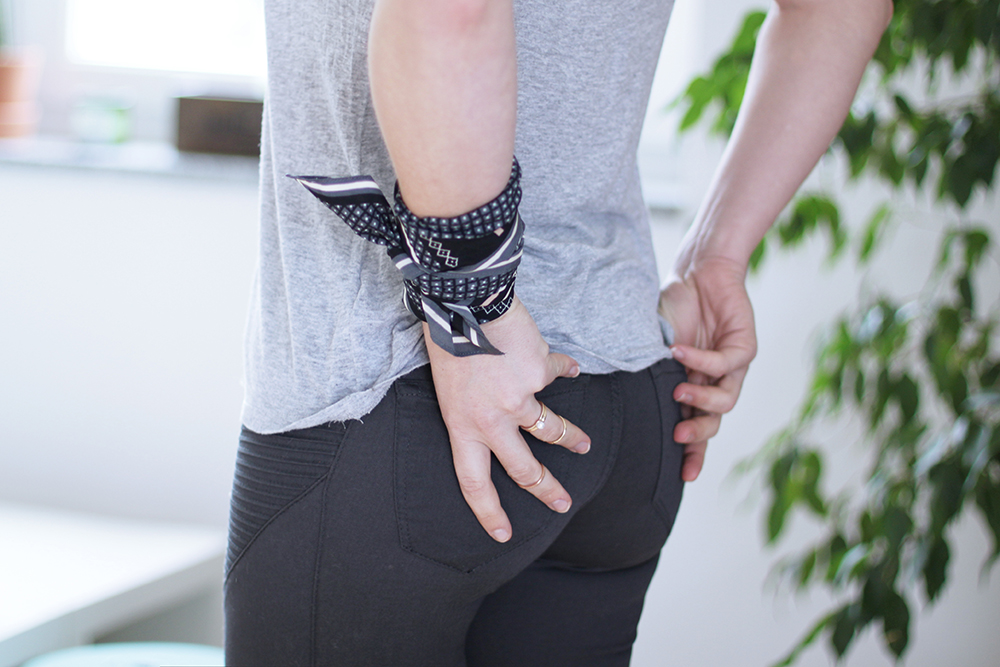 Add it to your belt
Especially during autumn and winter season, I like to wear oversized long scarves with a belt layered over jumpers or other oversized clothes. As you can see, I like to work with different layers. Worn around the neck, above or tucked underneath the belt. Just play around with it and find out what works best for your outifit. Anything goes! Both scarves are from H&M.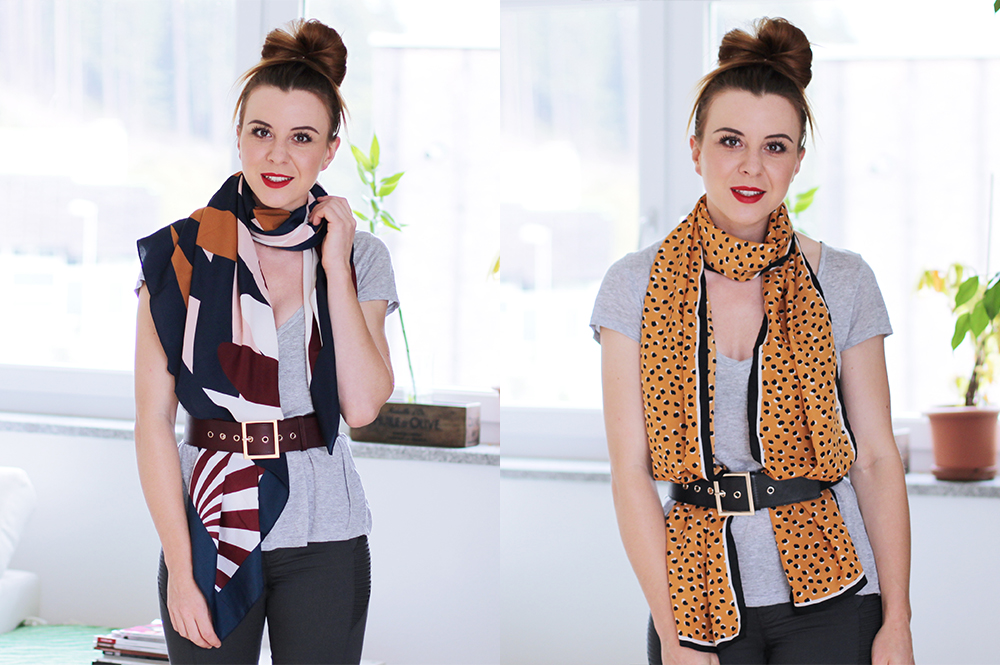 Add it to your hair
Honestly, I don't wear scarves in my hair that often. Still, it's the perfect way to achieve that summer-beach-boho-vibe many like to go for during the warmer months of the year. Don't you agree?
Sadly, I am not one of those beachy-waved-godesses but I can make it work just fine. I think it would also look pretty as an updo or ballerina bun. Combined with lipstick and some jewellery and the look is complete! How do you like my boho-vibe version? Those scarves are actually from my mum's vast collection.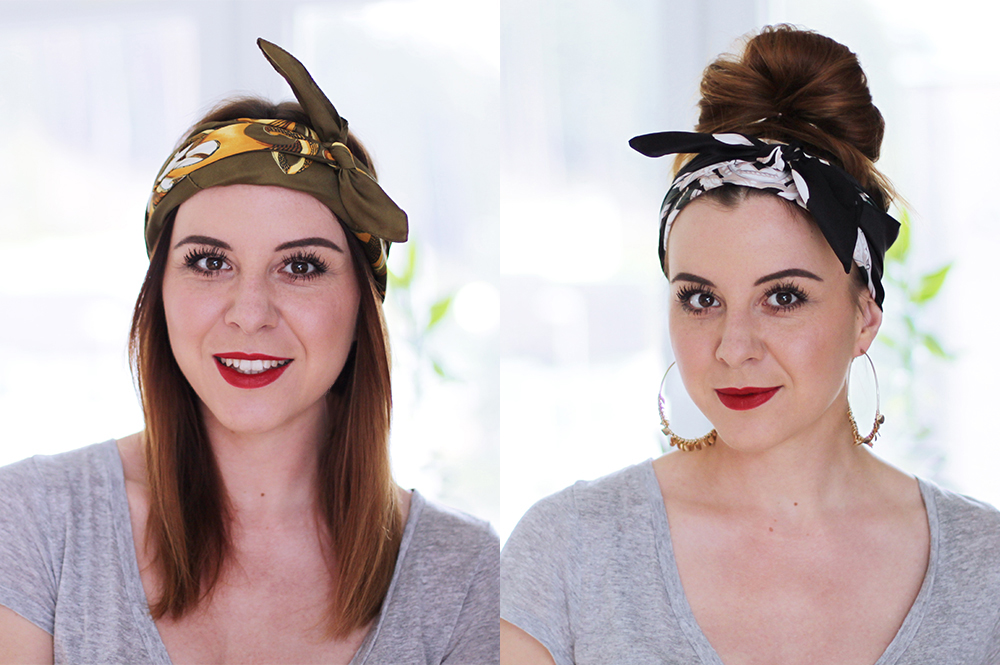 Add it to your bag
Last but not least, scarves make for a great bag accessory as well. Especially colourful silky ones! I like to choose the ideal scarf according to the colours of my outfit which I think works especially well with classic cut bags in black or brown hues. It's actually surprising how different a bag can look with a patterned scarf tied to it! Total game changer right there! Sadly, I don't recall where this scarf is from.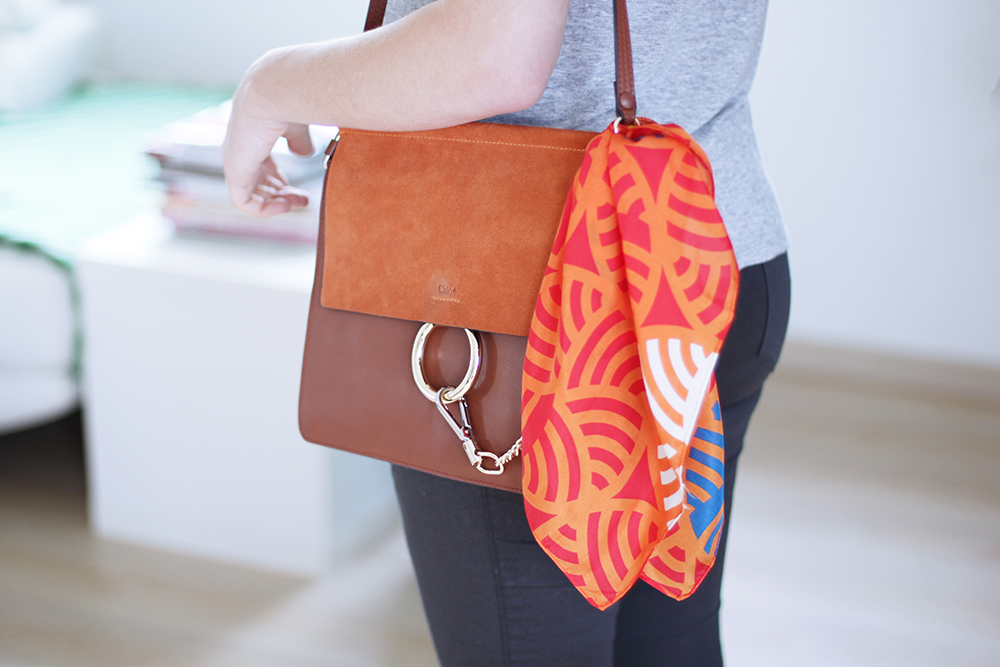 Extra Tipp: Add it to your dog
When it comes to being creative, yours truly also includes Angel and Mocca to her styling sessions. You wouldn't believe their already pretty eclectic scarf collection. Pink always goes and is also suitable for the modern male dog, such as Mocca, especially when it means he gets to wear this scarf by Radley London. I am sure you still remember this doggy-shaped bag, right?! Angel, on the other hand, is a true guy's guy though. He looks like a dapper dude in his dark blue scarf by Gina Tricot. As I said before, anything goes.