A Denim Jacket Look is always a good idea! Recently I found this different kind jacket at Mango and was instantly enamored with this embroidered denim jacket. It's the perfect fit for the current autumn weather and the slightly longer fit and golden details make for an eyecatcher with a twist!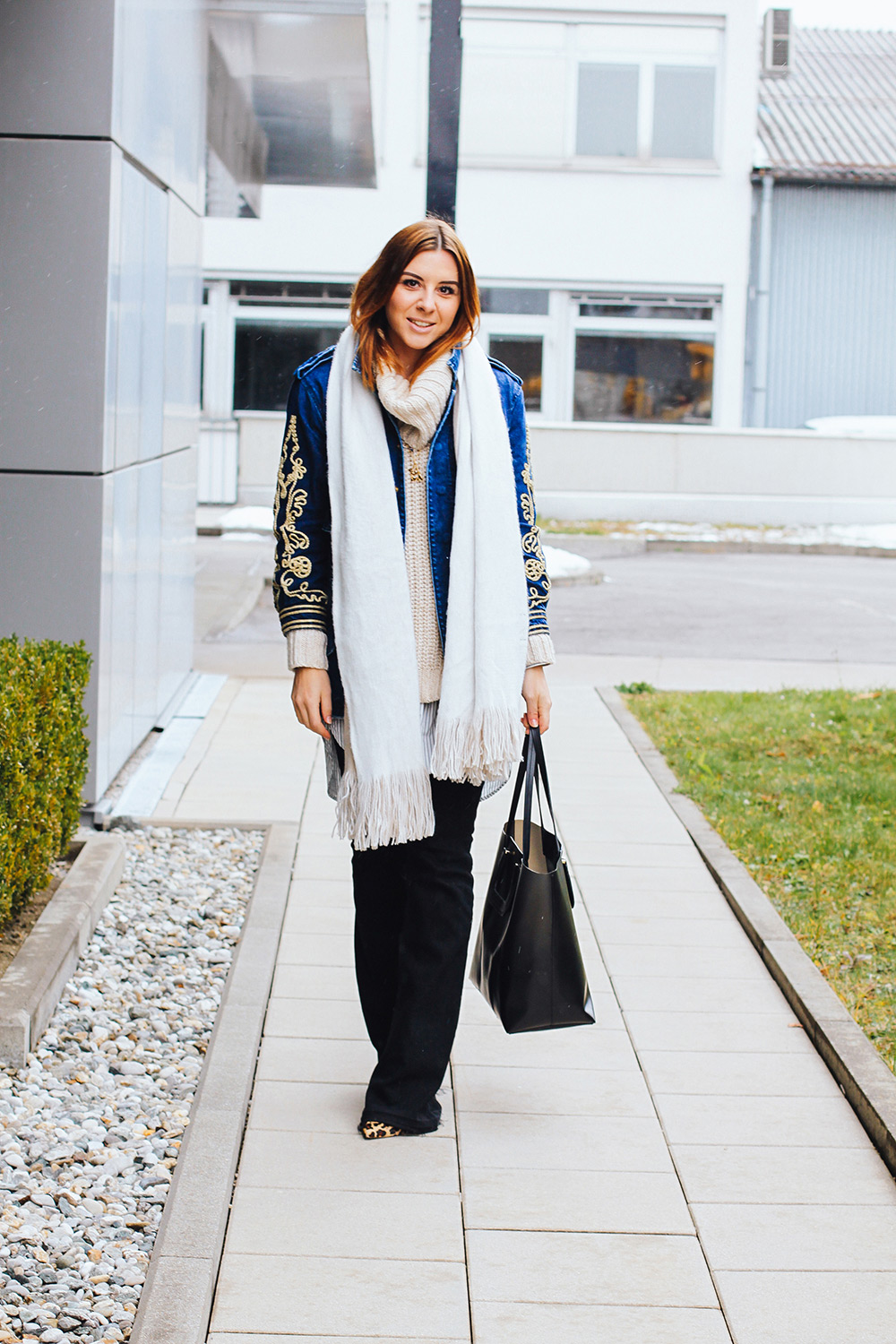 Denim Jacket Look in Autumn
To let the denim jacket shine, I decided to pick these black flared jeans which I got at H&M. Lucky me finally found a length that worked for my height because usually their bootcut jeans turn out too short for my legs. I liked the slight fringe as well and just like that it landed in my shopping bag.
Autumn is perfect for layering to adjust to the sudden change from warm to chillier weather. I decided to go for my striped blouse from H&M which was actually meant to be worn as a dress. That's a good tip right there if you're looking for a more slouchy fit, browse through their dress sections instead!
This specific one might be a dress but it would be way too short for my liking, paired with trousers, it works like a charm. A blouse or shirt can look a tad bit oversized, that way it is able to play peek-a-boo underneath that turtleneck jumper.
And because layering is never perfect without a cozy and fluffy scarf, I also added this fringey scarf from Zara to the look. It has a white and a beige side and I happen to have the same one in grey/brown as well. Sorry not sorry. How do you like my Denim Jacket Look?

Boho Looks for Autumn and Winter
Just because the temperature dropped doesn't mean you have to hide your Boho look in the back of your cupboard! A Boho-inspired outfit works just as well during the colder month of the year, you just have to put on a few more layers, that's all.
This embroidered denim jacket from Mango is the perfect piece for that sentiment. To accentuate the Boho-Hippie vibe even more, you could add a lace cardigan underneath as well as a knitted jumper for warmth.
A good knit and lace piece always work well together and compliment each other. Don't you agree? You could also grab your favourite lace dress from summer and wear it with leather trousers and a cozy cardigan and a fringey bag. What do you think?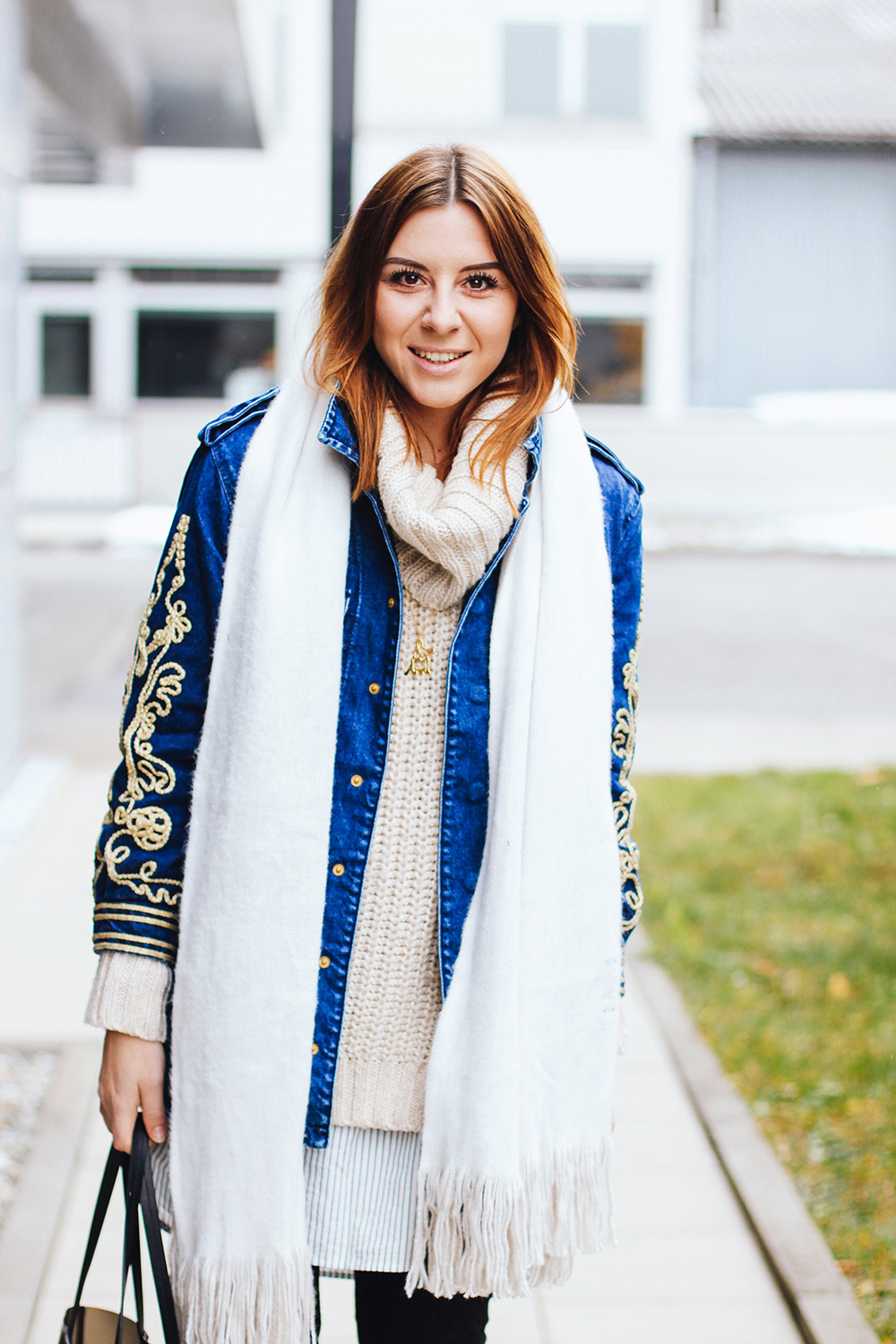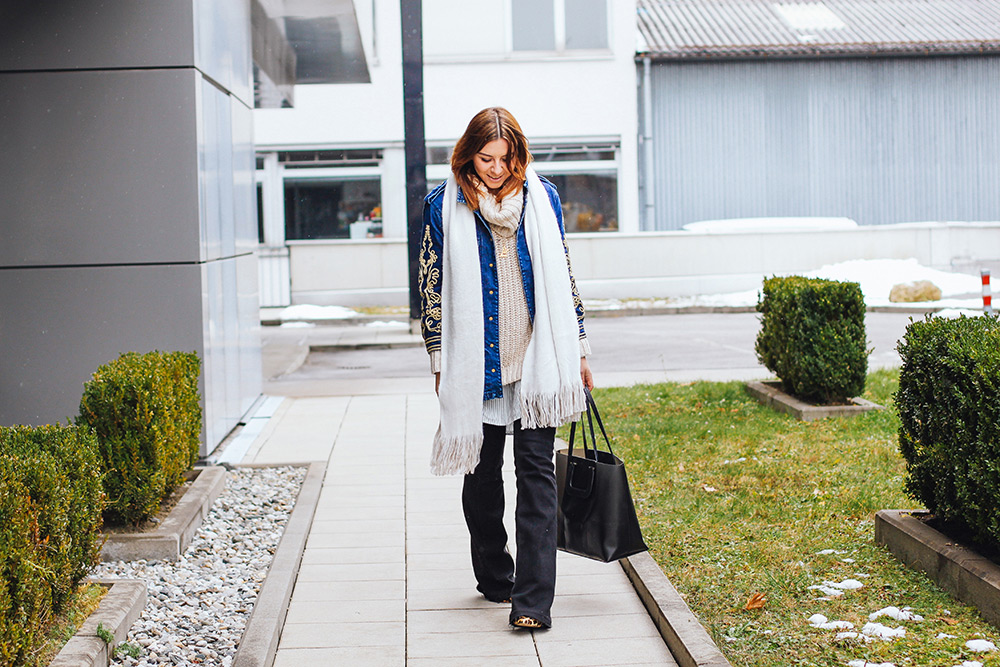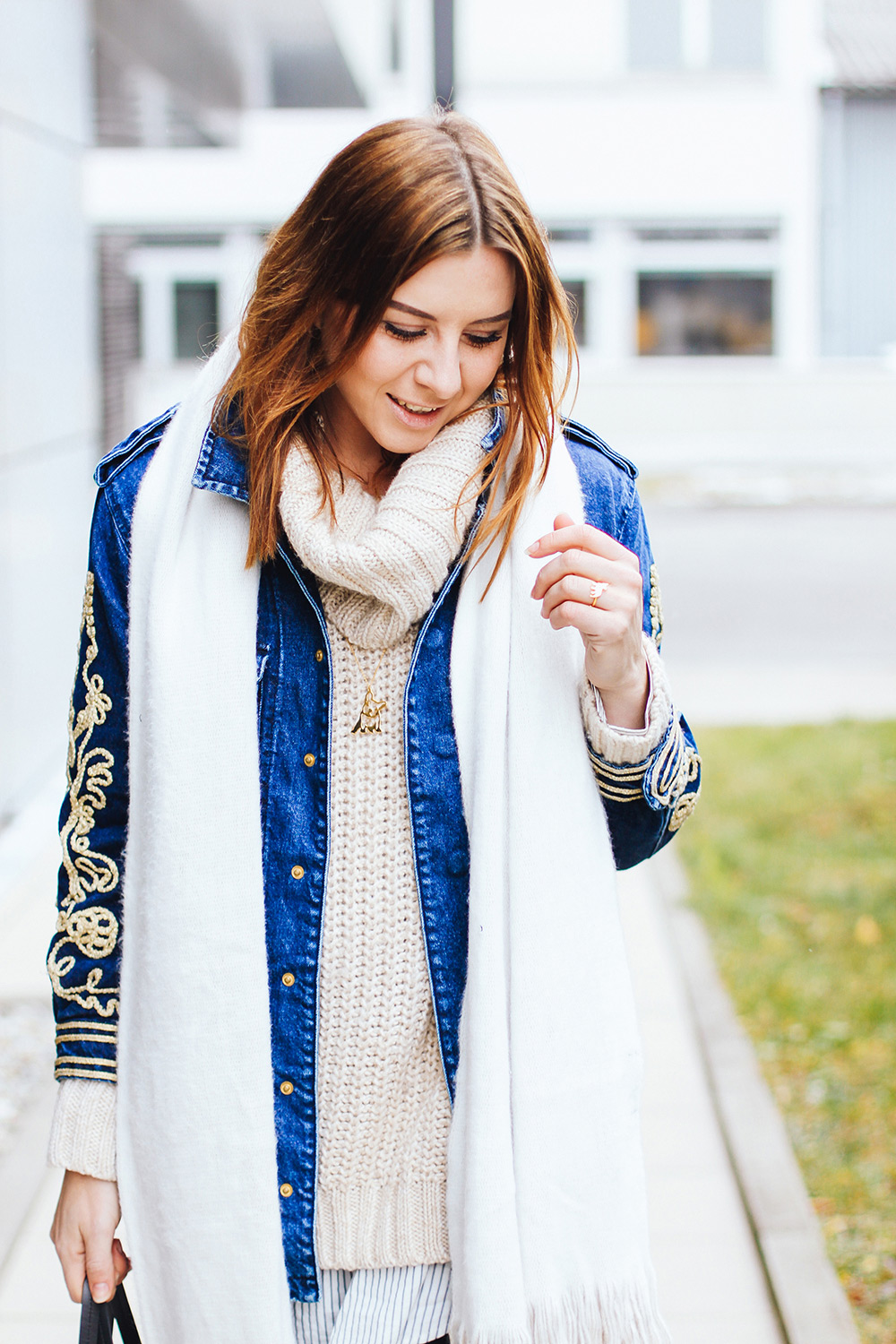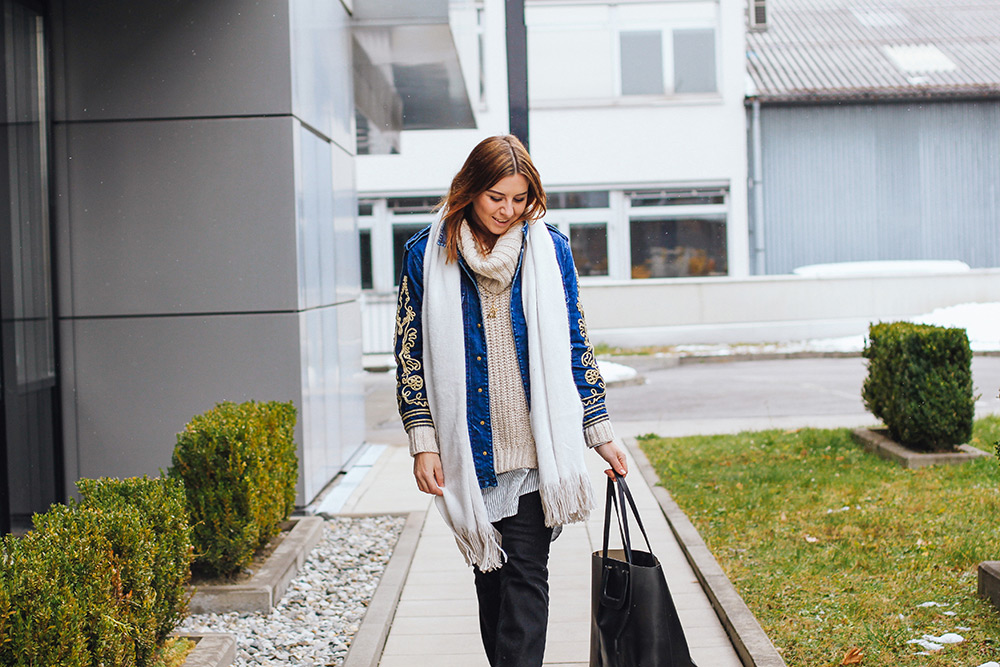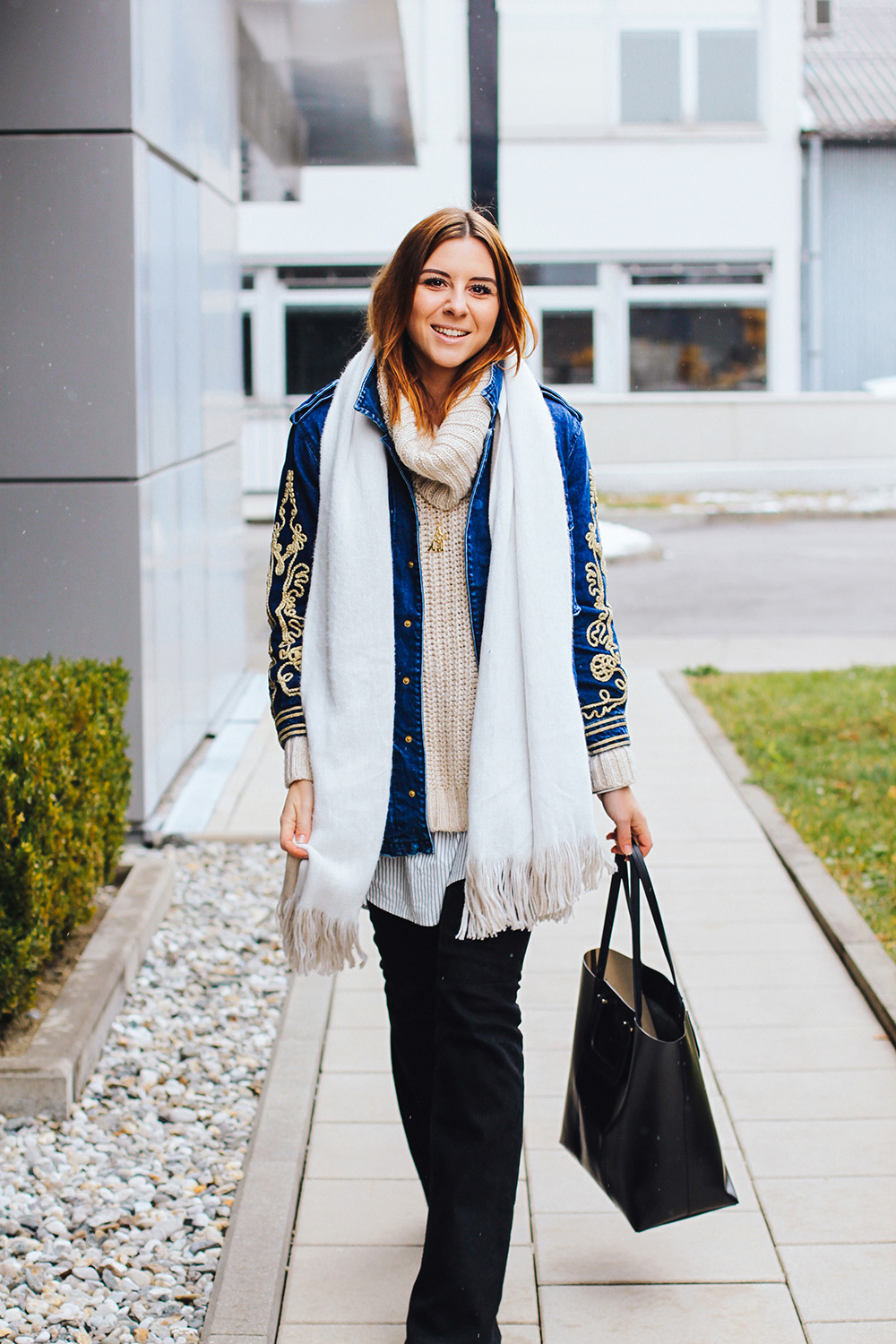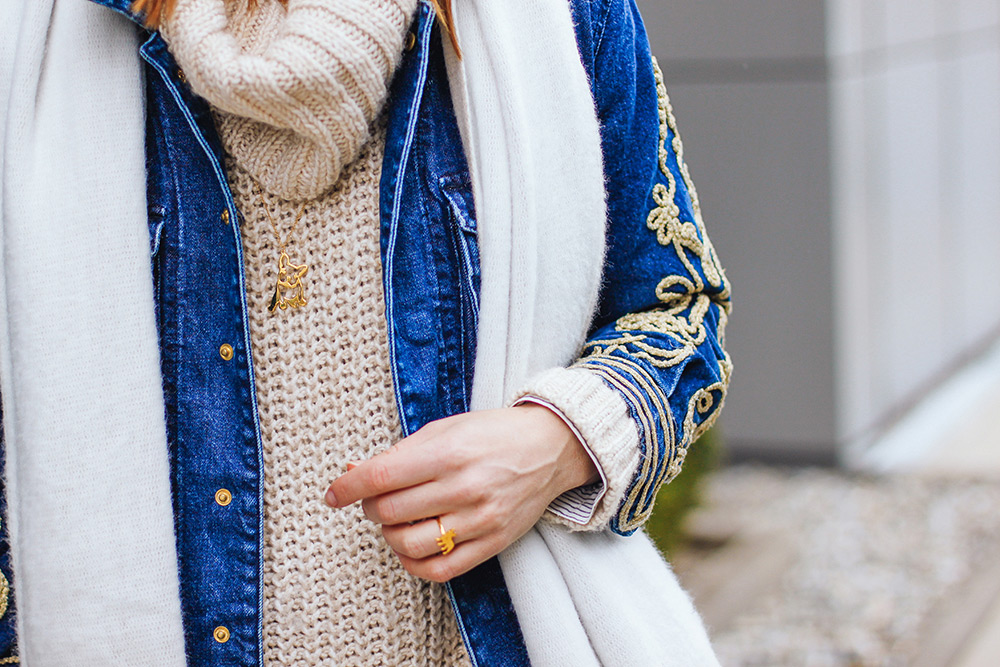 Jeans: H&M // similar here flared Jeans
Booties: Buffalo // similar here Animal print booties
Denim Jacket: Mango // same here Embroidered Denim Jacket
Turtleneck Jumper: H&M // similar here Turtleneck Jumper
Bag: & other stories // similar here black Shopper
Striped Blouse: H&M // similar here Striped blouse
Scarf: Zara // similar here Fringey Scarf
Jewellery: My Dear Mocca! Collection // same here Frenchie Jewellery



Fotocredit:
Beats and Dogs