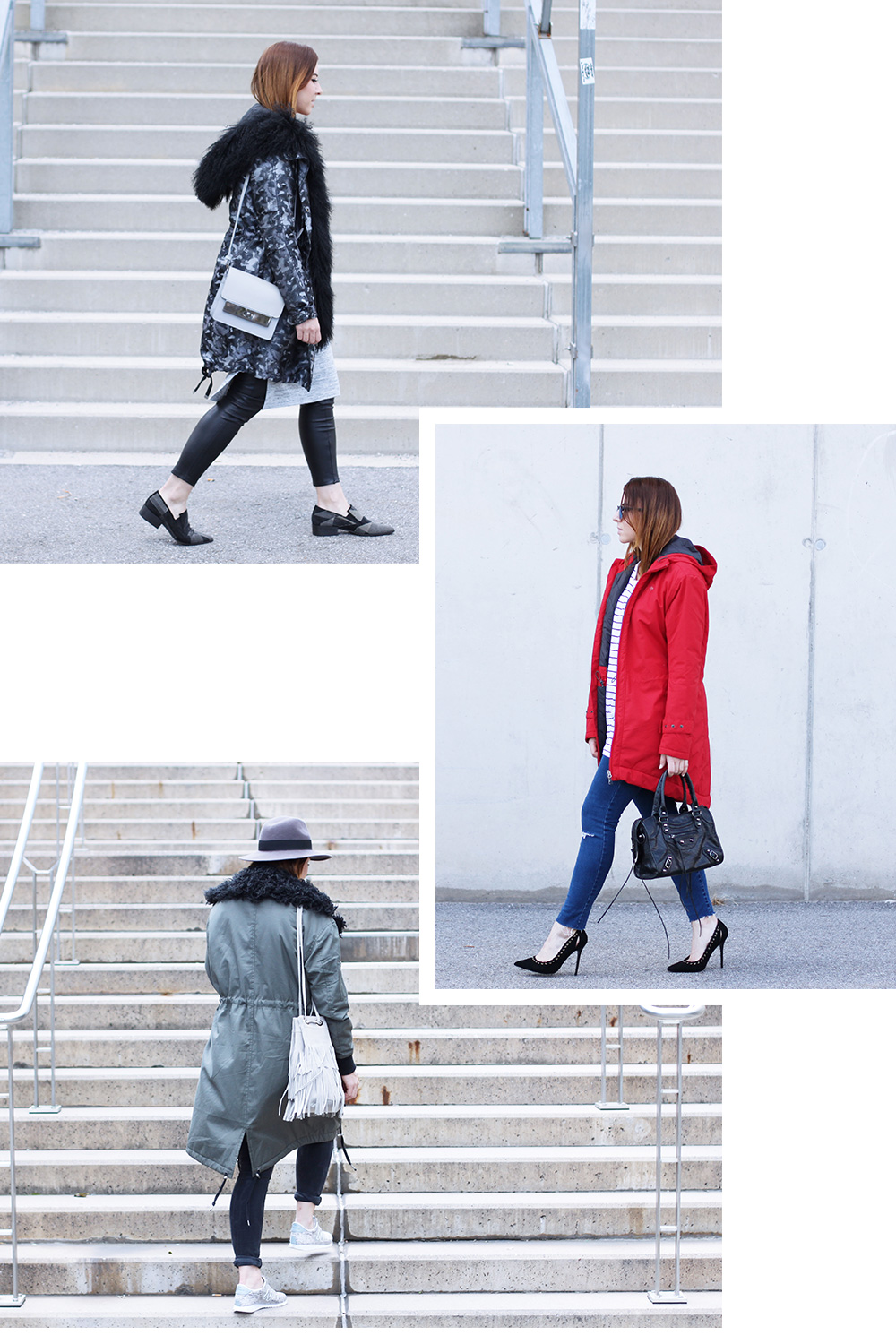 Autumn Time is Parka Time and that´s the reason why I decided to show you a few pieces of my walk-in-closet today and the way I like to wear them together. Deal?
First things first, a good parka has to have a fake fur collar. That´s important for the whole look, at least in my book. Looking at a parka jacket that lacks said fake fur collar, makes me think it´s incomplete. If I really like the style and cut though, I am known to get the jacket anyways and prep myself for an at home DIY as soon as I find the perfect fake fur collar that compliments the jacket. Also, if you sew the buttons directly on the collar and attach the needed loops to the parka hoodie, you can switch between different fake fur collars however you please. Not bad, huh?
3 Tips on how to style a Parka jacket
Khaki, red and dark grey are the colors of my favourite parka jackets. I know, khaki is the classic hue of these autumn jackets. Red, to me, is a nice colour to wear, especially on those overcast and cloudy autumn days. A little bit of colour never hurt nobody, right?! My personal favourite, hands down, is a dark gray camouflage style parka jacket. It styles well with different fake fur collars and gives the jacket a unique twist in an instant.
No. 1 – The Khaki Classic Parka Jacket

A few years ago I had five different khaki coloured parka jackets, but honestly I didn´t like any of them 100%. So I sold them and got two new parkas I truly love and feel confident with. The first one is a dark green jacket with a black fake fur collar and the second one is a little shorter version in beige with an added fake fur collar as well. I also like to dub this one my "dog jacket" since it´s usually my jacket of choice when out and about with my dogs Mocca and Angel. Actually I have that jacket for around three years already, so it´s not what I would call blog-material. The look I want to share with you today though, totally is. My look of the dark green parka jacket with added black fake fur collar.
This look has a very casual feel to it and is very comfortable to wear as well. The skinny jeans are from H&M (I know they´re very washed out already but that´s what makes them even more comfy) and I decided to wear these with my New Balance Sneakers. Since denim on denim is a thing now, I picked this blue shirt to go with it. To play around with the grey hue from the sneakers, I added the playful fringey bucket bag from Zara. And of course my hat from The Kooples can not be missed to compliment this look.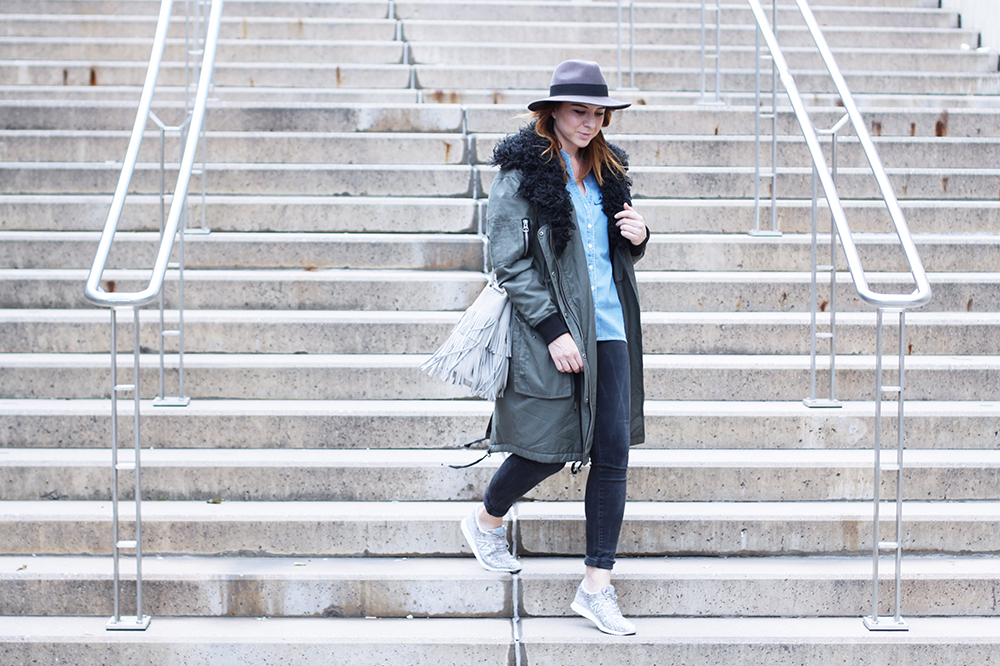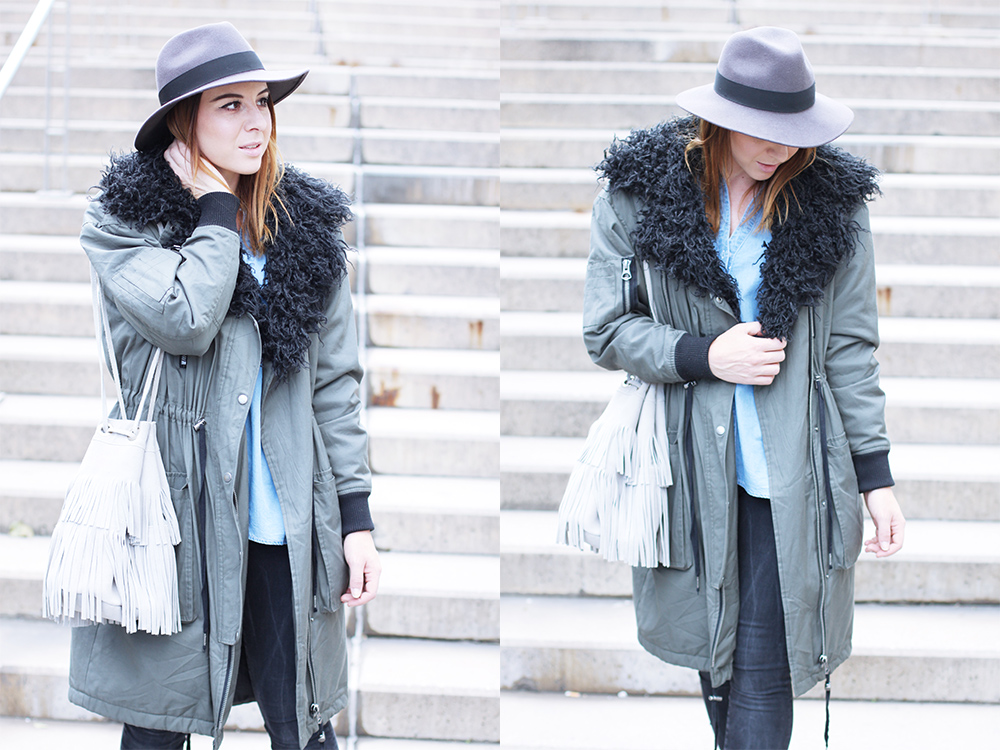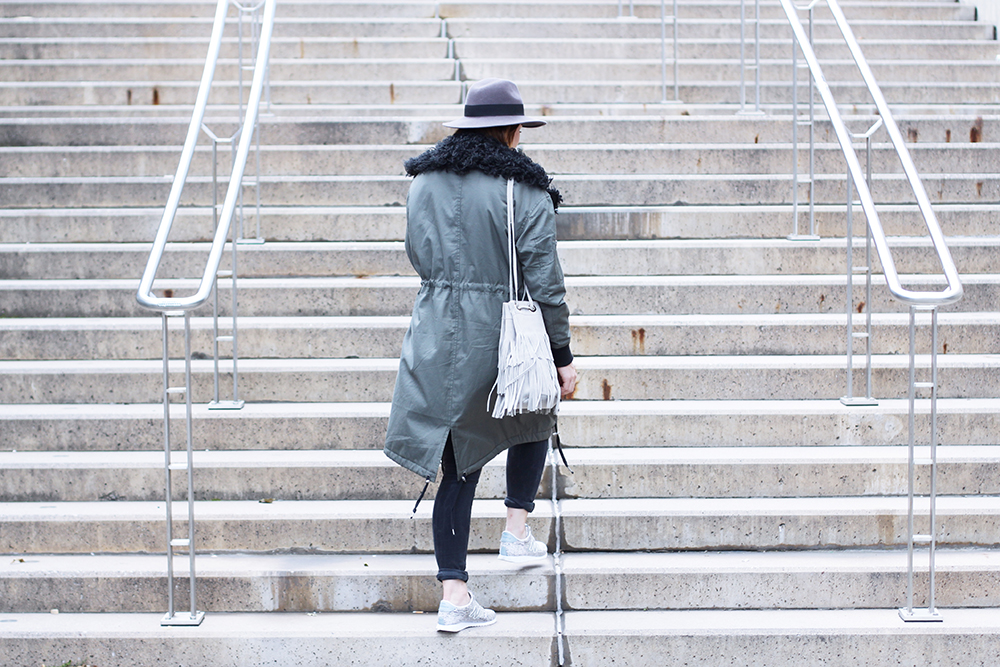 No. 2 – The Red Parka Jacket

As mentioned, a little colour never hurt nobody. Especially on those grey and dreary autumn days! My red parka jacket from Tatonka is just what the doctor ordered and brightens up the day quite literally. It is water-resistant and braves the wind and even works for cold winter days since it´s slightly tufted. The fact that´s it´s a more oversized style which is a trend right now, is even better! I either wear the parka jacket the way it´s shown on the photo, or I add a fake fur collar to the look.
I don´t know why but I never zip or button jackets and coats. I like to keep the look flowy and open which just suits me much more. If it´s really cold, I just add a scarf or shawl and that´s it. Can you relate?
The whole look is classy chic but also versatile at the same time. To give a sporty feel to the outfit, I only need to switch the black pumps from River Island to sneakers. Done. Also you can never go wrong with a nice pair of ripped skinny jeans – these are from Zara. I especially like these because the ripped part is below the knee area for a change. To top it off, an oversized striped shirt completes my urban look!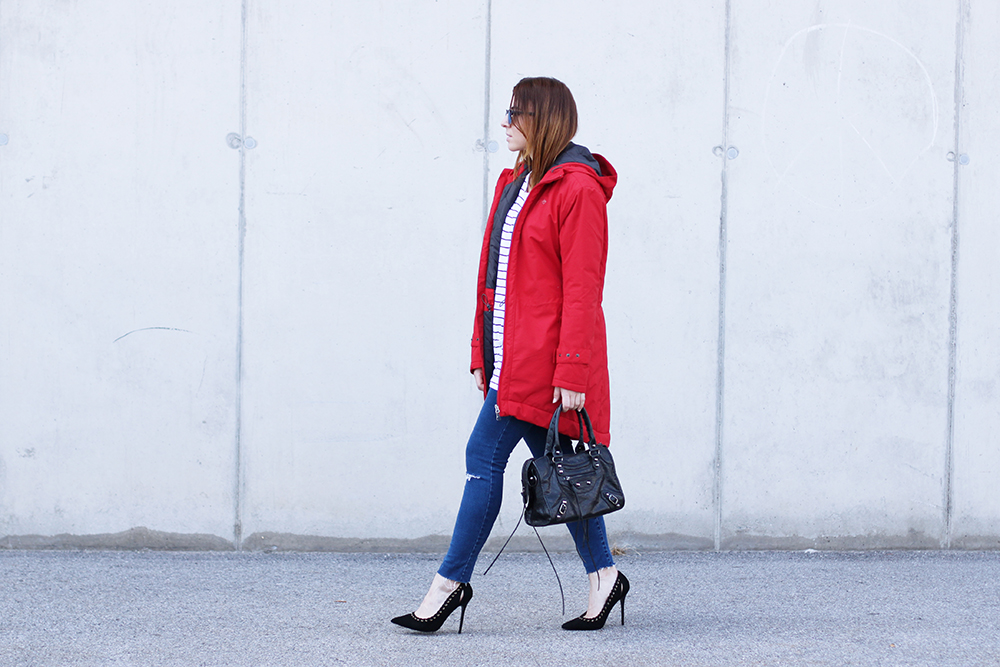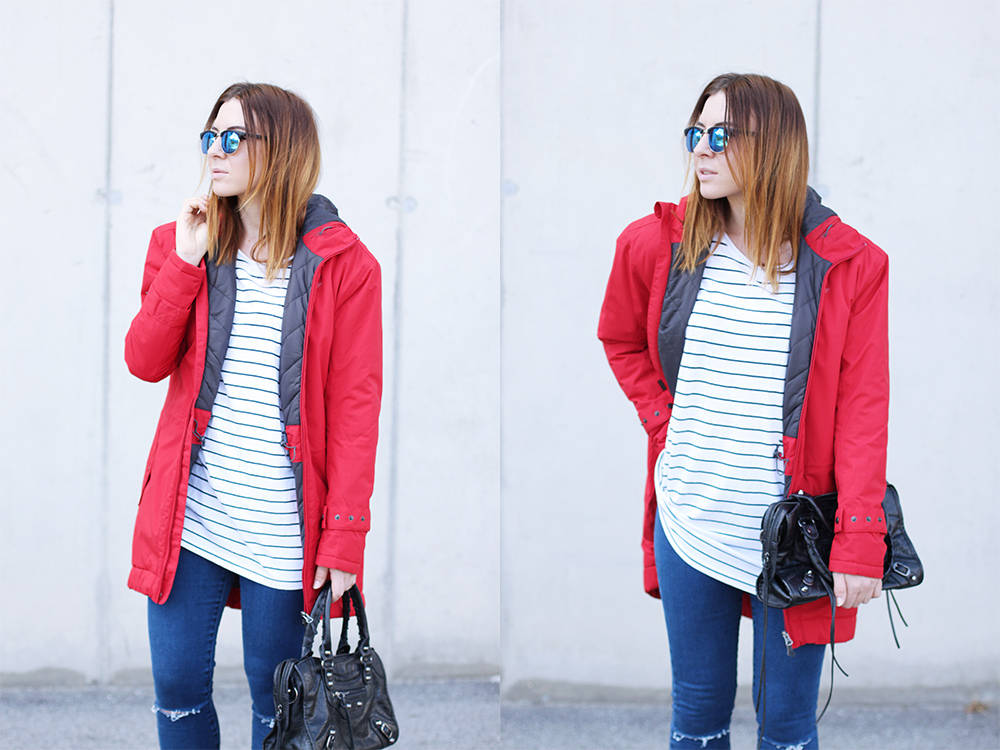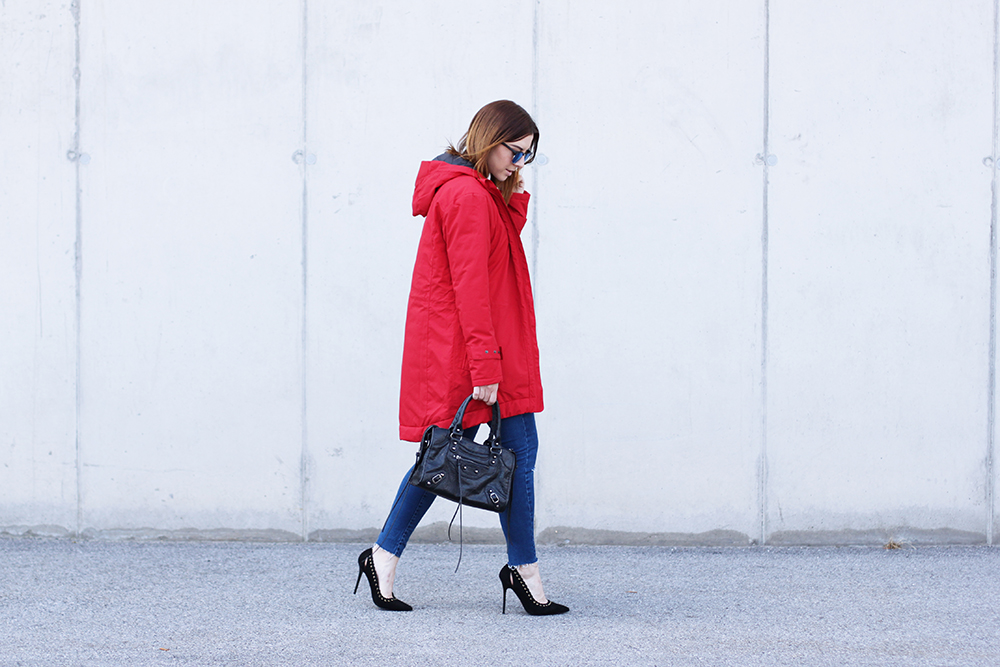 No. 3 – Grey Camouflage Parka with Fake Fur Collar

Last but not least the Camouflage parka jacket from Topshop that´s mine for a couple of seasons now. I love the print and different kind of fake fur. Generally, I tend to fall for pieces that are a little bit out there but still work well with my personal style and this one definitely fits that bill. It also doesn´t hurt that it makes for a great alternative to the typical khaki coloured parka jackets!
I decided to go for a more monochrome look here and let this unique piece really shine. I picked the black leather trousers from Zara, a grey mid-length knitted dress from River Island and simple slip-ons from 87 VIC MATIE, and the grey crossbody bag from Topshop makes this autumn look complete!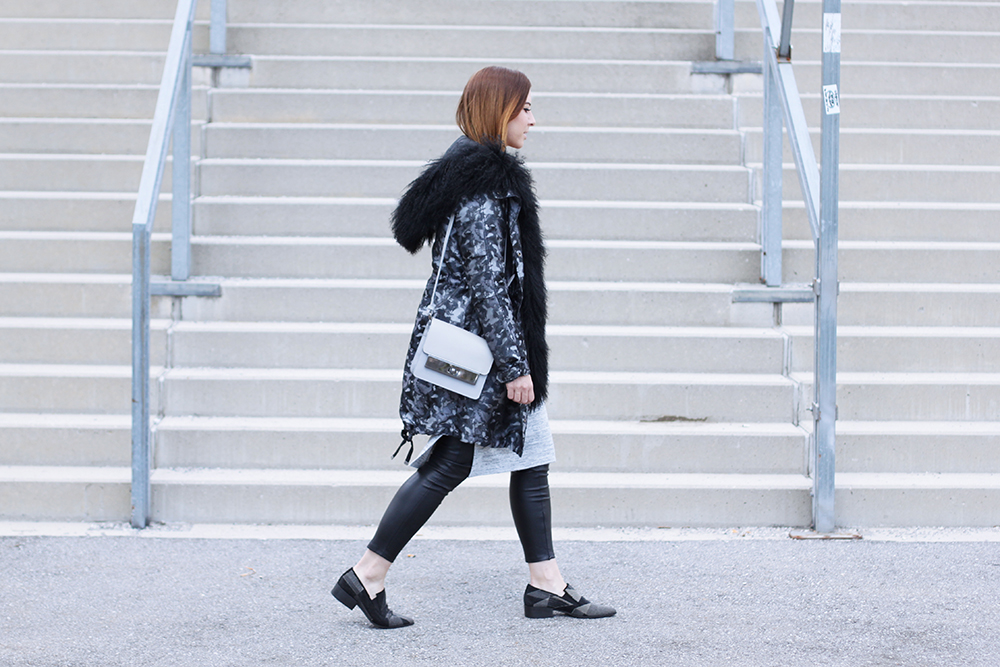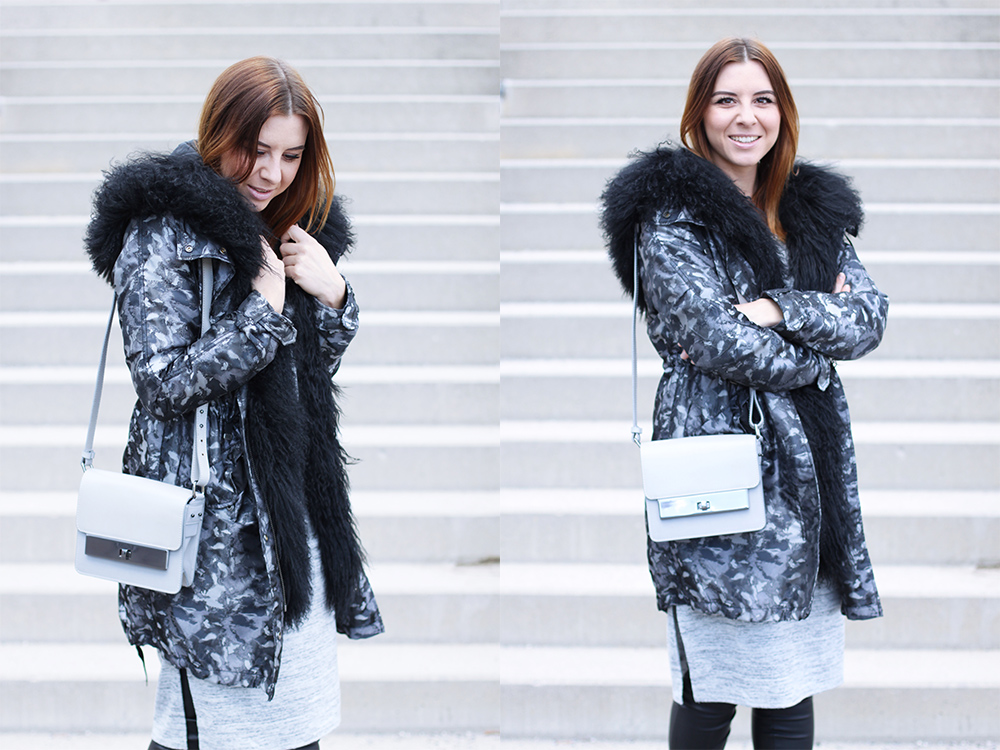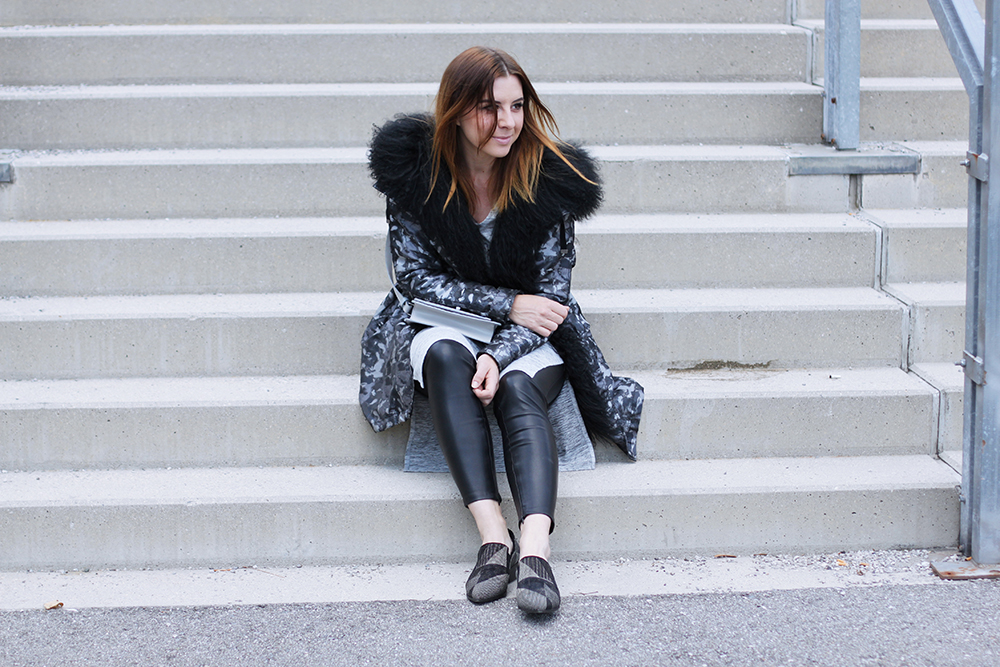 Which look is your favourite?