It's Spring and I am stoked to continue showing off some layered looks on my Fashion Blog. Past Monday was all about long layers with my New Balance Outfit. Today I want to show you a more colourful look, combined with stripes and my beloved leather jacket. Click here to get a peek of my post Layering, Layered Looks or the Onion-Look – How can I pull that off? How do you like my outfit with leather jacket?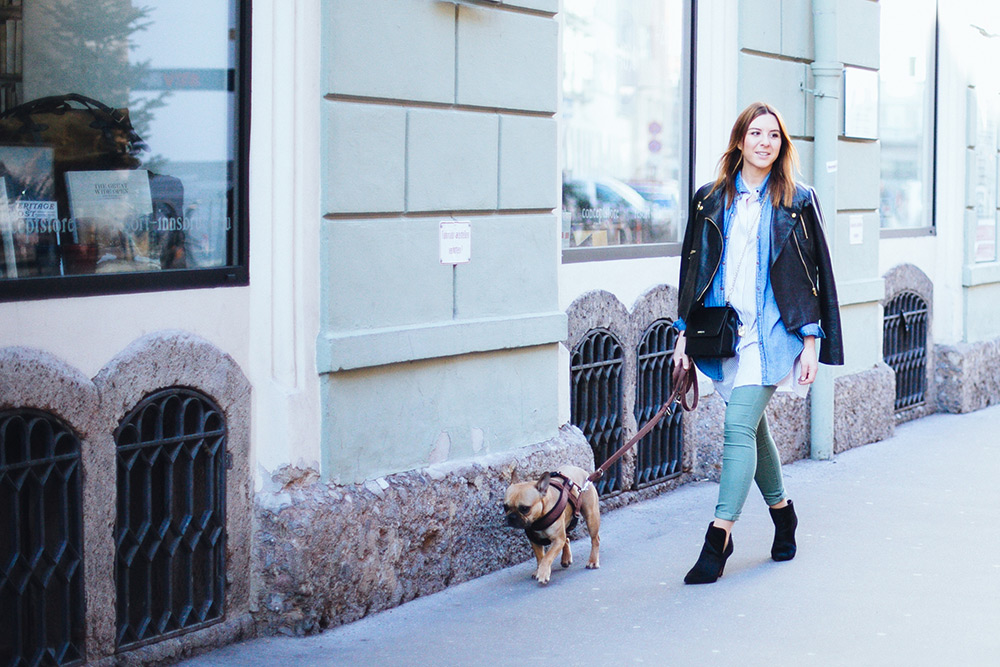 Outfit with leather jacket and green trousers
Let´s talk about those trousers. It felt like an eternity to find them. I was looking for a very specific green. Not khaki, not bright neon green, a sherbet-like shade but fresh and certainly not mint. That wasn´t an easy task to manage! After weeks of browsing the stores, I finally snatched an online deal at Forever 21 and found the perfect green one. Lucky me scored a total bargain since they were on sale as well! Now I am able to combine my new green trousers with an oversized striped top from Zara and a denim shirt.

The weather gods graced us with mild temperatures which I fully enjoyed out and about with the black leather jacket on my shoulders. To soften up the look, I decided to add accessories that would highlight the theme. I also chose my black ankle boots from Zara – which you will see much more of over here – because I am still smitten with their look and can´t get over how comfortable to wear they are. Win, win!
The crossbody bag for daily errands
The small crossbody bag from Guess is the perfect fit while on daily errands out and about. It seems quite small but is honestly big enough to hold the bare necessities – think: wallet, cellphone and of course dog waste bags for my little friend. Being a puppy mom is a whole job in itself and I like to be prepared. Check.
What I like most about the bag itself are the chain-like straps and the simple design and cut. I love the versatility it gives me when it comes to my favourite looks. I can wear it with a more elegant outfit but also with a more laid-back look, that´s always something I keep in mind when it comes to getting a new bag. Don't you?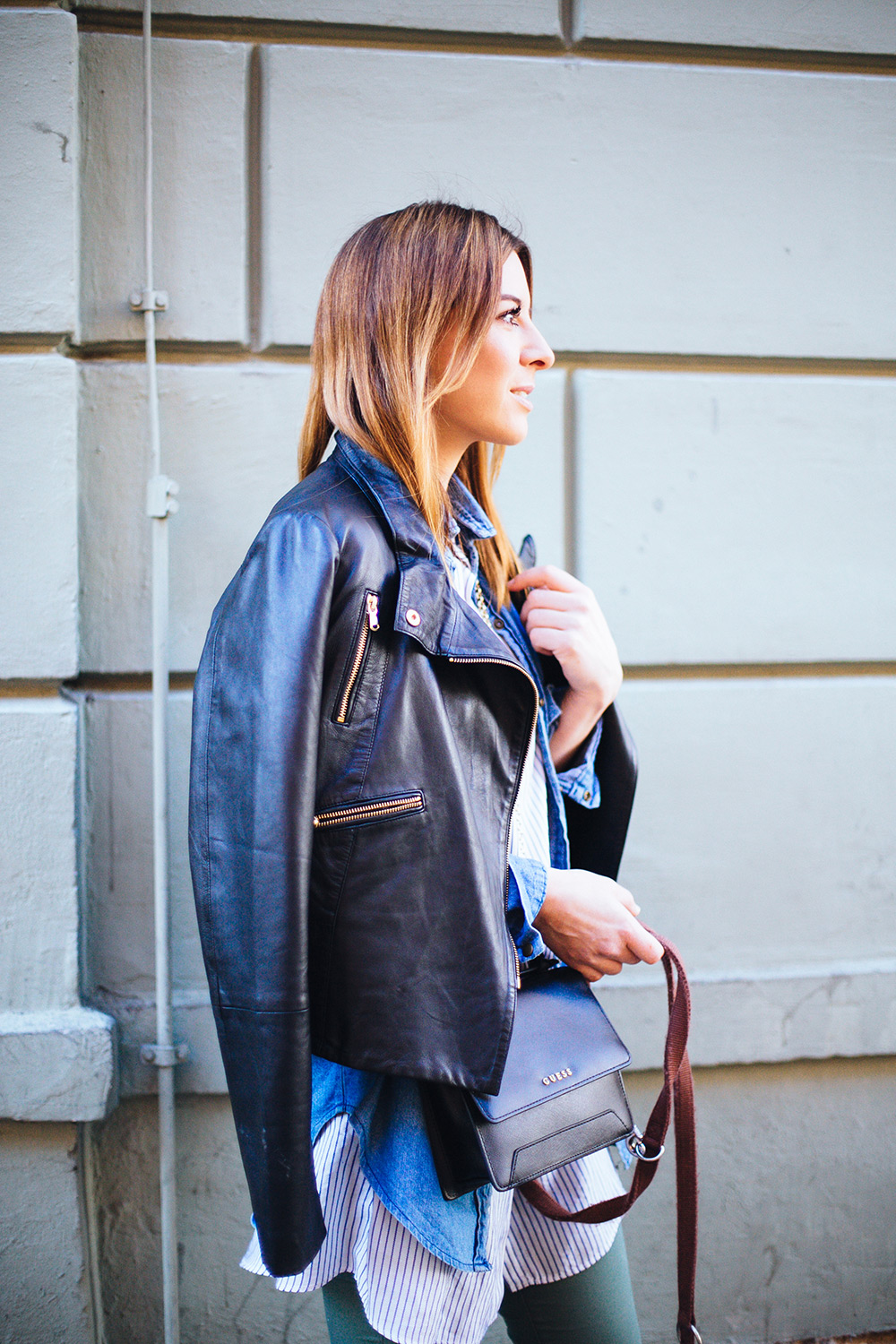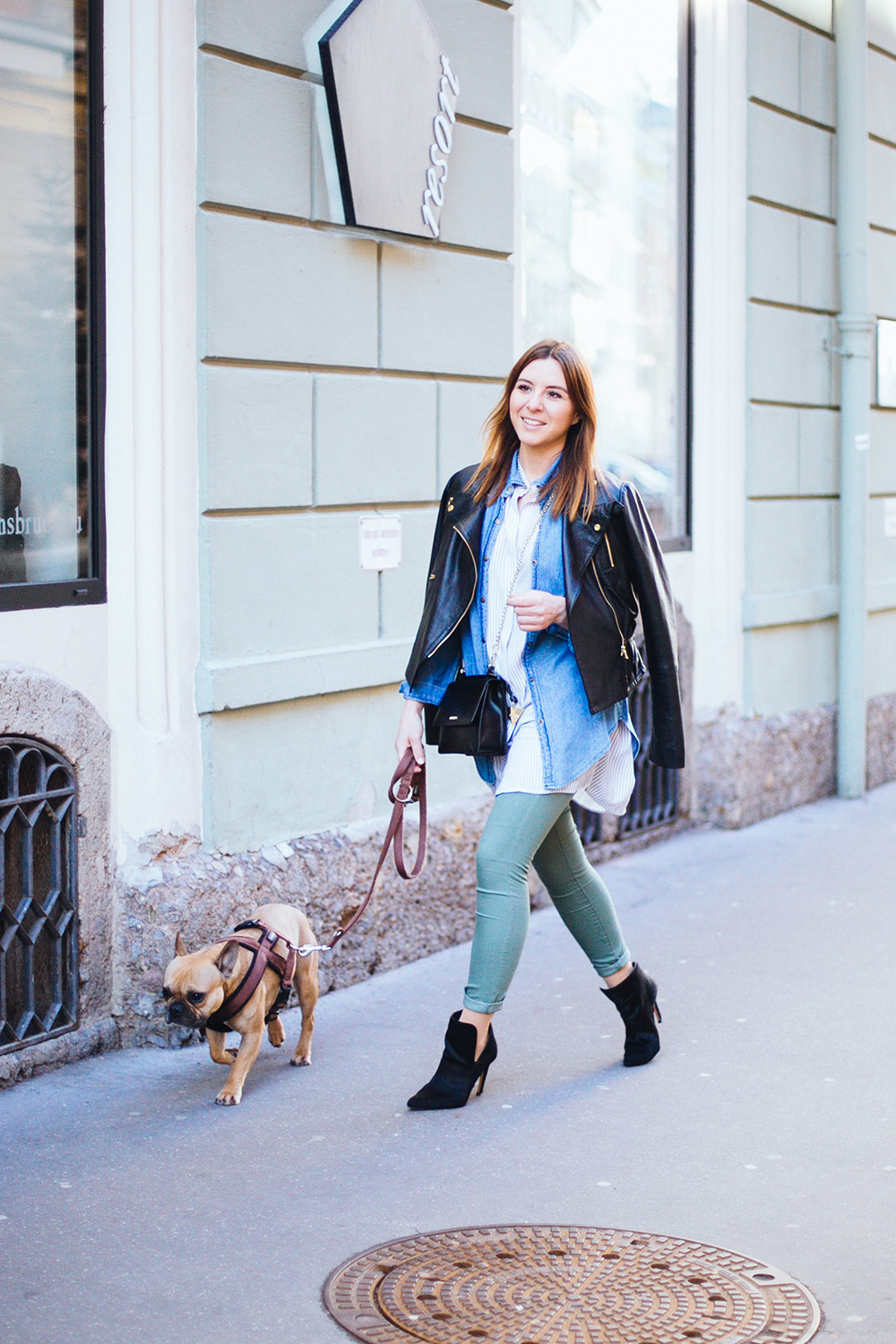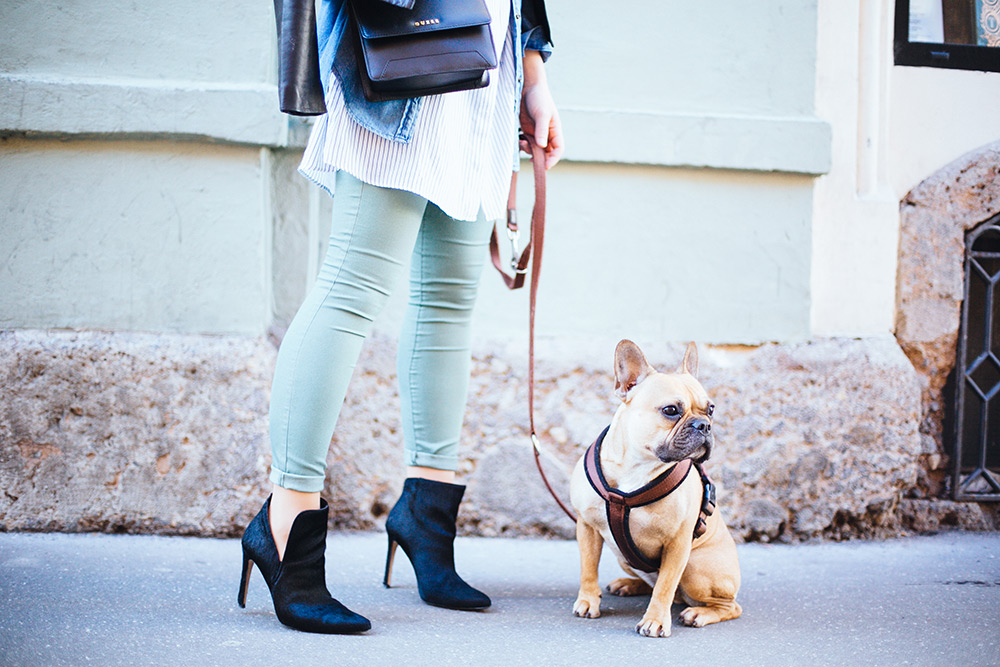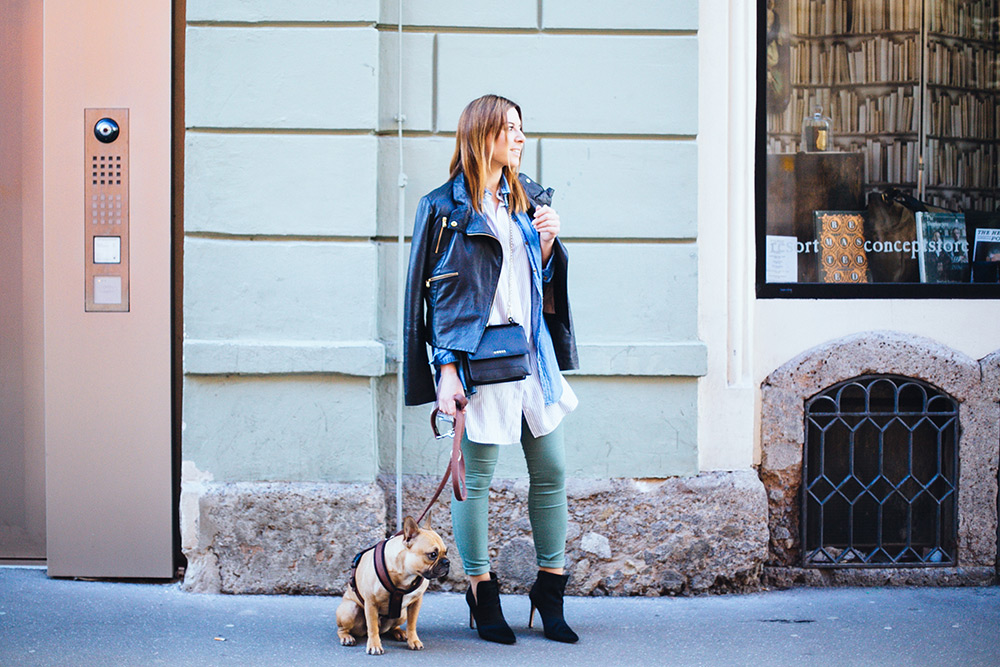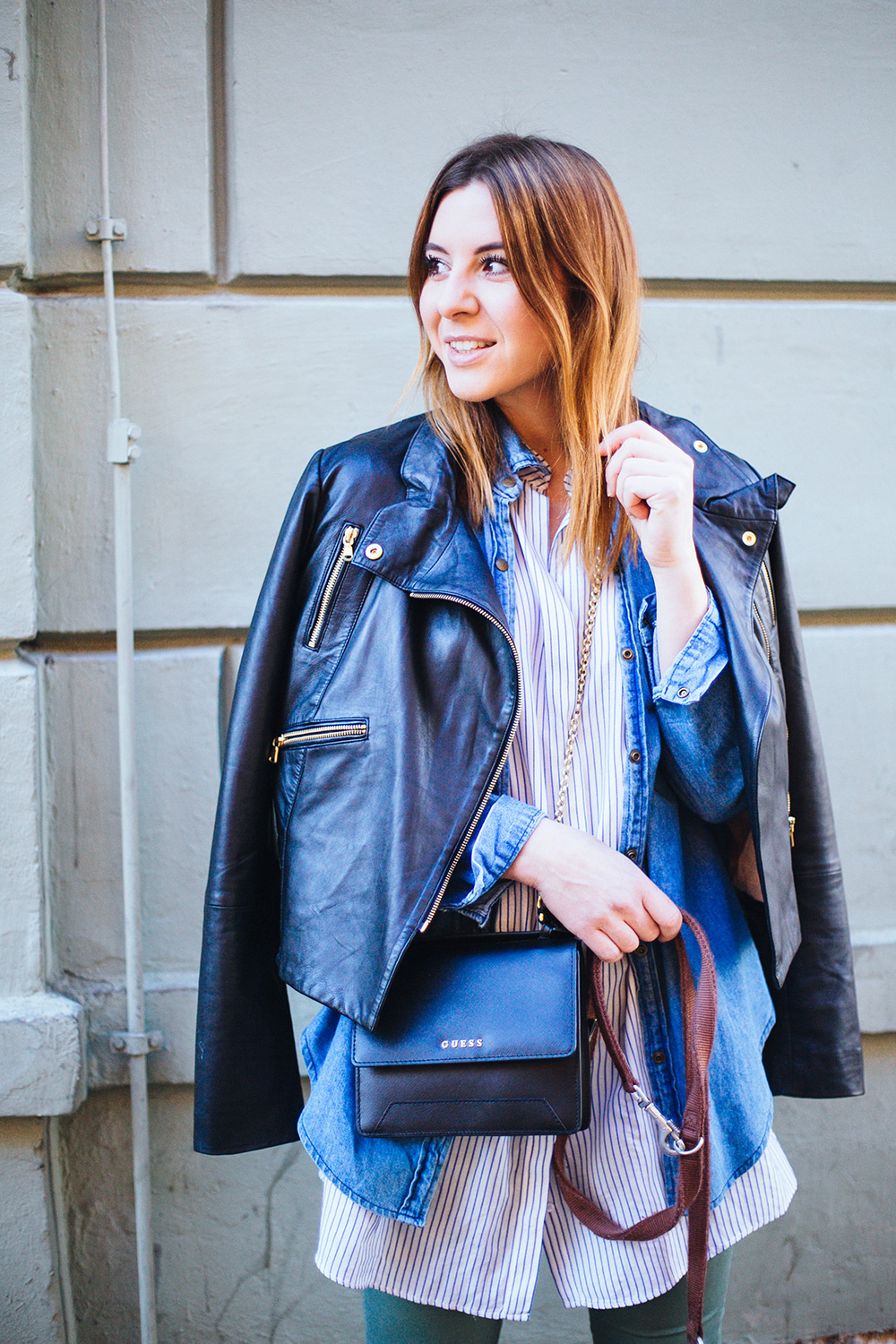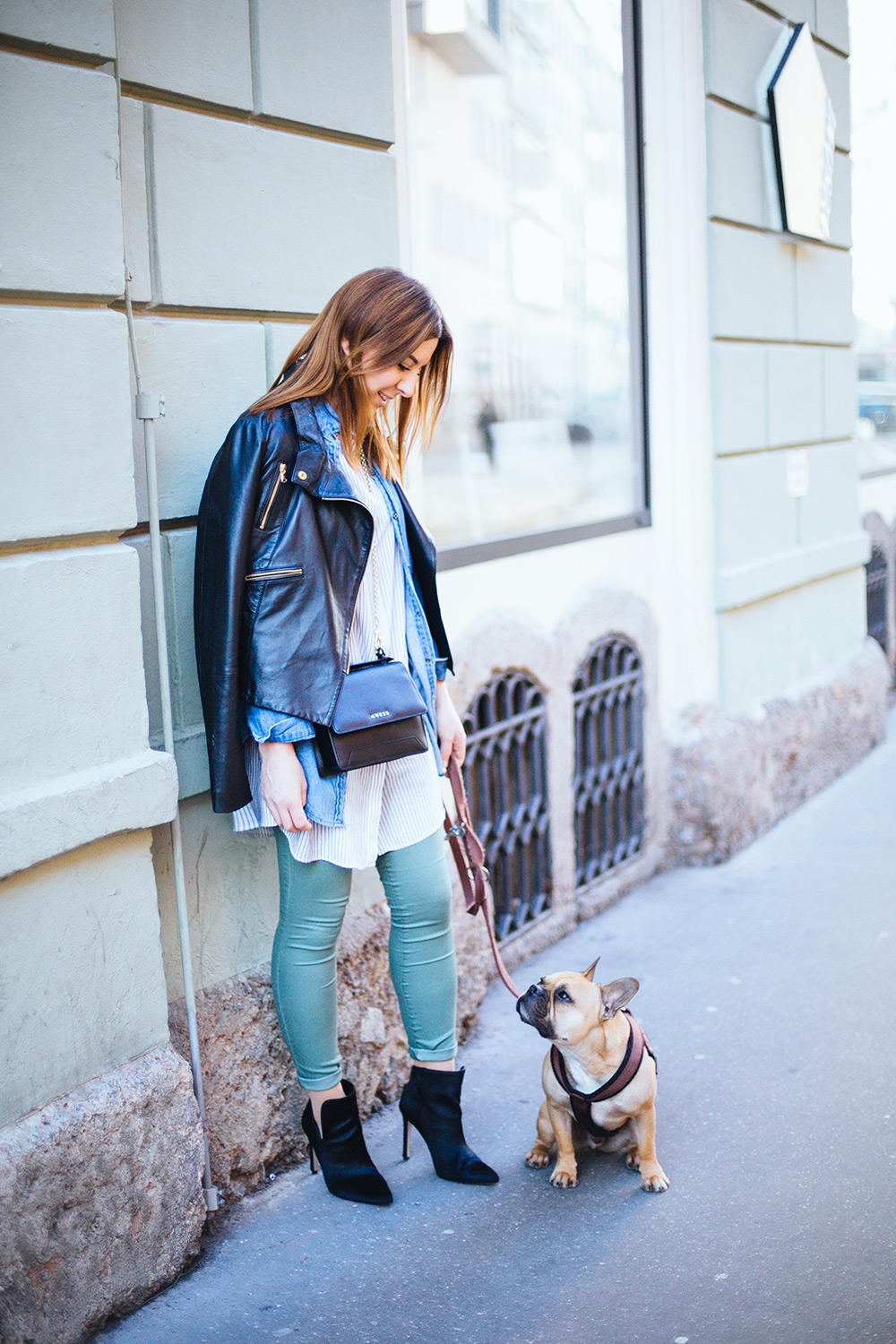 Ankle Boots: Zara // similar here black Ankle Boots
Green Trousers: Forever 21 // a very similar one here green trousers
Striped Top: Zara // similar here striped top
Bag: Guess // similar here crossbody bag by Guess
Denim shirt: Noname // similar here denim shirt
Leather jacket: Cristina Gavioli // similar here black leather jacket
Fotocredit: Andrea Fichtel Photography. Editing: Who is Mocca?