These days, it's obvious that I have some favourites and classic pieces in my walk-in closet that I almost always go back to. Especially when I am on the run or not really feel like trying something new, striped culottes, white sneakers and an oversized blouse with a V-cut neckline will do! That's definitely one of those looks that makes for a comfortable Streetstyle that's easy to grab. Don't you agree?

Striped Culottes from Zara
Nothing really changed when it comes to me and culottes! I am a faithful devotee ever since and I am happy that this trend will accompany us for many more seasons to come. Just like the Kick Flare Jeans, that will make a huge comback this autumn. Stay tuned! Today, I want to show you a more casually sporty Streetstyle with sneakers and a slouchy oversized blouse.
This oldie but goodie is still with me after quite a few seasons and it's still one of my favourite pieces. When it comes to bags, there was only one I could think of to compliment this look and that's my Stella McCartney bag. The neutral hue works perfect with this outfit. How do you like the striped culottes? Feel free to leave a comment below!
Striped Culottes: Zara // similar Culotte
Sunglasses: H&M // similar mirrored sunglasses
Blouse: Sisley // similar Blouse
Bag: Stella McCartney // same Bag
Sneakers: Converse // same white Converse


How to style sneakers and culottes
In general, culottes and pant-skirts visually shorten your legs. Still, I believe the combination with sneakers works. If you remember, I already shared tons of info and style tips in my Culotte Trendreport.
When it comes to sneakers, white Converse are a classic staple and should be found in every closet! The slim fit works with pants as well as skirts or dresses. I also like the beige and grey versions for a timeless staple. Black ones also work if you're more into dark and bold looks. Which sneakers are amongst your favourites? Do you like Converse as much as I do or do you prefer classic sporty kicks from Adidas and Nike?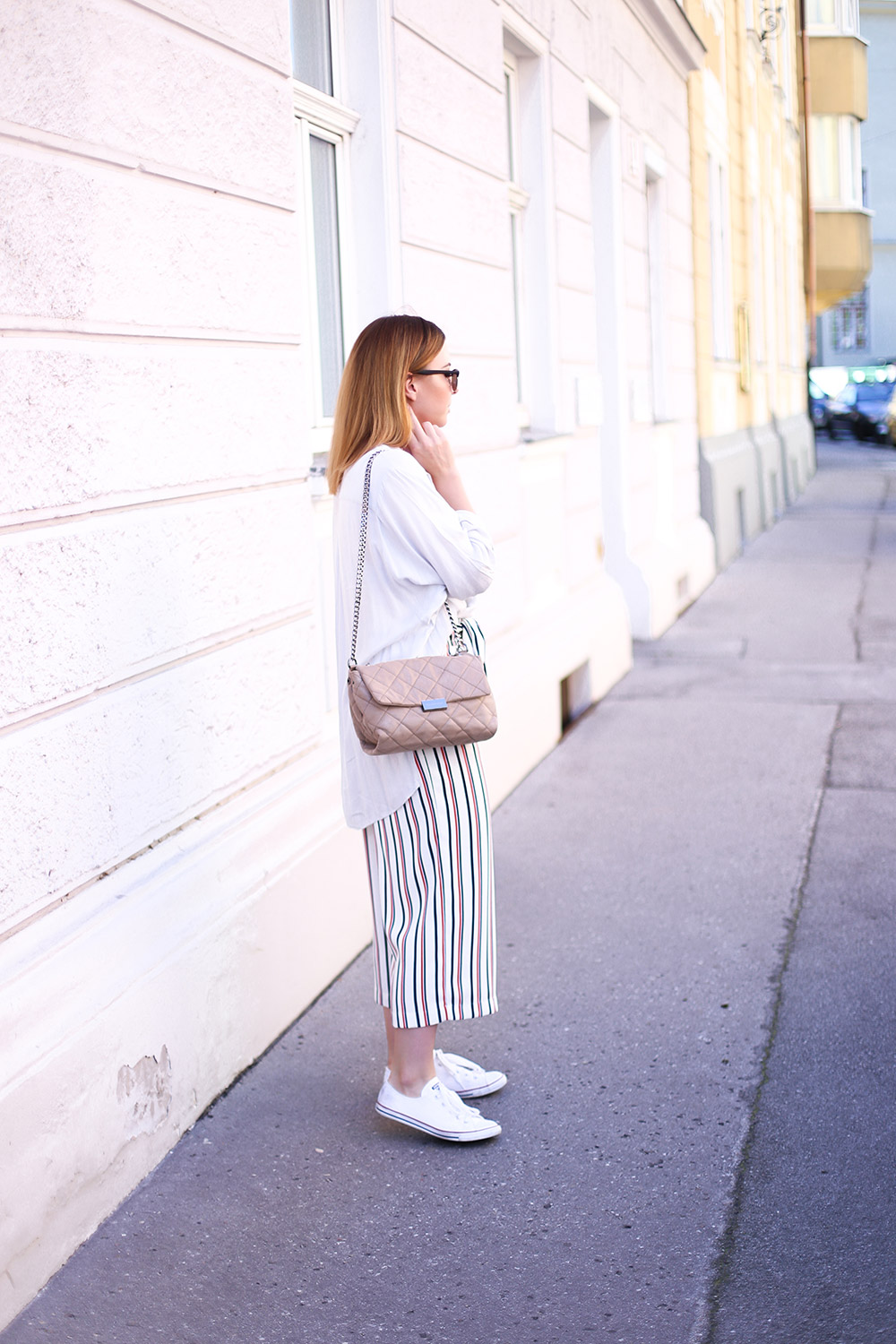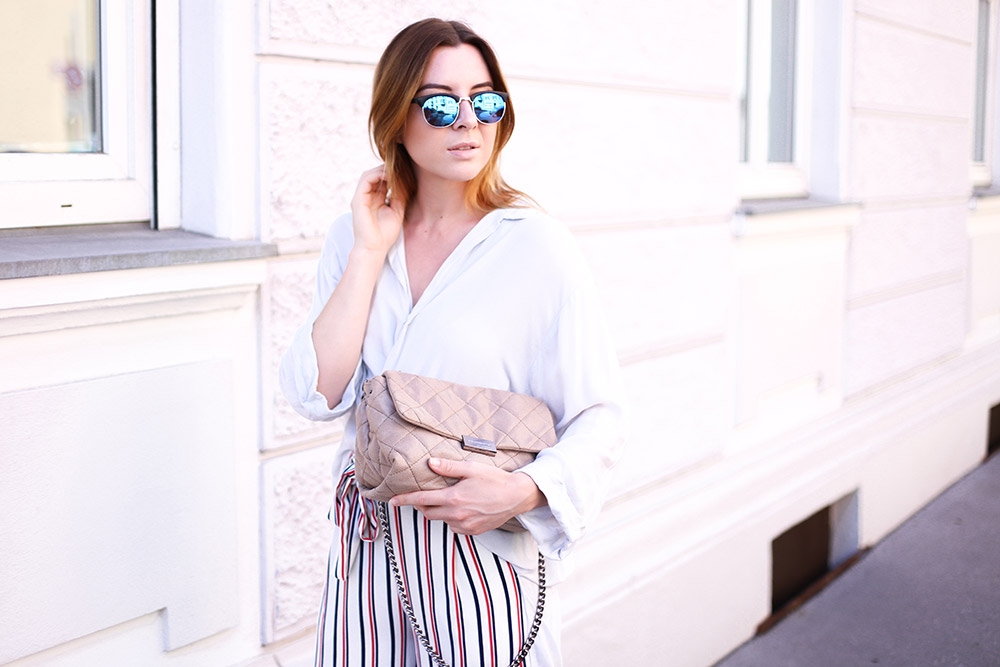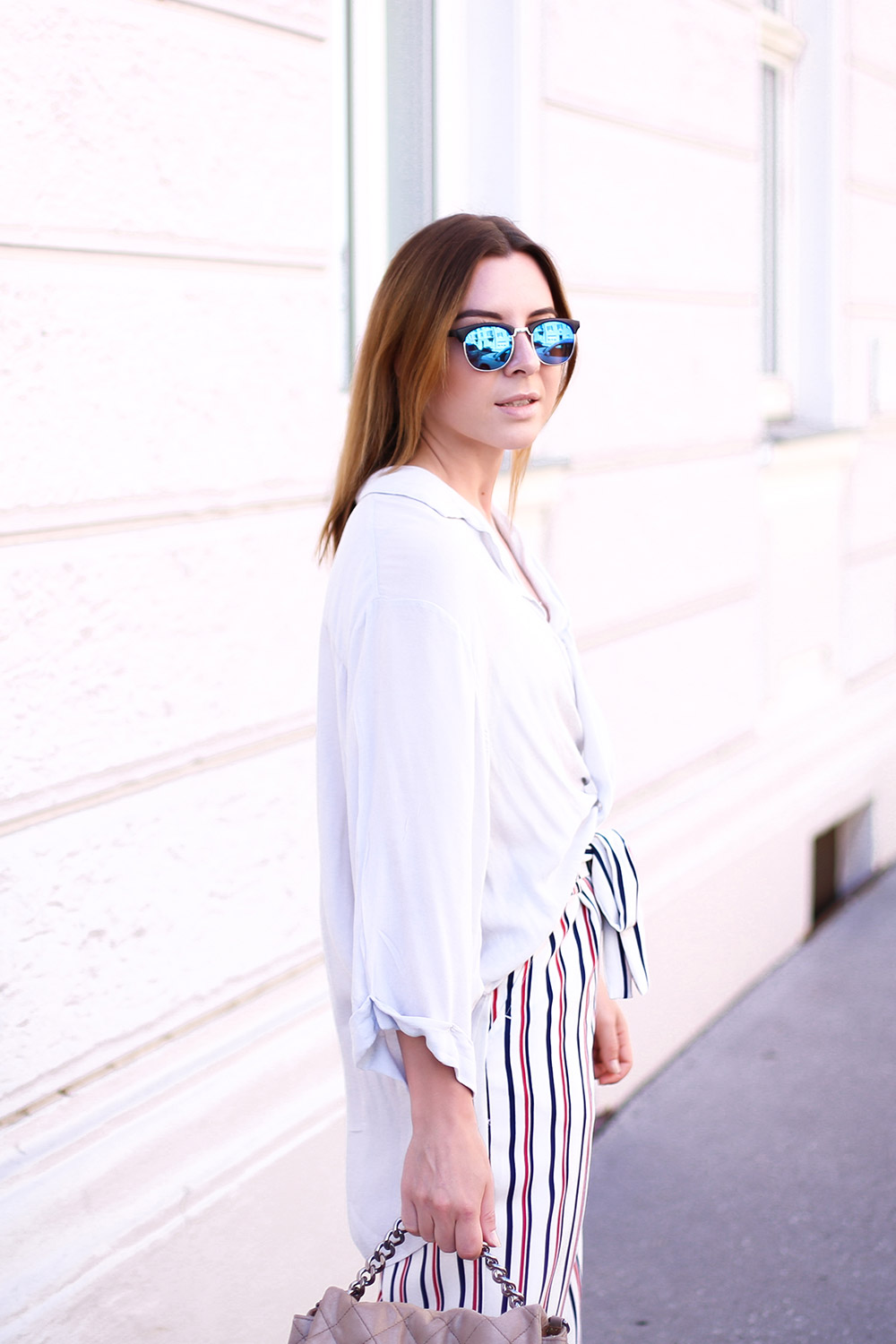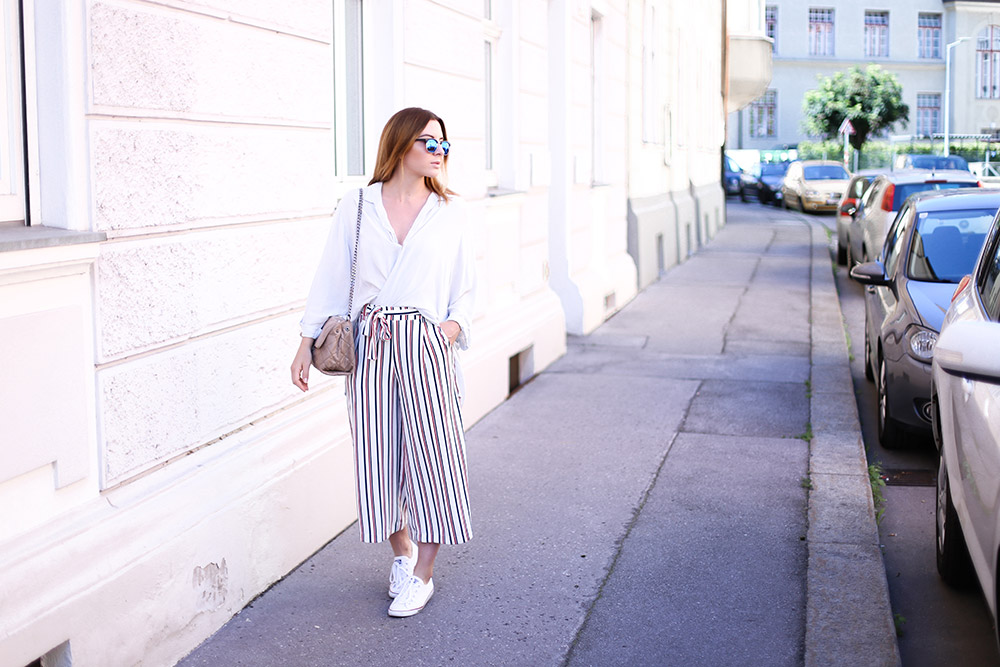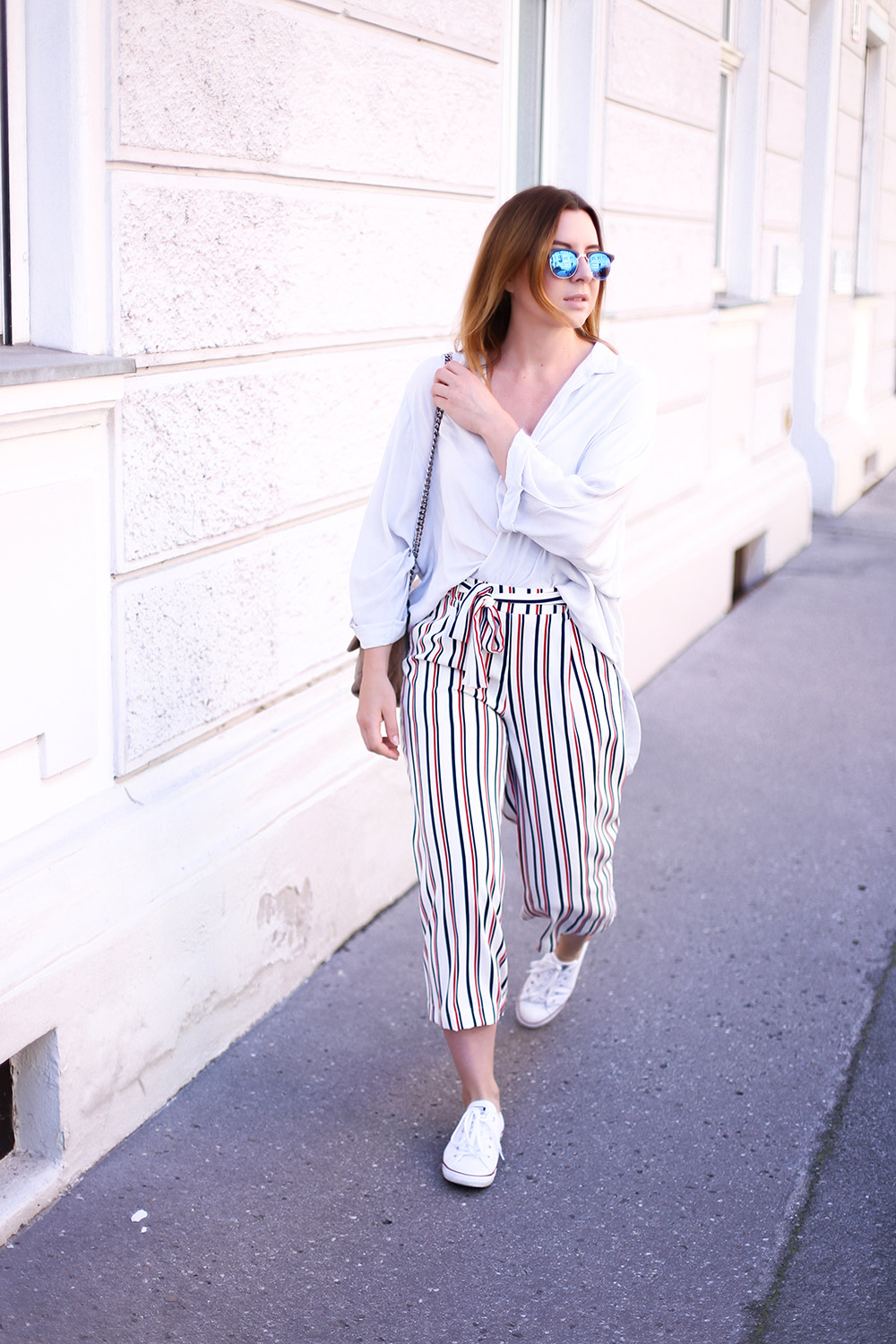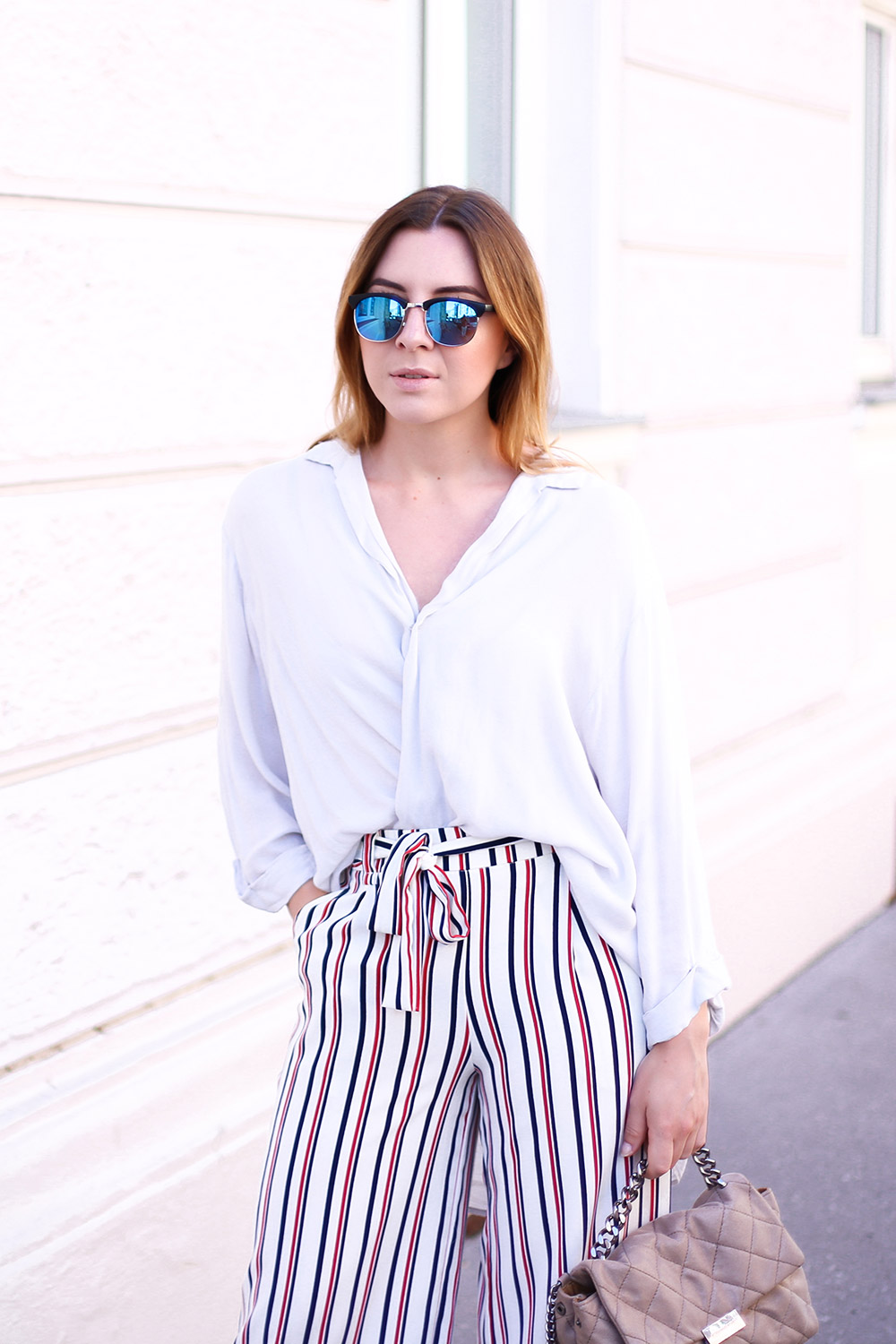 Fotocredit: Beats and Dogs