I already showed you my new white boyfriend jeans combined for a summer look recently. These days it's way too chilly for that kind of outfit, which is why I am getting all bundled up cozy and warm today and wear these jeans with a longshirt and a turtleneck jumper.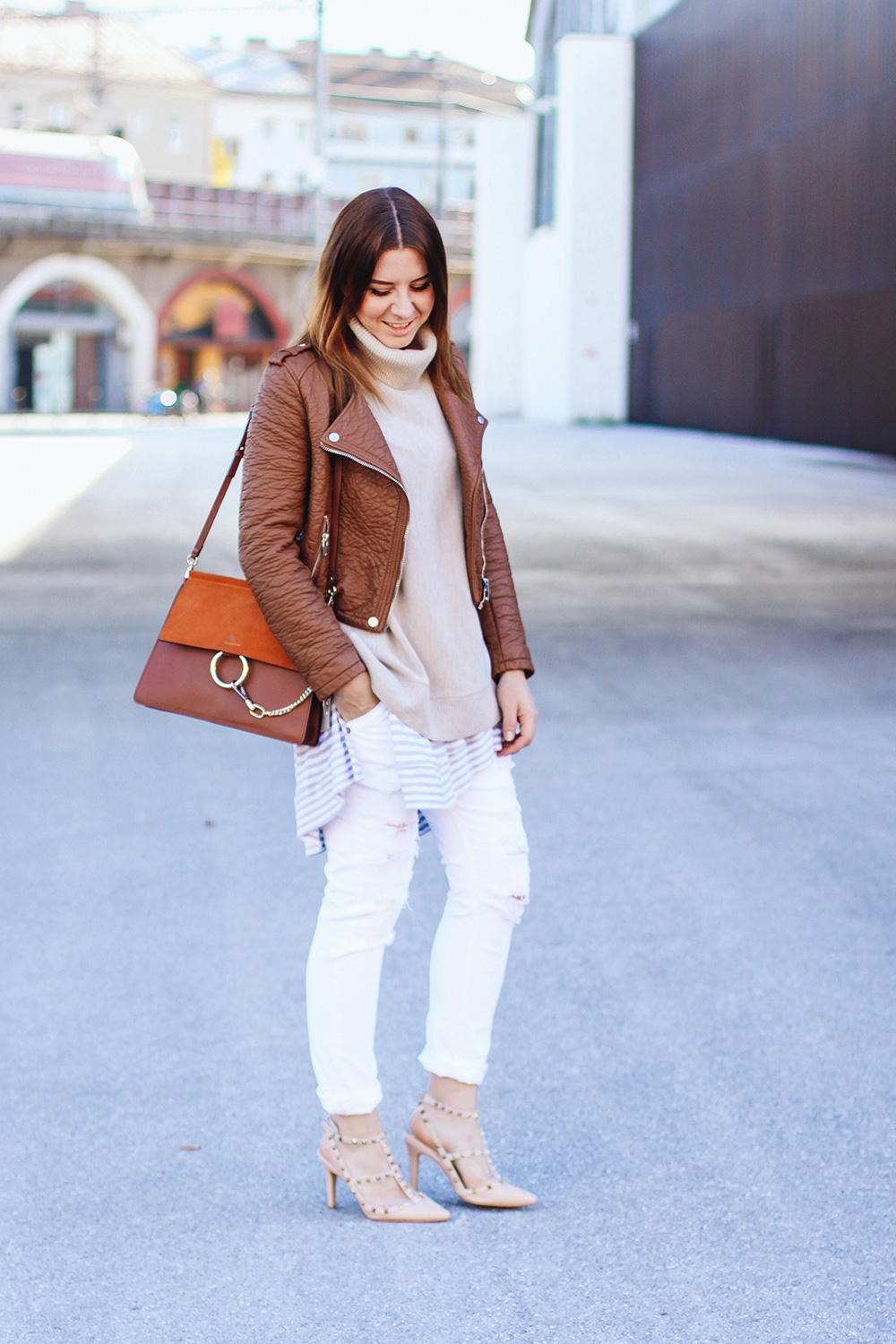 White boyfriend jeans and Valentino Rockstuds
The white boyfriend jeans from Mavi work amazingly well with this striped longshirt from Free People and my beige Valentino Rockstud heels, don't you think? I was totally into the bright look that very day and so the beige turtleneck jumper couldn't be missed. Is it crazy that I was wearing this one with shorter pants just a few days ago?
I always size up when buying leather jackets which comes in handy for this look, since there's enough room underneath for a cozy knit. How do you like my look?

How to wear boyfriend jeans
I have quite a few pairs of boyfriend jeans but I always find myself grabbing the classic blue one. I like to wear it with either beige or brown tops. Years ago it was common to wear baggy pants with tight tops, but I have never been too fond of that. There are proven ways to wear an head-to-toe oversized look in a fresh and stylish way. Don't you agree?
My favourite way to wear boyfriend jeans is in combination with a slouchy blouse, casually tucked in. This outfit works perfect with either a long trenchcoat or a short leather jacket as well as a more fitted blazer for a sophisticated look that's office approved. The choice of footwear also plays a huge role on which way to lead this look to. A more casual vibe with sneakers or a sassy approach with heels? The choice is yours!
All in all though, I think boyfriend jeans worn with a slouchy shirt, belt and blazer are a great look that works for every day. I also think it's one of those last minute outfits when everything else fails. Five minutes max, and you're good to go! How do you like to wear your boyfriend jeans?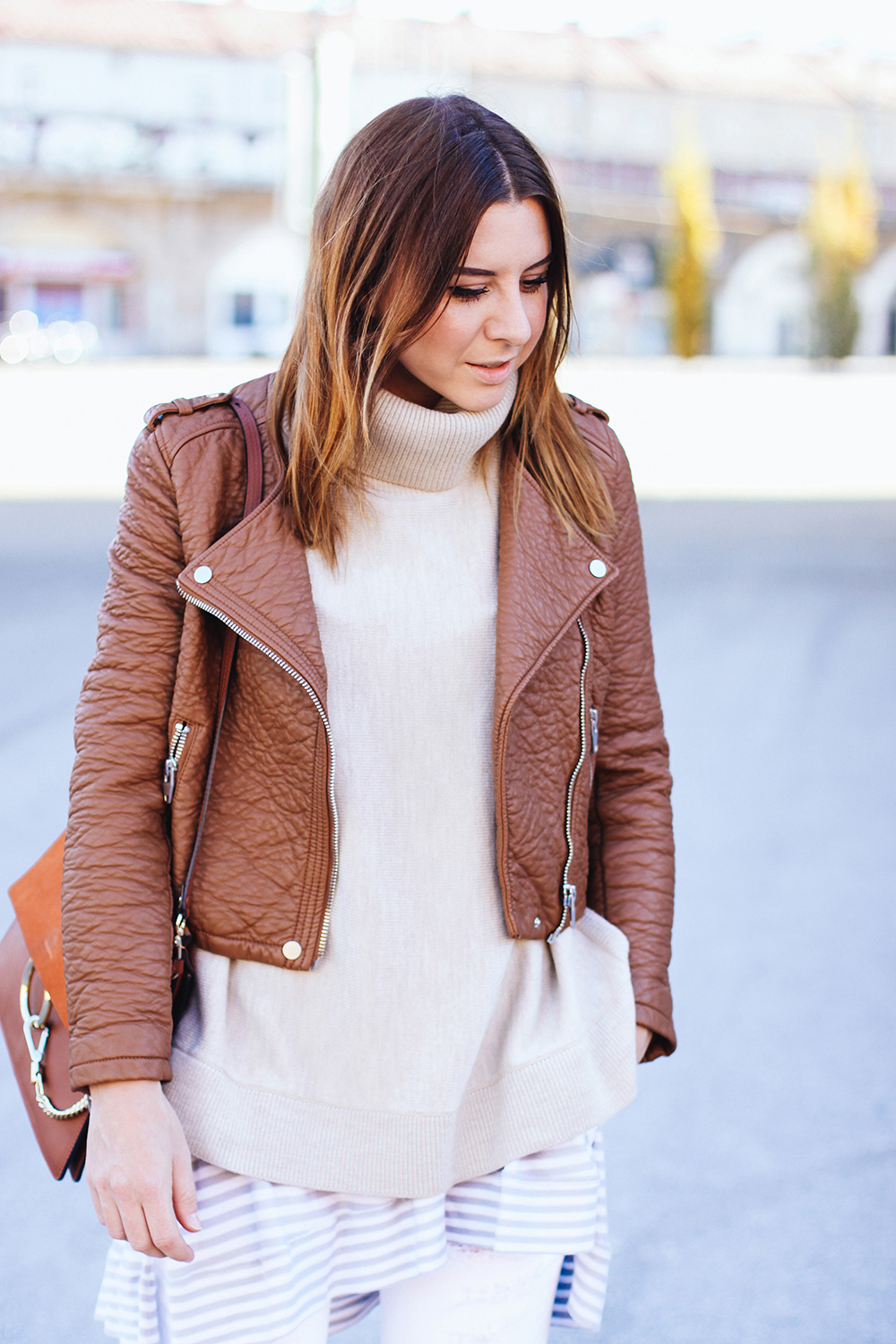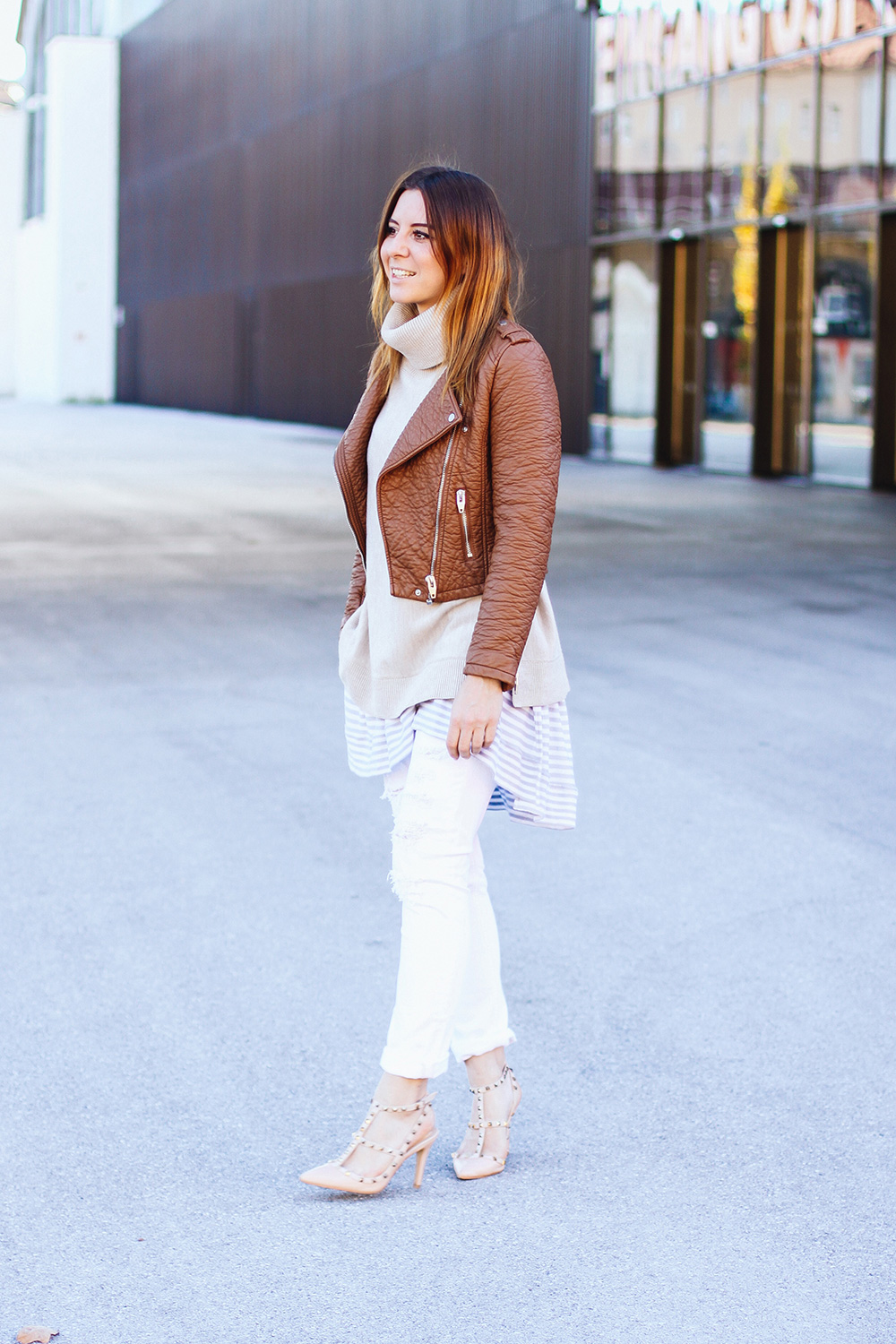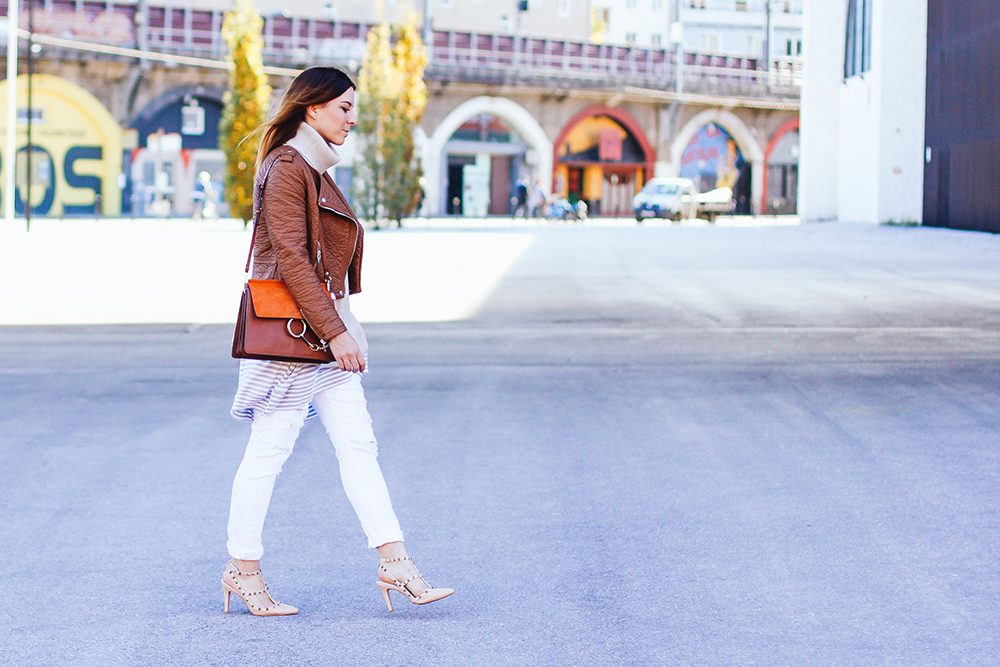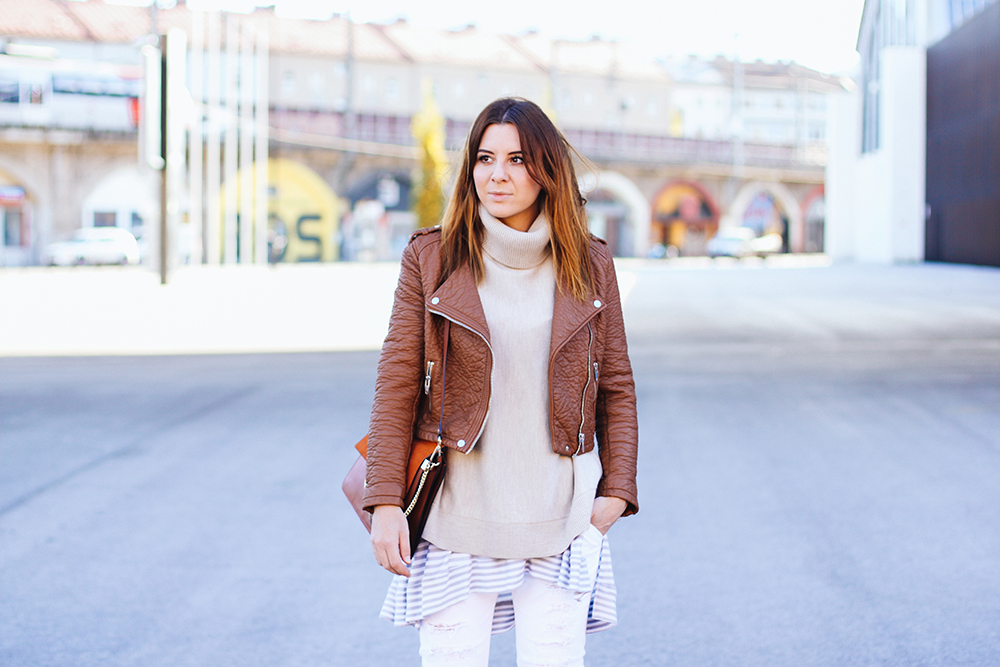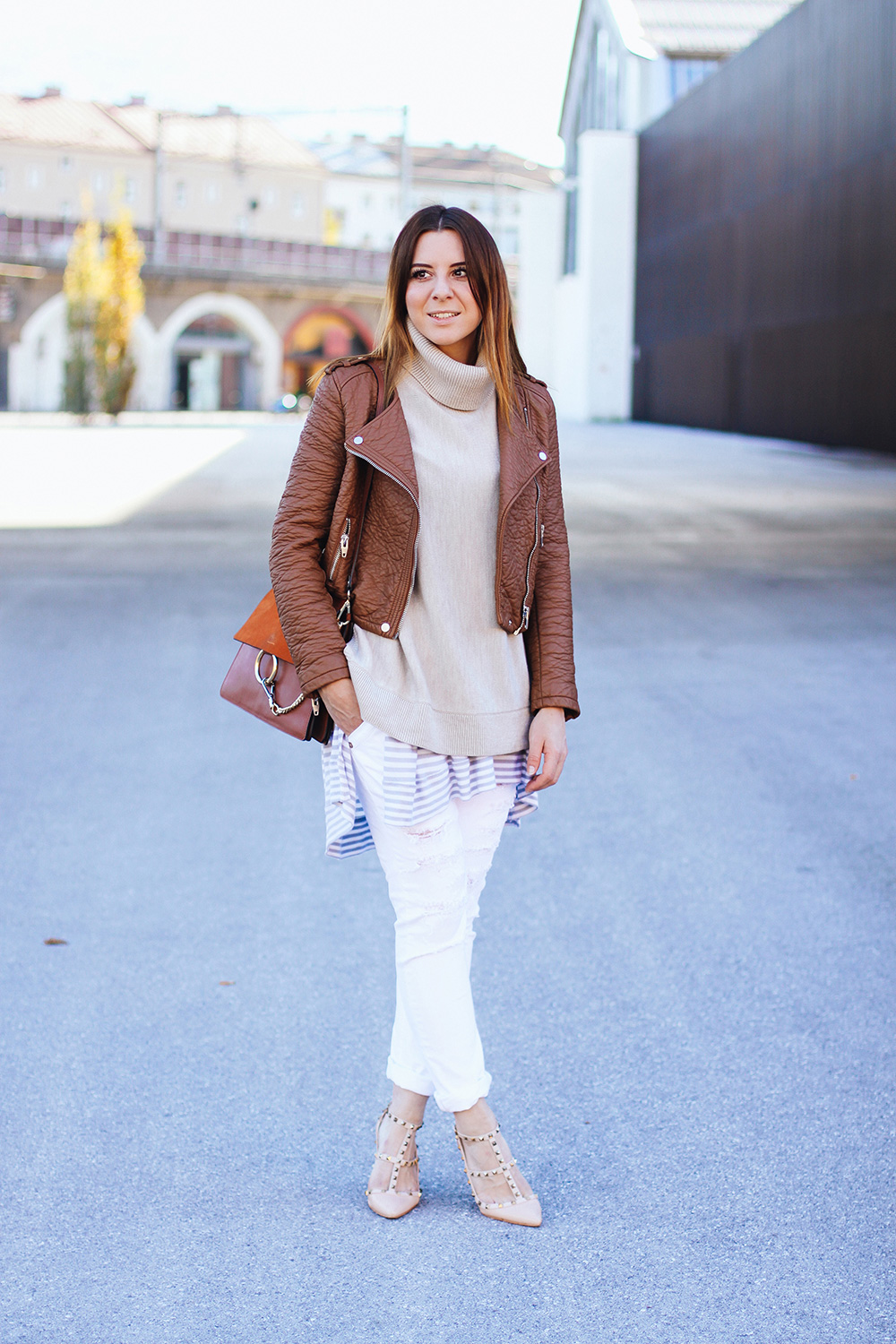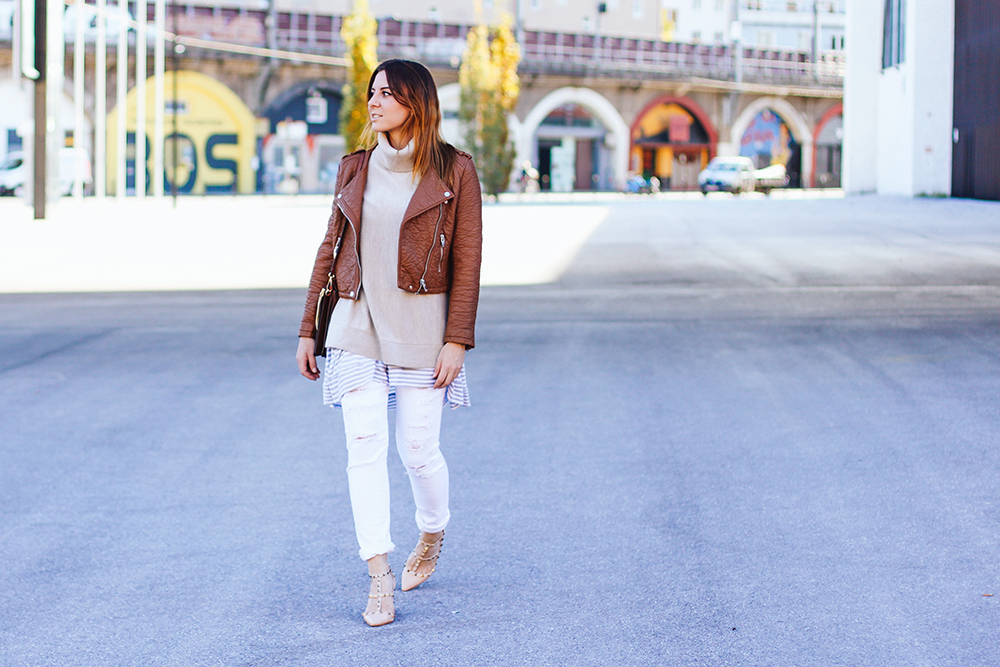 Jeans: Mavi // similar here white Boyfriend Jeans
Heels: Rockstuds from Valentino // similar here Rockstud Pumps
Bag: Faye from Chloé // same here Chloé Faye
Striped Longshirt: Free People // same here striped shirt
Leather jacket: H&M // similar here brown Leather jacket
Turtleneck Jumper: Boden // similar here beige Turtleneck jumper
Fotocredit: Beats and Dogs