Today, I'd like to introduce a new series on my blog: Trendreports! Who is Mocca? is now frequently sharing Fashion Trendreports with you all! How does that sound? Topic of the day: Off-Shoulder Looks!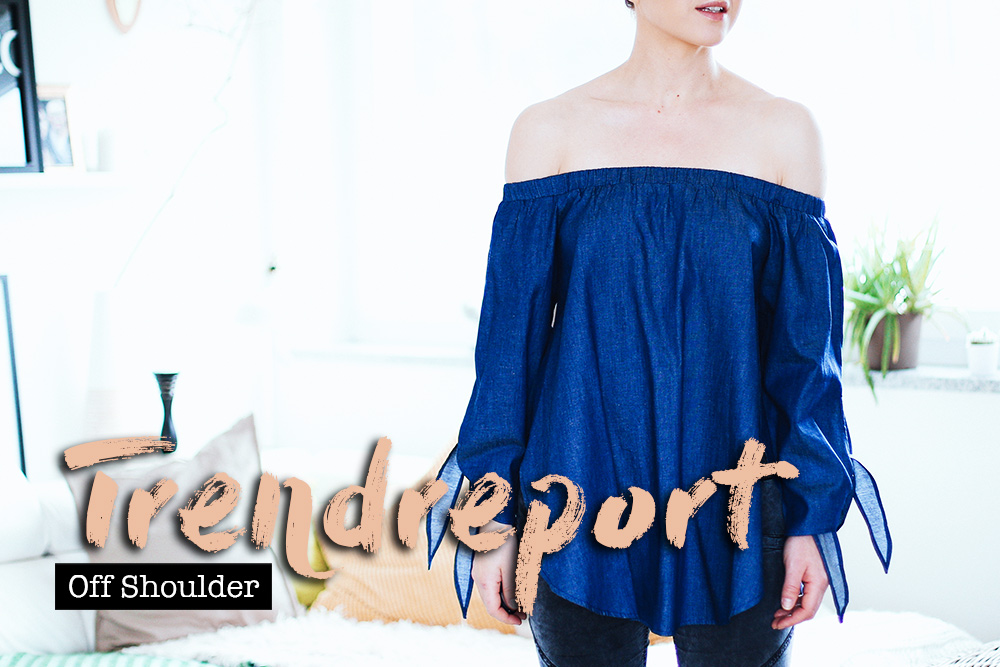 The Off-Shoulder Trend
Let's jump right in, shall we? Off-Shoulder looks are the latest hype in fashion. The typical Carmen blouse, bandeau tops, off-the-shoulder dresses and jumpsuits that show off your clavicle are seen everywhere these days. If you're not ready to jump right in, what about a cleverly cut jumper, shirt or body suit? Anything goes, really!
Spring is the perfect time to play around with different takes on things and personally, I like to show some shoulder or a little peek of bare skin here or there. Welcome spring and summer!
First seen on girls everywhere in the 1990s, the off-shoulder hype is having a huge comeback right now. Happy me! As usual it's not a new trend. The design of a typical Carmen blouse stems from the traditional Spanish Folklore garments. The cut was interpreted differently over the years as well: While it was called for to bare your mid-riff in the 1990s, today it's all about long soft and flowy fabrics to create a very feminine look that's casual and sexy at the same time. That's how I like my trends – truly versatile!
I guess many of you are not yet used to the off-shoulder look, right? So, I thought why not share a few tips and tricks on how to include that very trend in your every day life – at work and beyond!
Especially my favourite combination of off-shoulder shirt and favourite jeans works for everyone and is easy to style for nearly every occasion. Off-shoulder tops are available in plenty of styles and variations. For the 1970s Diva, the Boho-Beauty, Flamenco Queen, Streetstyle Princess or Business Woman – the perfect Off-shoulder top is not a one-size-fits-all approach! Every single one of you can find her very own favourite piece and style it accordingly to her likes and needs! And isn't this what fashion is really about?
Classy elegant or simply casual – show your naked shoulder just as you please! It's easy to get overwhelmed by fashion influencers online but this trend really works best if you play around and find out what works best for YOU. Make it your own!
How to wear the off-shoulder look
1 The Festival Outfit – Beige Off-Shoulder Blouse with ruffles and Shorts: Paired with ripped jeans shorts, you can never go wrong! The Off-Shoulder Blouse is perfect for warmer days and that combination makes me look forward to those oh-so-hot summer days. I can't be the only one, right?! Also this Boho-Chic-Look is your ideal choice when it comes to attending summer festivals, open air shows and actually every outdoor happening that's on your agenda this season!
2 The Casual City Look – White Off-Shoulder Blouse and Skinny Jeans: You need to run errands or have a quick coffee stop planned to meet the girls? This is the perfect outfit for said plans! It's simple enough but still stylish and comfy. If the weather's not in full summer mode just yet, grab a trenchcoat to go with it and you're all set. When it comes to shoes, don't overthink it! Casual vibes are what we're here for, so choose your favourite sneakers or espadrilles and you're good to go.
3 The Laid-Back Office Look – Dark Off-Shoulder Blouse and bright Skinny Jeans: This one is a no-brainer, simple yet sophisticated. Just combine this dark blue blouse with your favourite pair of bright skinny jeans. That's it! Paired with nude pointy heels, your laid-back office look is done. The magic lies in it's simplicity!
4 The Girls-Night-Out Look – Off-Shoulder jumper and Boyfriend Jeans: A rather slouchy, off-shoulder jumper works as well with boyfriend jeans as a Carmen blouse would. It's all about taking risks with this look! So grab a busy patterned top or even go for a playful denim-on-denim look and enjoy your night out with the girls!
5 The First Date Look – Off-Shoulder Dress and dark blue Skinny Jeans: Who didn't obsess over endless outfit options for a first date at least once? Me too! That's why this feminine but still playful look is the perfect choice for your next first date or date night in general. The off-shoulder dress makes you show some skin quite effortlessly while the skinny jeans and pointy pumps tone down the flirty vibe, just a bit. A casual and laid-back look, that's just the right dose of cute? Consider it done :)
6 The Weekend Look – Off-Shoulder anything paired with a skirt: You know, I love my skinnies, but a nice off-shoulder top works great with a skirt, too! For me, a maxi skirt and heels would work best, but feel free to play around and find out what's the best choice for you. A short denim or leather skirt would add a nice twist as well and you're able to show off those gams already! Either way, make sure you choose heels for that look. Now is not the time to go with sneakers or loafers. Don't!
A true Fashionista tip:
Let's take a minute and talk about off-shoulder pieces and the ideal bra to go with! Many girls out there seem to think a bra with see-through straps or clear plastic straps is acceptable. I don't think so. Always choose a fitted strapless bra. Off-shoulder tops and bra straps are such an unfortunate combo, an eyecatcher you'd rather not go for. It makes me sad to see a nice girl in a nice top only to be distracted by a hideous clear strap. The only rule to that exception would be a great lace bra. Delicate lace works well with an off-shoulder knit, don't you think?!
Last but not least, I picked four Streetstyles for you to inspire your next off-shoulder look! Which one is your favourite?
My 10 Off-Shoulder Shopping Tips
A great trendreport calls for some shopping tips as well! It was hard to only choose ten but I made it and curated my 10 favourite off-shoulder pieces for you below. Click through!