From time to time you run out of ideas and go blank when it comes to new content for your blog. We all can relate! Personally, I would grew tired of showing outfit post after outfit post on my own Fashion Blog. That would be quite boring, no?
Why not sharing 50 Blog Post Ideas for a Fashion Blog instead to inpire you and me for upcoming valuable content for our blogs?! Moreover I am planning on sharing 50 Blog Post Ideas for a Beauty Blog and 50 Blog Post Ideas for a Lifestyle Blog over the next few weeks. Sounds good? Let me know what you would add to those!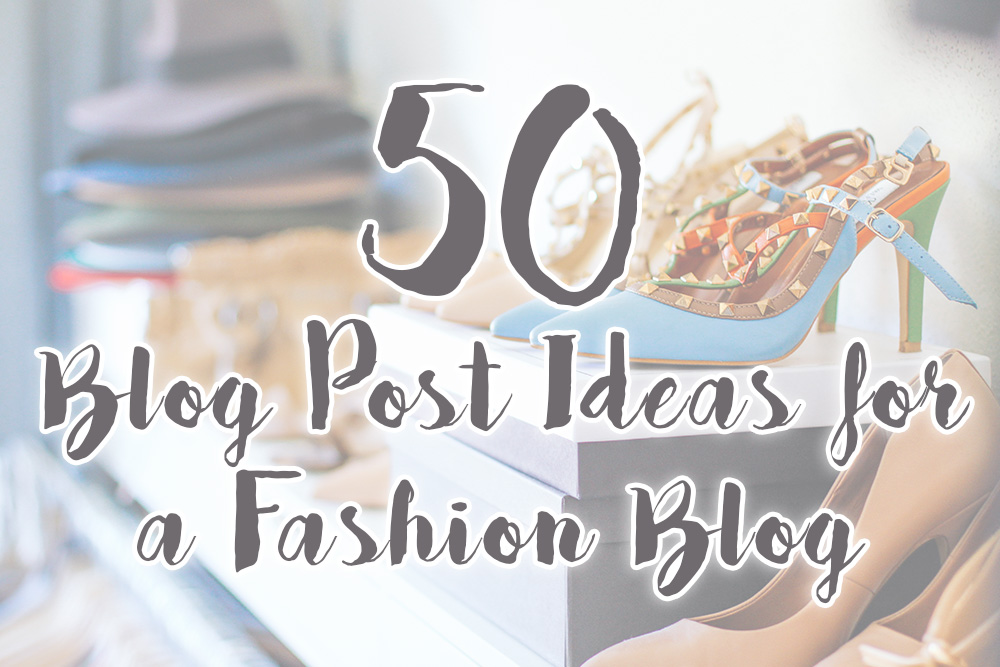 50 Blog Post Ideas for a Fashion Blog
Your Fashion Wishlist
Take a few photos of your latest wardrobe additions and give style advice
Come up with outfits for a special occasion (Vacation, Party, Girls Weekend,…)
A Fashion Haul
Connect with a likeminded Blogger and find a piece you both style differently
Pick one Keypiece from your wardrobe and find ways to wear it throughout the week in unexpected ways
A Fashion DIY
You favorite Trends of the Season, or the least favorite ones
Fashion Rules or tips you like to share with your readers (Layered Look: How does it actually work?)
Imitate a Celebrity Fashion Look in a budget-friendly way
Your typical work outfit for the office and tips on what you like to focus on
Your favorite shops and keypieces you fancy
Active Wear for the gym
A Fashion Gift Guide for special occasions, e.g. Valentine´s Day, Easter Holiday, Black Friday
A review from a wishlist item you finally got to splurge on (like a Chanel bag) or a total steal
Overview of Current Online Sales and her favorite pieces from the shops
Festival Outfit Tips
Advice for Vacation Outfits
"How to Style" – a guide to style a keypiece in 3 different ways (e.g. 3 Tips on how to style a Parka)
Your Favorite Fashion Blogs
Day to Night Outfit – how to transform your Day Look for a night out! Accessories, keypieces, etc.
Introduce a Fashion Trend
Outfits of the Week or a monthly Outfit Review
Your Top 5 Winter Outfits
Your Top 5 Spring Outfits
Your Top 5 Summer Outfits
Your Top 5 Autumn Outfits
Host a Giveaway
Your Must-have items – Fashion and accessories
A personal Wishlist
Real vs. Steal. Find a dupe to a high-end Designer item (e.g. Chloé Lookalikes)
Review of a Fashion Event or Fashion Week
Your Top 5 Accessories that transform an outfit in an instant
Your favorite coats, shoes, bags
Shop a complete outfit on a budget, for instance for € 100,-
Browse your favorite Online Shops for 3 complete outfits on a budget of € 80,-
Shopping Tips – How to avoid bad buy day!
Tell us about your Wardrobe Purge
Introduce us to your wardrobe or Walk-in Closet
Present an Outfit from a specific Colour-Range, e.g. beige, grey, red, blue
Share your personal style and how you created it or how it changed over the years
Talk about your ultimate Style Icon
Current Must-Haves for each season
Take your readers on your next shopping trip virtually and talk about your finds
How to curate a Capsule Wardrobe
Start a Fashion ABC
Talk about specific Fashion Trends
What to pack checklist before a trip
Create a Lookbook with a theme, e.g. Leather jackets or Culottes
Tips on how to style accessories in different ways, e.g. Jewellery, Scarves, Capes, Ponchos, Belts, …
These are my 50 Blog Post Ideas for a Fashion Blog. As you can see, I already posted about a few of them and already know how to put the other ideas into fruition. Feel free to click on the links to find even more inspiration for your very own Fashion Blog.
Let me know what you would add to my list! Can´t wait for your feedback!