Every week I show you various trending looks on my fashion blog. Especially in my category "Trends" you find lots of articles dealing with the latest fads as well as fashion classics. Today though, I will share my very own wardrobe basics with you. I will present you 10 Key Pieces that should be part of every well-assorted wardrobe; simply because they are the basis for a huge variety of looks. The basis of almost every outfit consists of certain basic clothes, such as skinny jeans or a simple shirt. Using simple clothes as starting point you can then create an outstanding look by adding exciting pieces, for example, a jaw dropping leather jacket or a fake fur coat. Which are your wardrobe basics?
Wardrobe Basics: these are my 10 Key Pieces
For you, I made a list of my 10 favourite fashion pieces. Just try to picture these things together, they add up to a stylish outfit easily. You can wear all of them on various occasions: business meeting, brunch or after-work drink. Skinny jeans, nude pumps, a white oversized blouse and a camel coat: 4 key pieces for a great outfit.
Skinny Jeans
Nude Pumps
Camel Coat
White Oversized Blouse
A fitting Hat
Striped Shirt
Nude Clutch
Turtleneck Jumper
Simple Cardigan
Black Shopper
Key Piece Number 1 – Skinny Jeans
Let's start with a well fitting skinny jeans: It should be dark blue, dark grey or black and rather tight. I usually prefer high waisted jeans, because this cut makes your legs seem longer and your belly smaller. Moreover, I like it when the jeans let the ankles show, since it makes the legs look even longer. My favourite brands are Topshop, Superdry, Mango and Zara. My special recommendations: Second Skin Jeans by Superdry and the Topshop Joni Jeans.

Key Piece Number 2 – Nude Pumps
Yes, I definitely choose nude pumps over black pumps. Simply because nude is much easier to combine than black. With many outfits black pumps seem way to "harsh", a light beige makes the whole outfit look lighter. When I buy pumps for the everyday look, I usually go for heels with a height between 8 and 10 cm. They should have a nice cushion too. In order to achieve as much comfort as possible in heels, I also use inlays as well as smaller gel pads. My favourite heels are the Rockstuds by Valentino, by the way.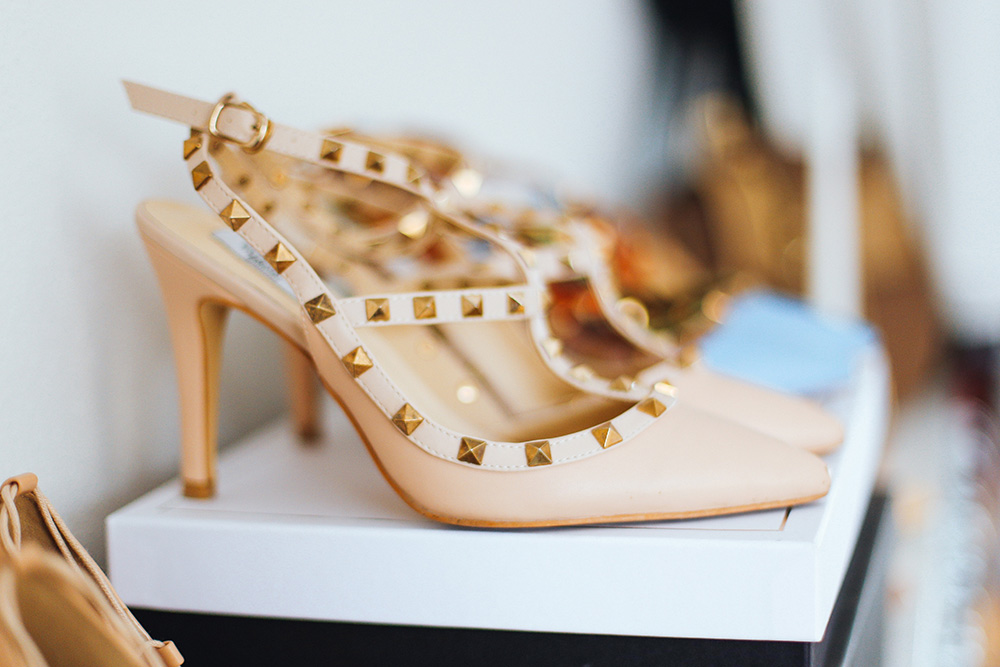 Key Piece Number 3 – Camel Coat
I've recently shown you my favourite camel coat with this winter outfit. It has a straight cut and is slightly oversized. With the coat it's the same as with nude pumps: camel fits most outfits better than black. This warm colour really shouldn't be missing from your wardrobe. As far as cut is concerned, I usually go for straight. Then I can easily turn the look round by wearing a belt round the waist. Of course, a classic beige Trench coat is a real key piece too, but I personally prefer a longer coat.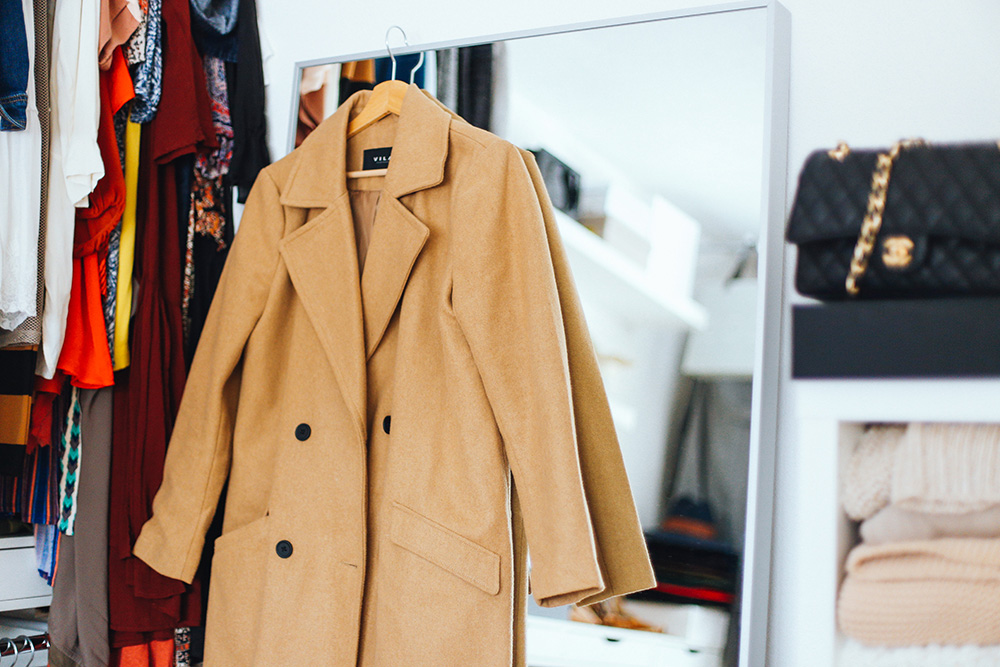 Key Piece Number 4 – White Oversized Blouse
You will never find a classically cut white blouse in my wardrobe. I always go for an oversized one instead. I can especially recommend blouses by H&M (simply order one size bigger than you usually would) and blouses by German Detail (tailor made). You can wear an oversized blouse either loosely over your Jeans or you tuck it in. However, you can also wear it with a belt around your waist or over a simple shirt. The same thing works with a skirt of course; or you wear the oversized blouse underneath a jumper.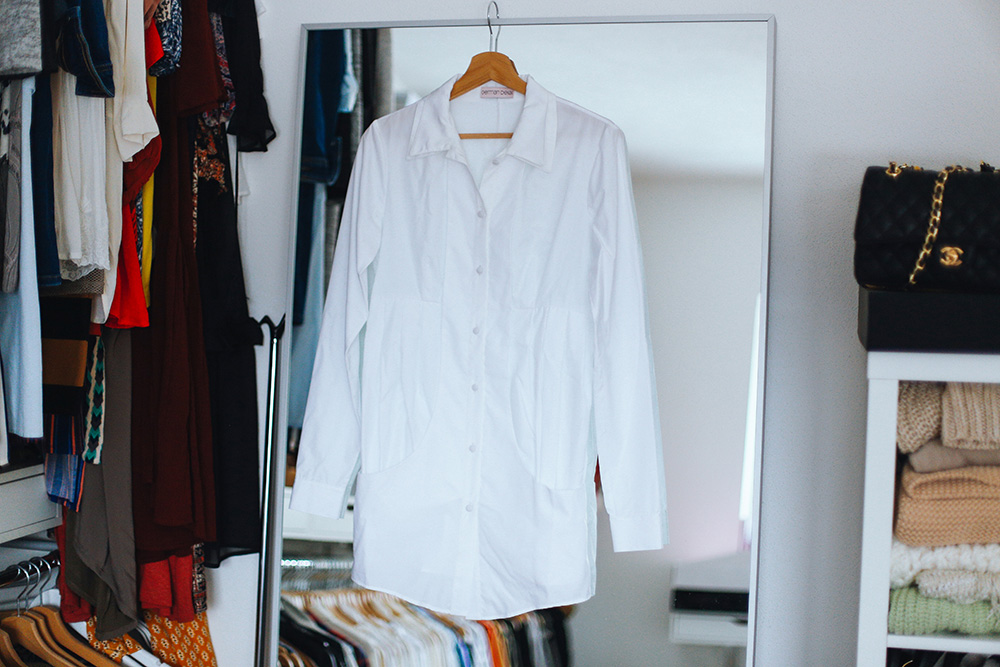 Key Piece Number 5 – Fitting Hat
I've already shown you a huge amount of outfits with a hat on my fashion blog. Some of my hats are perfect whereas others I don't wear regularly. My perfect hat comes from H&M, it is grey-blue and has a cognac coloured ribbon. It has a rather sturdy and slightly broader brim, thus it stays in shape easily. This hat can be worn with elegant as well as with casual looks. Floppy hats can look good as well, but I prefer smaller ones that I can easily wear inside too.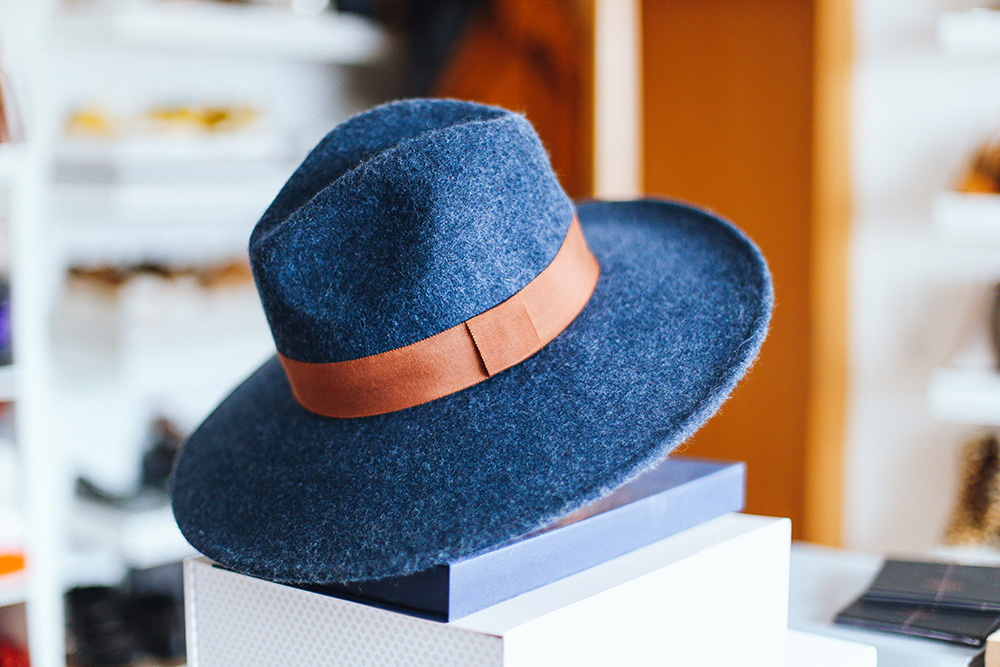 Key Piece Number 6 – Striped Shirt
My passion for striped shirts is quite obvious, I guess. Oversized and a bit longer than usual, is my favourite look here too. When it comes to basic shirts I find the brand Free People especially recommendable. They are a bit more expensive, but they stay in shape for a long time and look almost like new – even after a few months. Thus, the price is really okay. My favourite colour combination is classic blue & white stripes, by the way.
Moreover, stripes are the perfect basis for an outfit featuring various patterns, especially in combination with leopard print. Here you can see a Stripes-Leopard Outfit. I like longer shirts to look out from under a jumper. Striped shirt, skinny jeans, nude pumps and a camel coat: 4 pieces, 1 outfit!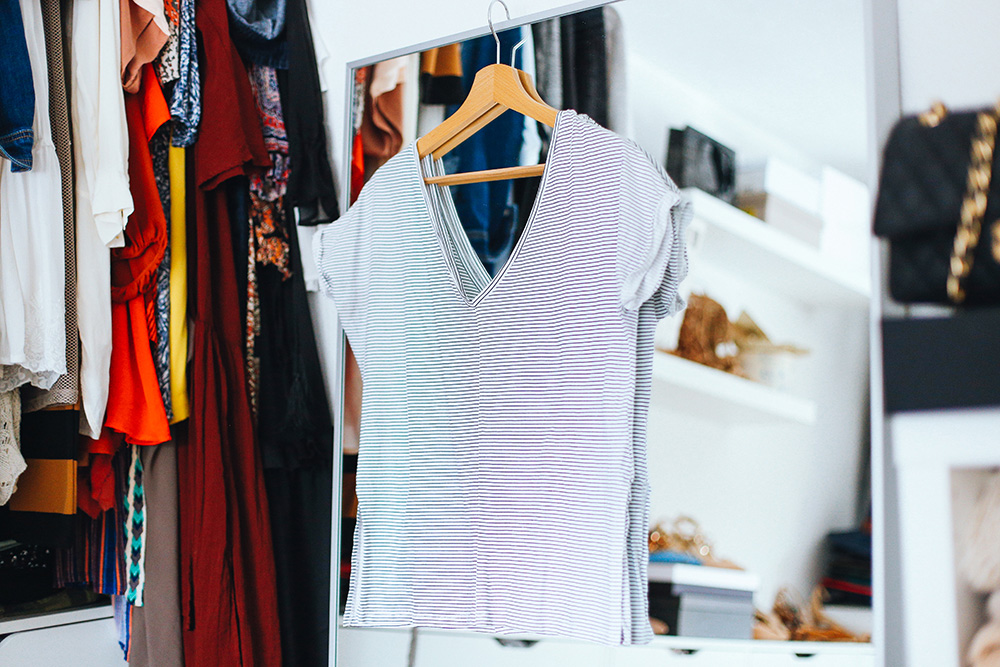 Key Piece Number 7 – Nude Clutch
A nude clutch with enough space for the most important things is one of the most important wardrobe essentials, in my opinion. Mine is a vintage Chanel that I bought in Amsterdam. It's small enough for an evening in the club as well as big enough for a workday. I usually take my wallet, my phones, my make-up bag as well as my ikoo Brush with me. As long as there is enough space for these things in my bag, it's fine. Moreover, and I know, I'm repeating myself: the colours nude and beige go with every outfit!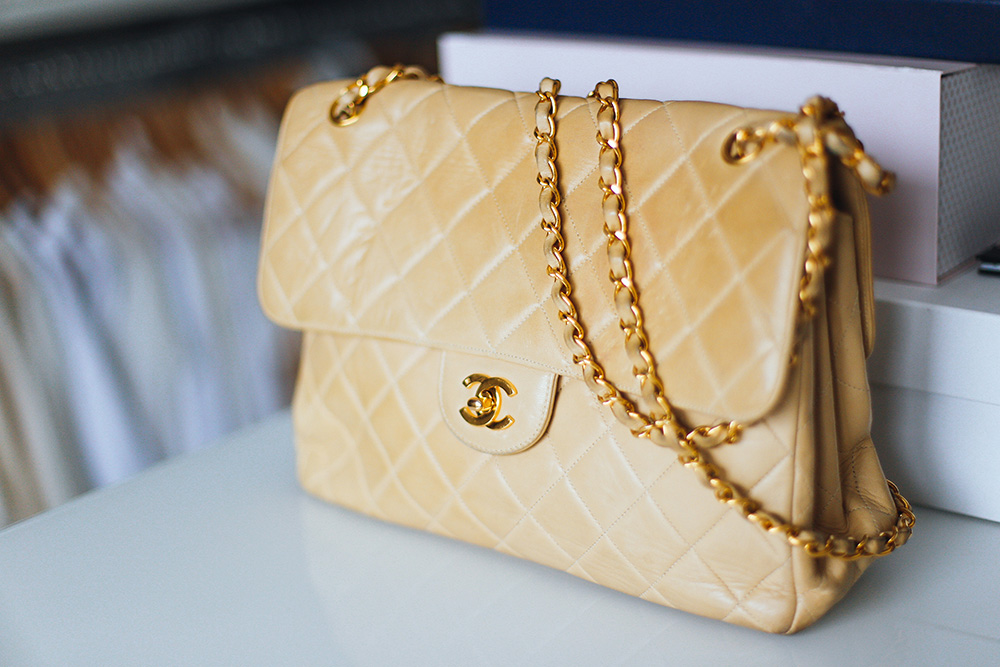 Key Piece Number 8 – Turtleneck Jumper
In my opinion, a well fitting turtleneck jumper shouldn't be missing from any wardrobe. However, I don't mean a tight one. No, I rather think of a loose fitted knit jumper in beige, grey or khaki. Just go for a simple piece that you can wear easily at home and at work. Note: When it's not too wide cut, you can also tuck it in high waisted trousers or skirts, and again wear a belt around the waist with it.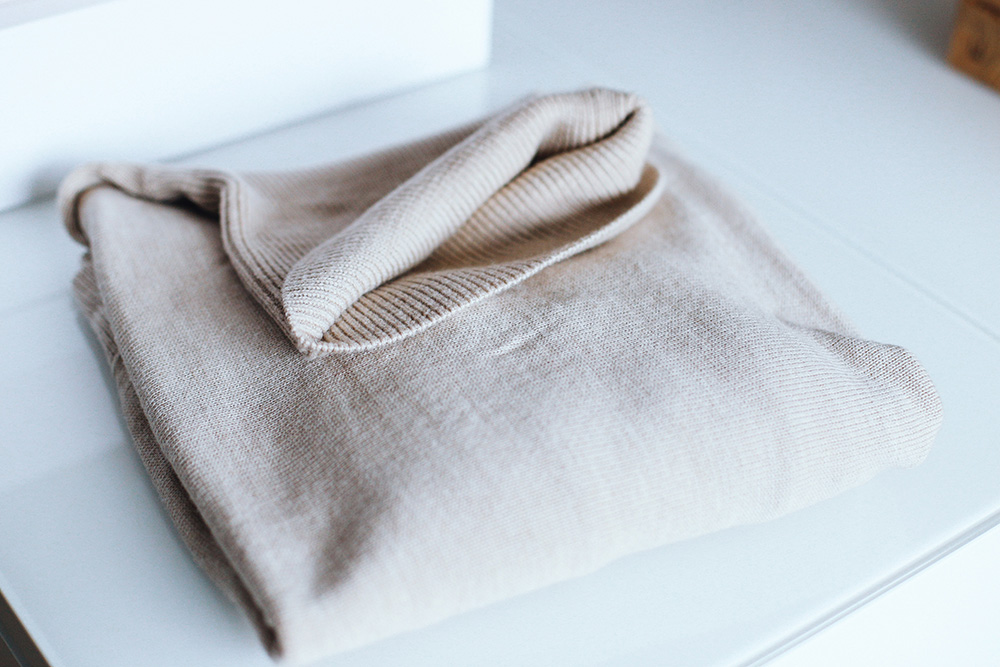 Key Piece Number 9 – Simple Cardigan
Simple yet effective: a plain cardigan goes really well with almost every outfit and covers up potential problematic areas. One of my favourite cardigans is this one in black, which you can see in the picture. However, this beige cardigan by H&M is one of my favourites too. I prefer wearing cardigans open, but you could also wear it closed with a studded belt – a perfect alternative for a shirt or a blouse, for instance.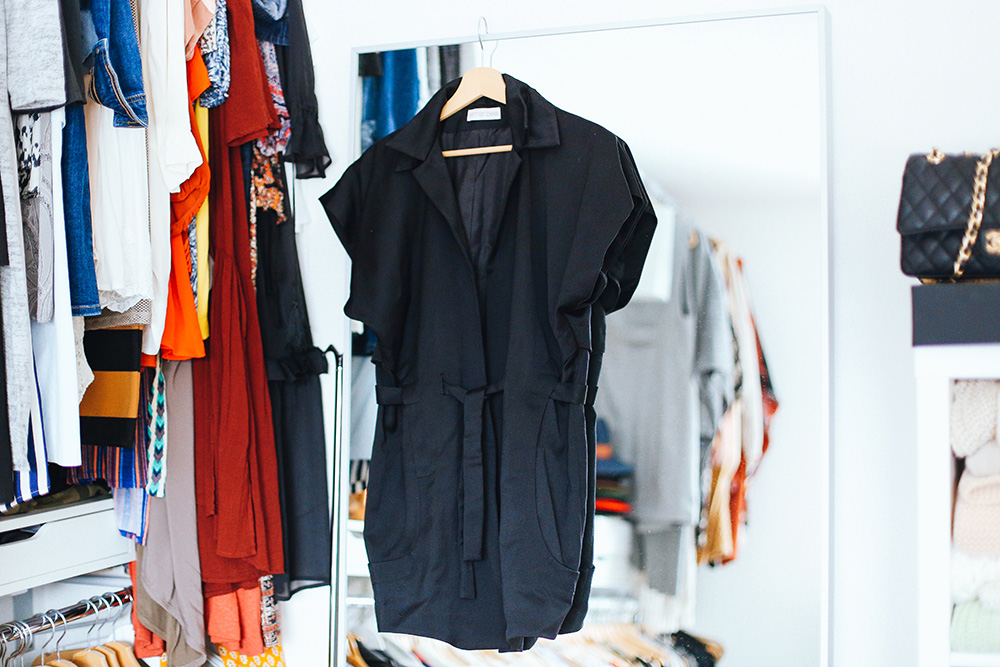 Key Piece Nr. 10 – Black Shopper
A black shopper is an essential part of every wardrobe; especially since it provides enough space for your usual stuff as well as for your MacBook or Ipad and other office utensils. In this case it wasn't easy for me to choose between black and brown; however, eventually I went for black, simply because this colour is really low-maintenance. I always make sure the material is rather sturdy and the handles are finished nicely. The material doesn't have to be real leather though. Faux leather or plastic are fine too. Good examples are: this bag by Stella McCartney and this one by Matt & Nat. My favourite shopper is jazzed up with some fringes.